US Consumer price inflation (CPI) continues elevated, all be it off low Covid lockdown bases. Annual CPI stayed at 5.4% in July, highest since August 2008. Biggest price increases again were food, new vehicles and shelter.
Highlights
US CPI July 2021
Y/Y 5.4% (est 5.3%; prev 5.4%)
M/M 0.5% (est 0.5%; prev 0.9%)

Highest reading since August of 2008
Biggest price increases were food (3.4 percent vs 2.4 percent), led by sharp increases in food at home (2.6 percent vs 0.9 percent) and food away from home (4.6 percent vs 4.2 percent); new vehicles (6.4 percent vs 5.3 percent); and shelter (2.8 percent vs 2.6 percent). On a monthly basis, consumer prices rose 0.5 percent in July, the least since February's 0.4 percent gain
inflation moderated for energy (23.8 percent vs 24.5 percent); used cars and trucks (41.7 percent vs 45.2 percent); apparel (4.2 percent vs 4.9 percent); transportation services (6.4 percent vs 10.4 percent); and medical care services (0.8 percent vs 1.0 percent).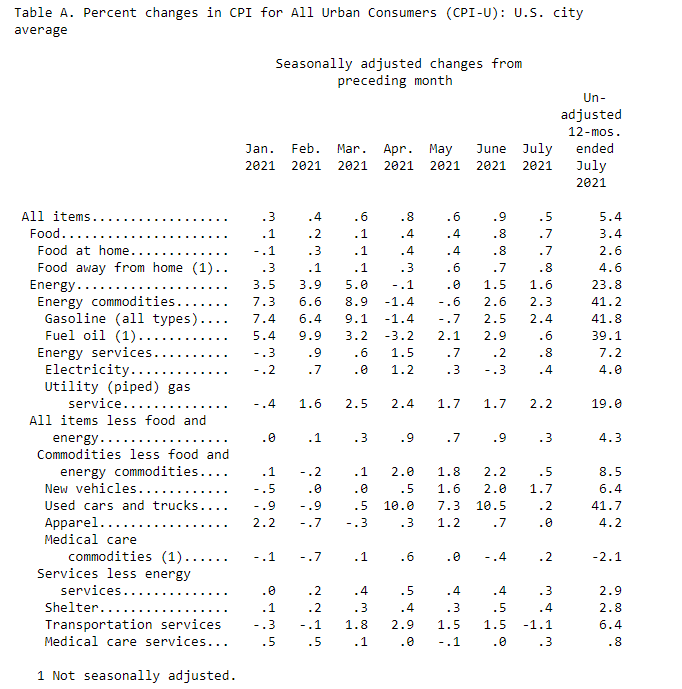 US Core CPI July 2021
Core Y/Y Jul: 4.3% (est 4.3%; prev 4.5%)
Core M/M Jul: 0.3% (est 0.4%; prev 0.9%)
US core consumer prices exclude volatile items such as food and energy, rose 0.3 percent from a month earlier in July of 2021, its smallest monthly increase in 4 months. The index rose 0.7 percent in April 2021, down from .09% which had been its largest monthly increase since April 1982.
The shelter index rose 0.4 percent in July and accounted for over half of the monthly increase in the index for all items less food and energy.
The effects of the coronavirus pandemic are weighing on prices since in last year many businesses closed and lockdowns were imposed, denting economic activity. A jump in commodities and material costs, coupled with supply constraints, are pushing producer prices up and some companies are passing those costs to clients
US Real Earnings July 2021
US Real Avg Weekly Earnings (Y/Y) Jul: -0.7% (prevR -1.0%; prev -1.4%)
US Real Avg Hourly Earnings (Y/Y) Jul: -1.2% (prevR -1.6%; prev -1.7%)
Tomorrow July PPI is due and the next major U.S. economic number to concern markets
From the Traders Community News Desk