New home sales for April surprise with a much higher 623K versus a 480K estimate, that is a 0.6% vs. -23.4% estimate. This follows a revised 619K in March. May will be watched to see how many contracts are completed due to the Covid Lockdown.
There is optimism from the NAHB housing market index for May at 37 up from 30 in April
New home sales for April 2020
New home sales for April comes in at 623K vs 480K estimate. ( A loss was expected)
Prior month was revised slightly lower to 619K from 627K last month.
New home sales month-to-month 0.6% vs. -23.4% estimate.
The prior month was revised to -13.7% from -15.4%
Month supply 6.3 month vs. 6.4 months last month. The low in 2020 reached 5.0 month.
Homes for sale total 325,000 down from 331,000 last month. The level equals the January level
Northeast, +8.7% Midwest, +2.4% South, +2.4% West -6.3%
Median price $309,900, -8.6% fromMarch's $339,000.
Mean price also fell to $364,500 from $377,400. That is a -5.4% decline year on year.
The month-to-month change is -3.4%
The annualized sales pace is also down sharply over the prior 2 months from a high of 777K but ticking over at a relatively high level historically.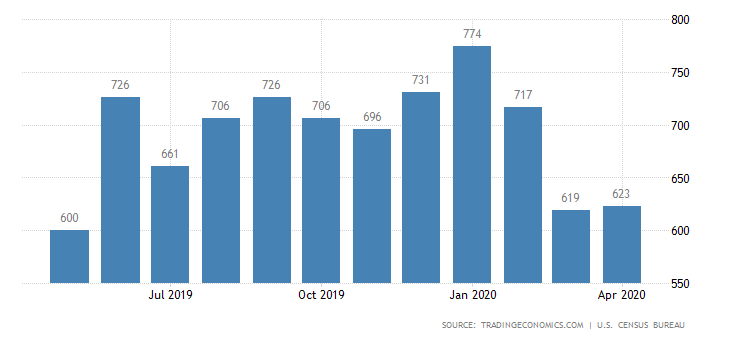 The big question is after the lockdown eases and the economy reopens how much damage has been done with the massive unemployment and wealth erosion.
About NAHB/Wells Fargo Housing Market Index (HMI)
Based on a monthly survey of NAHB members designed to take the pulse of the single-family housing market. The survey asks respondents to rate market conditions for the sale of new homes at the present time and in the next six months as well as the traffic of prospective buyers of new homes.
Source: NAHB
From The TradersCommunity News Desk