US existing home sales rose to 5.54M v 5.43M expected and the prior 5.35M, up +3.6%% v +1.5% expected. Mortgage data has been volatile but stronger in late 2019 flowing onto housing as the stockmarket hit all time highs.
National Association of realtors pending home sales for month of December
Pending home sales -4.9% versus 0.5% estimate.
The prior month was at 1.2%.
Largest decline since May 2010 YoY at 6.8% versus 10.3% estimate.
The prior month was 5.6%
South, -5.5%. Year on year +8.4%
West, -5.4%. Year on year +8.0%
Northeast -4.0%. Year on year +3.3%
Midwest -3.6%. Year on year +4.5%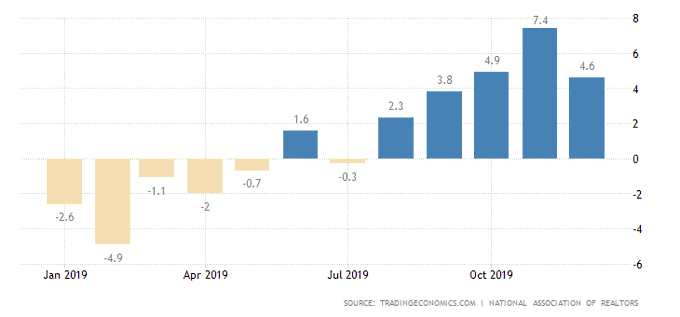 The inventory of homes for sale was the lowest on record. Lawrence Yun, NAR's chief economist, said that mortgage rates are expected to remain under 4 percent for most of 2020 while net job creation will likely exceed two million. The economist also noted that low inventory remains a significant longer-term concern.
US Existing Home Sales for December 2019
US existing home sales for December 5.54M vs 5.43M estimate, Prior 5.35 million no revision from previous month
Existing home sales 5.54M vs 5.43M estimate
Rises 3.6% versus 1.5% estimate
Overall sales were up 10.8% from a year ago.
Iinventories home for sale 1.4 million units.equivalent to 3.0 months supply. Last month 3.7 months
Sold inventory totals have dropped for 7 consecutive months from year ago levels.
Property stability remained on the market for 41 days in December versus 46 days in December 2018
Median home price $274,500. up 7.8% from December 2018.
94 straight months of year-over-year gains

Affordability rankings declined in 81 metro areas.
South +2.2%
West -1.8%
Midwest -1.6%
Northeast unchanged
1st time homebuyers were responsible for 31% of sales 2nd homebuyers purchase 17% of the homes in December 2019 up from 15% last year.
Existing Home Sales in the United States averaged 3974.82 Thousand from 1968 until 2019, reaching an all time high of 7250 Thousand in September of 2005 and a record low of 1370 Thousand in March of 1970.
Source: NAR
From The TradersCommunity News Desk