China's annual consumer inflation rose to 4.5 percent in November 2019 from 3.8 percent the previous month and above market expectations of 4.2 percent to the highest inflation rate since January 2012 as persistently high pork prices keep pressuring inflation.
The high pork prices follow an outbreak of African swine fever this year. Pork is a staple of the Chinese diet. On a monthly basis, consumer prices increased by 0.4 percent in November, after a 0.9 precent gain in October but higher than market estimates of just 0.1 percent.
November Breakdown
Food CPI +19.1% y/y up from 15.5 percent in October,
Non-food just +1.0% y/y, 0.1 percentage points higher than that of October.
Pork prices rose 110.2 percent year on year last month,
Vegetable prices saw a 3.9 percent increase from a year ago.
The CPI in urban and rural areas posted a year-on-year growth of 4.2 percent and 5.5 percent, respectively. In the first 11 months of the year,
Consumer prices on average rose 2.8 percent from a year earlier, the bureau said.
Core inflation, which excludes food and energy prices pressures remain modest. So if you don't eat or use energy all is fine.!


The Inflation Rate in China averaged 5.13 percent from 1986 until 2019, reaching an all time high of 28.40 percent in February of 1989 and a record low of -2.20 percent in April of 1999. source: National Bureau of Statistics of China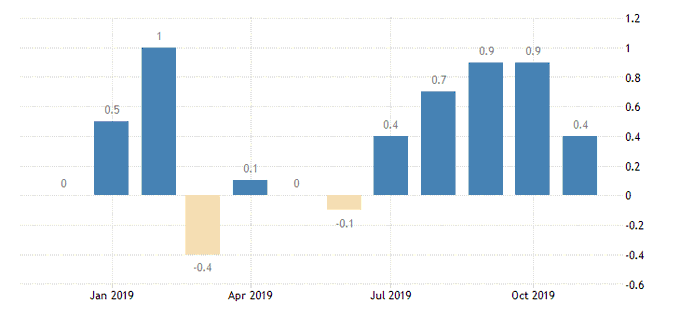 The Producer Price Index
At the same time as consumer prices are soaring the producer price index (PPI) fell 1.4% in November from a year earlier, following a 1.6% decline in October whch marked the steepest decline since July 2016, National Bureau of Statistics data showed. PPI fell as the manufacturing sector weakened on declining demand and a knock from the Sino-U.S. tariff war, reinforcing the case for Beijing to keep the stimulus coming.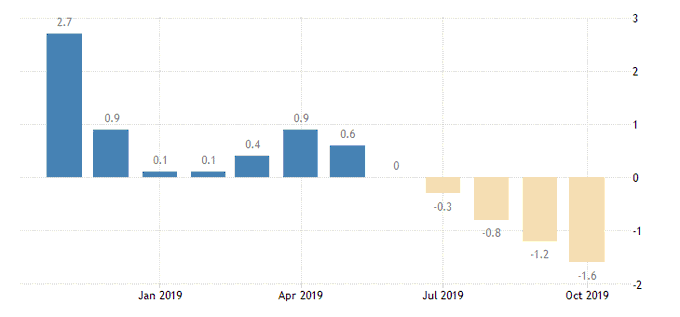 Cost of means of production dropped -2.5 percent vs -2.6 percent in October)
Raw materials (-5 percent vs -5.6 percent),
Processing (-1.6 percent vs -1.5 percent),
Extraction (-1.4 percent vs -1.9 percent).
Prices went up further for consumer goods (1.6 percent vs 1.4 percent)
Food production (5.4 percent vs 4.4 percent),
Daily use goods (0.1 percent vs 0.4 percent),
Clothing (0.3 percent vs 0.6 percent)
Durable goods (-2.1 percent vs -1.8 percent).
On a monthly basis, producer prices declined by 0.1 percent in November. Considering the first eleven month of the year, producer prices fell 0.3 percent compared with the same period of 2018. Producer Prices Change in China averaged 1.25 percent from 1995 until 2019, reaching an all time high of 13.47 percent in July of 1995 and a record low of -8.20 percent in July of 2009. source: National Bureau of Statistics of China
Factory deflation is in line with other indicators showing shrinking manufacturing activity in November, with the official Purchasing Managers' Index (PMI) indicating contraction for a seventh straight month.
More U.S. tariffs against China are set to take effect on Dec. 15, although officials from both China and the United States had said this week they have agreed to roll back tariffs on each others' goods if a "phase one" trade deal is completed. Though President Trump says there i no rolling back in the Phase one deal discussed.
The more than year-long trade war has cost China $35 billion as the United States has cut down on Chinese imports, driving up prices for American consumers, according to a U.N. study published last month.
Surging consumer inflation is adding to the headaches of policymakers who are racing the calendar to meet Beijing's annual growth target as it slows to the lower end of a 6%-6.5% range for 2019.
From The Traders Community News Desk