Japan's preliminary industrial production for November came in at -4.2% m/m, much lower than an already anemic expected -2.0%.In May the Nikkei Japan Manufacturing PMI® business outlook turned pessimistic for the first time in six-and-a-half years.
Japan Industrial Production (Prelim) For October 2019
Japan's preliminary industrial production for October came in at -4.2% m/m, much lower than an already anemic expected -2.0%.
Industrial production contracts
-4.2% m/m for a miss on estimates and the biggest decline m/m since January of 2018 expected -2.0% m/m, prior 1.7%
-7.4% y/y also a miss expected -5.2% y/y, prior 1.3%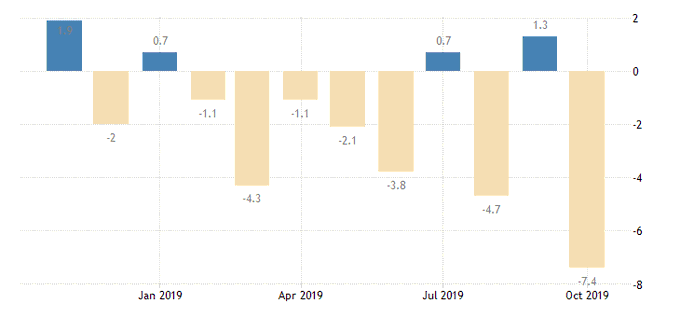 General-purpose machinery -14.5 percent)
Motor vehicles -7.8 percent
Business oriented machinery -6.5 percent
Production machinery -6.4 percent
Electronic parts and devices +0.9 percent.
Industrial Production Mom in Japan averaged 0.39 percent from 1953 until 2019, reaching an all time high of 6.80 percent in May of 2011 and a record low of -16.50 percent in March of 2011.
Source: Ministry of Economy Trade & Industry (METI)
Outlooks:
Manufacturers expect November to show -1.5% m/m and December +1.1% m/
Japan's METI comment:
Says there is weakness is industrial production
Not a positive sign for this sector.
Factors to bear in mind include slowing global demand and the sales tax hike introduced in the month
Weather an impact, typhoon caused flooding, impacting both production and consumption.
Japan's government will introduce a special extra budget with more spending in an effort to boost growth.
The Bank of Japan will remain under pressure to hold steady, and even add to, its easing measures.
Softer rise in workforce numbers amid lower output requirements, with new order intakes dipping. Makers of both capital and intermediate goods saw drops to sales this year. Offsetting this consumer goods producers report an expansion in demand.
The downturn is a reflection of weakness both domestically and overseas.
New export business has fallen for most of the year, which firms attributed to challenging economic conditions
Increasing rate of contraction at key trading partners such as China, as well as greater competition internationally.
Stocks of both finished goods and inputs declined in November amid concern towards heightened trade tensions between the US and China, as well as the planned sales tax hike later this year.
There were no signs a let-up in the recent manufacturing downturn as output and new orders both slipped. Weak demand from Japan's key trade partner, China, as well as signs of an increasingly sluggish domestic economy, have impacted sales volumes. Sub-sector data also indicated the area where manufacturing softness had hit hardest, with investment goods producers leading the decline in order books. Given the importance of capital goods to Japan's foreign trade, it would suggest further difficulties lie ahead for Japanese exporters.
Trade tensions between China and the US merely add to existing concerns for manufacturers.
Source: Ministry of Economy Trade & Industry (METI)
From The TradersCommunity News Desk