US Consumer price inflation (CPI) for October was 0.4% higher than expected. YoY was 1.8% also more than expected. Gas prices surged 3.7% in October, though still fallen more than 7% in the past year. Bottom line is the Federal Reserve remains clueless about inflation and wages.
US CPI for the month of October 2019
US core consumer prices, excluding volatile items such as food and energy, increased 0.2 percent month-over-month in October 2019, following a 0.1 percent gain in September and matching market expectations.
Healthcare costs jumped by the most in more than three years, while increases were also seen in prices of used cars and trucks and recreation and rents.
Energy accounted for more than half the increase in the CPI according to Labor Department.
Healthcare (+1% - the largest since August 2016),
Food (+0.2%)
Owner equivalent rent a primary residence (+0.2%)
The gain in the CPI MoM was the largest since March.
Used motor vehicles and truck prices increase 1.3% after a -1.6% decline in September.
Apparel prices fell by at -1.8%.
Core Consumer Prices in the United States averaged 126.75 Index Points from 1957 until 2019, reaching an all time high of 265.01 Index Points in October of 2019 and a record low of 28.50 Index Points in January of 1957.
CPI MoM 0.4% versus 0.3% estimate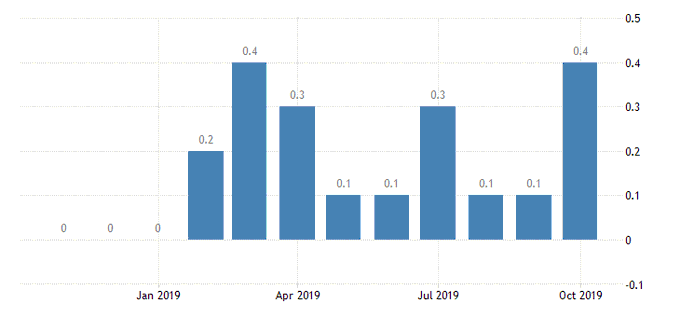 CPI ex food and energy MoM 0.2% versus 0.2% estimate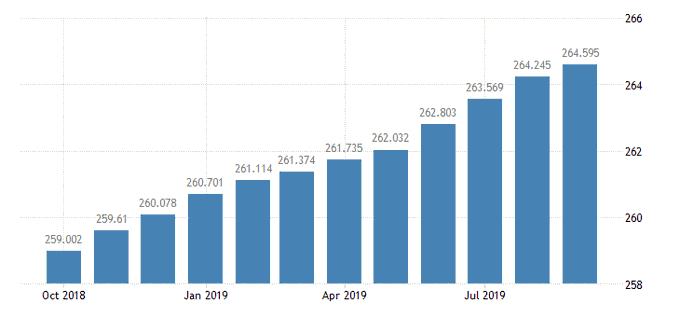 CPI YoY 1.8% versus 1.7% estimate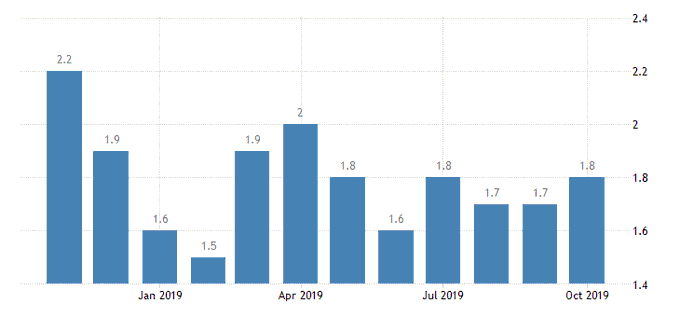 CPI ex food and energy YoY 2.3% versus 2.4% estimate (Core)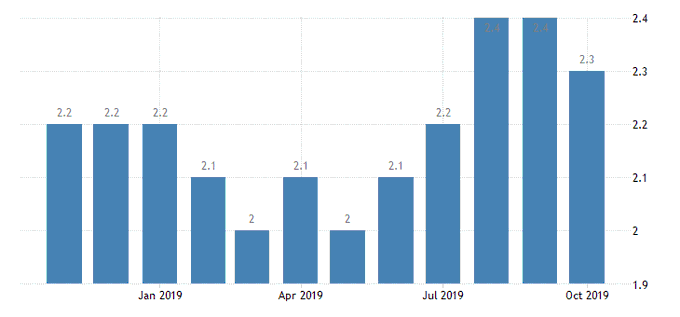 US Real Earnings
Real average weekly earnings YoY 0.9% versus 1.0% last month
Real average hourly earnings YoY 1.2% versus 1.3% last month
Tomorrow May PPI is due and will be the last major U.S. economic numbers before the next FOMC meeting.
Source; BLS, Trading Economics
From the Traders Community News Desk