Australia's private sector fell for the first time in three months Flash PMI from the Commonwealth Bank and Markit showed in November. Declines were seen across both manufacturing and service sectors. However marginal increases were recorded in both new orders and employment. Companies felt input cost inflation accelerate but left selling prices broadly unchanged amid a relatively weak demand environment.
Australia November Commonwealth Bank Flash Composite PMI®
Reported Friday November 22 2019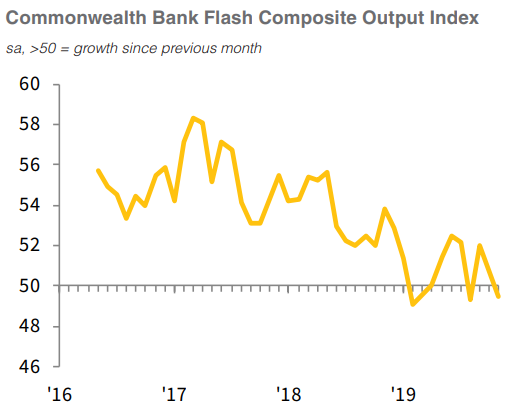 Australia flash Nov. PMIs.
Manufacturing 49.9 (prior 50.0)
Services 49.5 (prior 50.1)
Composite 49.5 (prior 50.0)
All three dropped back into contraction. New orders and employment sub-indexes edged just a little higher. input cost inflation up, but selling prices broadly unchanged (companies leaving prices unchanged due to weak demand.
Backlogs of work were up marginally during November.
Volumes of new and outstanding work ticking higher, companies expanded their staffing levels for the fourth month running.
The rate of job creation was only slight however

Input costs increased at a sharp pace, with the rate of inflation quickening to a 13-month high.

Higher fuel costs were widely mentioned by panellists, with increases in raw material prices and staff costs also reported.
Despite a sharp rise in input costs, companies in Australia left their output prices broadly unchanged.
In fact, service providers lowered their charges for the first time since June 2016.
Respondents indicated that pricing power had been restricted by competitive pressures amid a challenging demand environment.
Business confidence dipped in November, with sentiment lower across both monitored sectors.
Comments
Commenting on the Commonwealth Bank Flash PMI data, CBA Chief Economist, Michael Blythe said:
"Activity in the key manufacturing and services sectors continues to bounce around the 50 line that separates expansion from contraction. This is a particularly disappointing result when benchmarked against interest rate cuts, tax cuts, rising house prices and a still solid labour market".
Mr Blythe also noted:"Readings on new orders and employment offer a glimmer of positive news. But the challenges faced by Australian businesses are evident in the accelerating growth in input prices and the slowing trend in output prices. Competitive pressures and weak demand are taking a toll".
Source:IHS Markit
From The TradersCommunity News Desk