South Korea continues to be hit by the Chinese US trade war with it's 9th consecutive monthly drop in it's exports. In August it's trade surplus plunged to USD 1.72 billion from USD 6.82 billion in the same month a year earlier.
This was the smallest trade surplus since January for South Korea, with exports falling much more than imports.
South Korea August 2019 Trade Report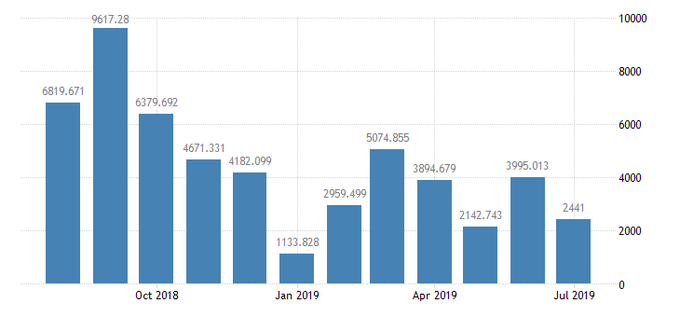 Highlights
Exports -13.6% to USD 44.20 billion
Imports -4.2% to USD 42.48 billion
9th consecutive monthly drop.
For the first eight months of 2019, the trade surplus narrowed sharply to USD 23.36 billion from USD 44.81 billion in the corresponding period the prior year
Exports to China -21.3%
Semiconductor Value -30.7%
Semiconductor Volume +4.5%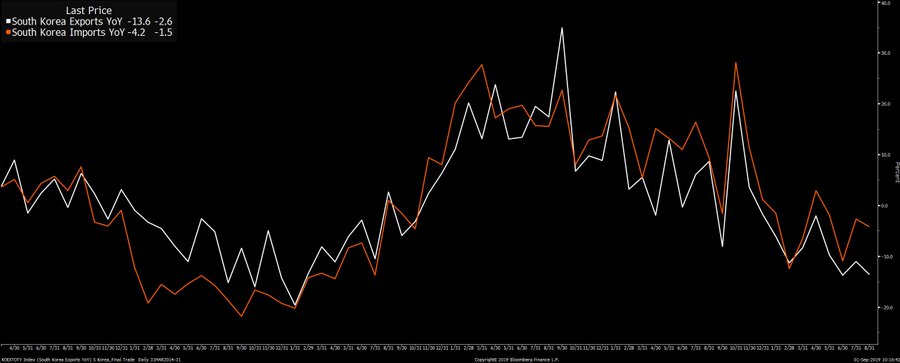 The Balance of Trade in South Korea averaged 1077.22 USD Million from 1966 until 2019, reaching an all time high of 13419.36 USD Million in September of 2017 and a record low of -4043.46 USD Million in January of 2008.
This follows the report Chinese manufacturing contracted for the fourth straight month on the eve of the US increasing tariffs on Chinese goods and China's reciprocal tariffs. The Official NBS Manufacturing PMI in China dropped to 49.5 in August 2019 from 49.7 in July and below market expectations of 49.6.
Source: TradeEcconomics, Bloomberg
From The TradersCommunity News Desk