Chinese manufacturing contracted for the fourth straight month on the eve of the US increasing tariffs on Chinese goods and China's reciprocal tariffs. The Official NBS Manufacturing PMI in China dropped to 49.5 in August 2019 from 49.7 in Julyh and below market expectations of 49.6.
China is suffering from the growing trade frictions with the US and sluggish domestic demand.
Purchasing Managers' Index data from China's National Bureau of Statistics published Saturday August 31.
Highlights
Manufacturing 49.5 expected 49.6, prior 49.7
In contraction for the fourth consecutive month
New orders fell to 49.7 vs 49.8 in July
Employment fell to 46.9 vs 47.1
Output growth fell to 51.9 vs 52.1
Export orders showed slight improvement after being down for 15 straight monthes (47.2 vs 46.9)
Buying level declined at the steepest rate since February at 49.3 vs 50.4
Input prices dropped the most in seven months 48.6 vs 50.7
Output charges fell for the fourth month in a row to 46.7 vs 46.9).
Xinhua report the NBS saying "demand moderated amid a complex economic environment"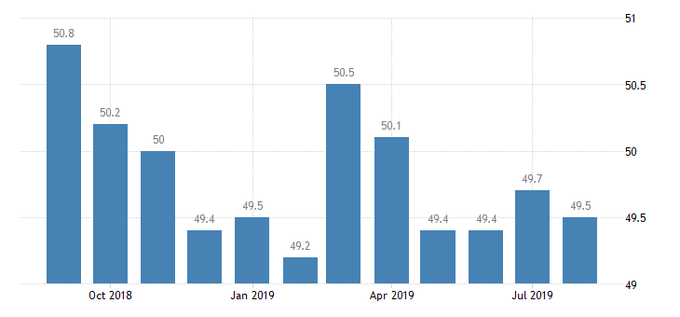 Services
53.8 expected 53.7, prior 53.7
First improvement in five months
Composite
53.0 prior 53.1
Like most of the world Services holding up the manufacturing demise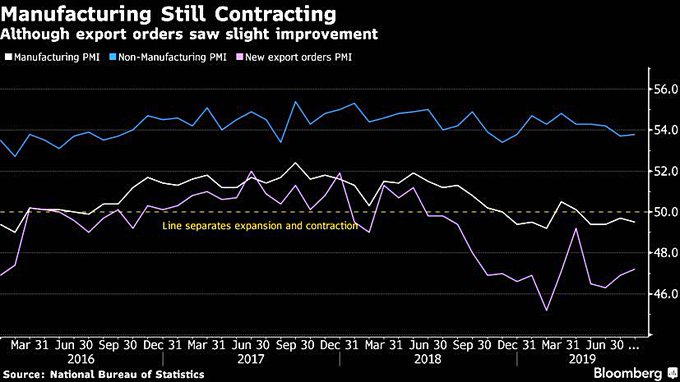 Looking ahead
Business sentiment weakened to its lowest since January (53.3 vs 53.6).
Business Confidence in China averaged 51.82 Index Points from 2005 until 2019, reaching an all time high of 59.20 Index Points in April of 2008 and a record low of 38.80 Index Points in November of 2008.
The privately surveyed PMIs (Caixin/Markit) will be published from Monday (the manufacturing PMI is Monday, services and composite follow on Wednesday).
Source: TradeEcconomics, Bloomberg
From The TradersCommunity News Desk