German manufacturing PMI fell to it's lowest point in 7 years as the global trade war and Brexit drama weighed. Job creation slowed to its weakest since April 2015 with reduction in backlogs and lower confidence towards future output.
Markit Flash Germany July PMI

Flash Germany PMI Composite Output Index at 51.4 (Jun: 52.6). 4-month low.

Flash Germany Services PMI Activity Index at 55.4 (Jun: 55.8). 2-month low.
But Manufacturing Continues To Contract ....
Flash Germany Manufacturing PM at 43.1 (Jun: 45.0). 84-month low.

Flash Germany Manufacturing Output Index at 44.1 (Jun: 46.7). 4-month low.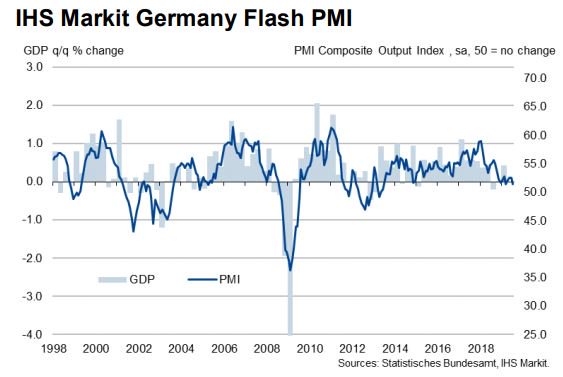 Germany July Manufacturing PMI
Flash Germany Manufacturing PM at 43.1 (Jun: 45.0). 84-month low.
Flash Germany Manufacturing Output Index at 44.1 (Jun: 46.7). 4-month low.
Manufacturing order books fell at the fastest rate since April amid reports of lower export sales (in particular to China) and weakness in the automotive sector.
July's decrease in factory export orders was in fact the sharpest seen in over a decade.
With services firms also reporting reduced inflows of new orders from abroad, total new export business was down for an eleventh straight month in July.
Backlogs fell in manufacturing at the fastest rate since June 2009 and barely rose across the service sector, resulting in the quickest overall decline in more than six years.
The pace of job creation across Germany slowed sharply in July, showing the weakest rise in overall employment since April 2015.
There was variation at the sector level, however, with a further marked rise in service sector payroll numbers contrasting with a sharp and accelerated reduction in manufacturing jobs – the steepest seen for seven years.
Confidence among manufacturers towards future output sank sharply in July, down to its lowest since late-2012 due in part to increased concerns towards the outlook for the car industry.
Service providers meanwhile expressed their weakest optimism since December 2014, meaning that overall business confidence was at its lowest in more than four-anda-half years.
Inflation a Different Story in Manufacturing and Services
On the cost front, latest data showed input price inflation easing to a near three-year low, weighed down by a steep and accelerated reduction in prices paid by manufacturers for raw materials and parts.
Cost pressures in the service sector meanwhile remained elevated.
Average output prices also rose more slowly in July, with the rate of inflation the weakest seen since November 2016.
While charges levied by service providers increased a solid rate that was unchanged since June, manufacturers reported the first drop in factory gate prices in almost three years amid reports of strong competition.
Growth of German business activity slowed in July as the country's manufacturers recorded their worst monthly performance in seven years, according to the latest flash PMI® data from IHS Markit. The IHS Markit Flash Germany Composite Output Index – which is based on approximately 85% of usual monthly replies – fell to 51.4 in July. This was down from 52.6 in June and its joint-lowest reading in over six years.
Job creation meanwhile slowed to its weakest since April 2015 as firms reported an accelerated rate of reduction in backlogs and lower confidence towards future output. Manufacturing output fell sharply in July, registering its steepest drop since March and one of the most marked contractions since 2009. With new orders, employment and stocks of purchases also falling more quickly, the headline IHS Markit Flash Germany Manufacturing PMI registered a sevenyear low of 43.1, down from 45.0 in June.
Comments
Phil Smith, Principal Economist at IHS Markit, which compiles the Germany Manufacturing PMI survey, commented:
"The health of German manufacturing went from bad to worse in July, according to the flash PMI data, raising the risk of the euro area's largest member state entering a mild technical recession.
"The performance from Germany's goods producers in July is the worst recorded by the survey in seven years, with the renewed weakness mainly stemming from an accelerated drop in export orders – the most marked seen in over a decade.
"Still solid growth in the service sector means that the German economy is just about keeping its head above water for now, but even here there are signs of increased worries among companies as optimism hit a three-and-a-half year low. "In a further sign of the slowdown in new orders and gloomier outlook affecting firms' hiring decisions, July's flash data showed employment rising at the slowest rate for over four years, with factory job losses accelerating."
Source: IHS Markit

From The TradersCommunity News Desk