Australia saw stronger than expected full time jobs growth in April but part time jobs fell, with Unemployment at 5.2% and Trend unemployment remaining steady at 5.2%. Participation remains near highest since Dec of 2010.
Australia Labour Market Report For August
Full Time Employment in Australia increased by 21100 in June of 2019. Full Time Employment in Australia averaged 7528.98 Persons from 1978 until 2019, reaching an all time high of 74800 Persons in December of 1987 and a record low of -80829 Persons in November of 1991.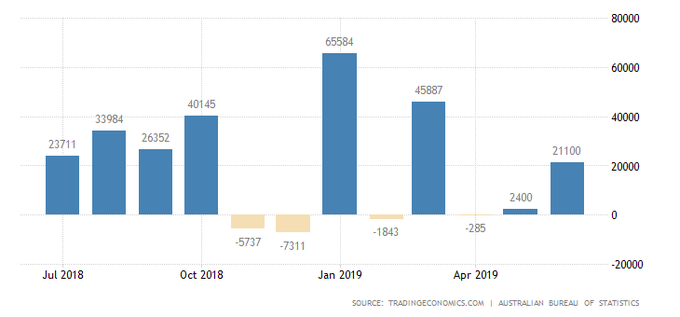 Employment Change: +0.5K expected +9.0K, prior +42.3K
Unemployment Rate: 5.2% expected 5.24%, prior 5.19%
Full Time Employment Change: 21.1K prior +2.4K
Part Time Employment Change: -20.6K prior +39.8K
Participation Rate: 66.0% expected 65.9% prior 66.0%
Australia's seasonally adjusted unemployment rate stood at 5.2 percent in June 2019, unchanged from the previous two month's eighth month-high and matching market expectations. The economy added 500 jobs while the number of unemployed increased by 6,600. Unemployment Rate in Australia averaged 6.83 percent from 1978 until 2019, reaching an all time high of 11.20 percent in December of 1992 and a record low of 4 percent in February of 2008.
Trend Employment (RBA Prefers This Data)
Trend participation rate increased to 66.0 per cent
Trend unemployment rate remained steady at 5.2 per cent
Trend monthly employment increased by around 26,000 persons
Full-time employment increased by 15,000 persons
Part-time employment increased by 11,000 persons
Over the past year, trend employment increased by 329,000 persons (2.6 per cent) which was above the average annual growth over the past 20 years (2.0 per cent).
The trend monthly hours worked increased by less than 0.1 per cent in June 2019 and by 2.0 per cent over the past year.
This was above the 20 year average year-on-year growth of 1.7 per cent.
The trend monthly underemployment rate remained steady at 8.3 per cent in June, and decreased by 0.2 percentage points over the year. The trend underutilisation rate decreased by 0.4 percentage points over the year.
Source: ABS,
The TradersCommunity News Desk
From a Sunburnt Country