The UK manufacturing sector in June fell again after a much larger downturn than expected in May. We are seeing balancing after the March spike to 55.1 boosted by stock purchases ahead of Brexit hitting a G-7 record. UK exports were also at their lowest in almost 5 years.
IHS MARKIT / CIPS UK MANUFACTURING PMI® June 2019
UK June manufacturing PMI 48.0 vs 49.5 expected
Prior 49.4
Lowest since February 2013.
Output component falls to 47.2 from 50.3 in May to lowest reading since October 2012.
PMI fell for the third consecutive month.
PMI has posted below the no-change mark for two months in a row, the first backto-back declines since early-2013.
Manufacturing production contracted at the fastest pace since October 2012.
Output was lowered in response to reduced intakes of new business, which fell to the greatest extent for almost seven years.
There were reports that high stock levels, ongoing Brexit uncertainty, the economic slowdown and rising competition all contributed to the decreases in new orders and production.
Demand from domestic and foreign mark Business optimism dipped to its third-lowest level in the series history during June.
That said, a number of companies still maintain a positive outlook. Almost 44% forecast that output will be higher in one year's time, compared to only 14% expecting a contraction.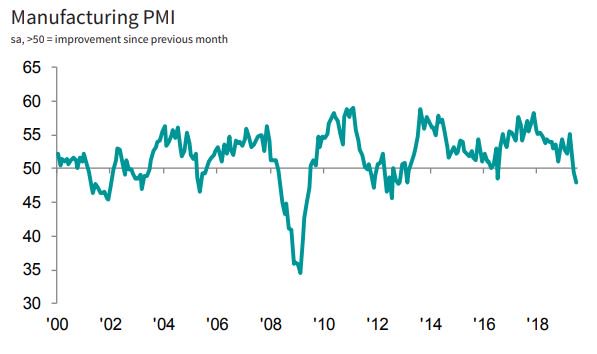 Comments
Rob Dobson, Director at IHS Markit, which compiles the survey:
"The downturn in UK manufacturing deepened during June, as the impact of firms unwinding stockpiles built before the original Brexit date continued to reverberate through the sector and exacerbate weak demand. This led to solid decreases in both production and new orders, which sank the headline PMI to its lowest in almost six-and-a-half years.
"Demand from the domestic market weakened, while the additional constraint of slower global economic growth meant new export business fell at one of the fastest rates since late-2014.
"Although the consumer goods sector was able to eke out further output growth, the rate of expansion slowed sharply. Solid contractions at intermediate and investment goods producers also suggested that businesses were cutting back on both day-to-day and capital spending in increasing numbers.
"The stranglehold of sustained Brexit-related uncertainty and disruption also weighed heavily on business confidence and employment, as optimism ebbed to one of its lowest levels in the survey history and staff headcounts were reduced for the third straight month.
"There will need to be a substantial improvement in economic conditions at home and overseas, alongside reductions in both Brexit and domestic political uncertainties, if manufacturing is to see a sustained revival in the coming quarters."
Duncan Brock, Group Director at the Chartered Institute of Procurement & Supply:
"The manufacturing downturn is deepening, with a second month in contraction and production shrinking at the steepest rate for seven years. The triple whammy of the Brexit-delay fallout, weaker domestic and export demand impacted on new orders, optimism and job creation, and the sector was left gasping for breath.
"With clients starting to unwind pre-March Brexit stockpiles new orders from domestic and export markets failed to materialise as the global economy also slowed down. Companies resorted to job losses to reduce the slack in production capacity, as employment fell for the third month in a row.
"A small silver lining for the sector, arrived in the form of a weaker rate of average input price inflation compared to the last couple of years and businesses tried to claw back some of the margins lost in previous months by increasing their own prices.
"The sector's strength is slowly slipping away, deprived of the oxygen of a reduction in Brexit uncertainty and an associated return of confidence to the marketplace. All the signs from the manufacturing sector point to another decline next month unless someone pulls a rabbit out of the Brexit hat."
Source: IHS Markit

From the TradersCommunity News Desk