Germany manufacturing PMI came in like most European PMIs, soft as the global trade war and Brexit drama weighed. 45.0 was a 4-month high, but still the manufacturing sector contracted for a sixth month in a row. Growth in consumer goods was the brightspot.
Markit final Germany June Manufacturing PMI

Germany Manufacturing PMI
45.0 vs 45.4 prelim/li>
Prior 44.3 May
Trying to recover from Eurozone sovereign debt crisis levels.
Input prices dragged lower by further fall in buying activity
Weak demand continues to harm German goods producers.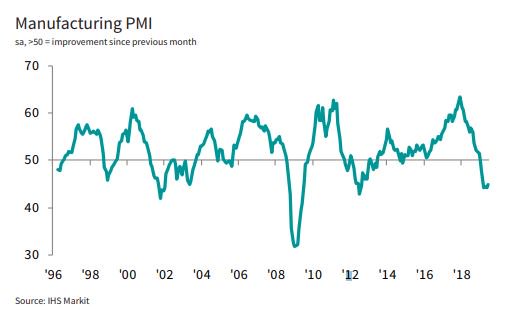 Germany's manufacturing sector contracted further in June, according to the latest PMI® data from IHS Markit and BME. Weaker external demand and a slowdown in the auto industry continued to weigh on order books, which in turn led to declines in both output and employment. Sub-sector performances continued to vary, however, with growth in consumer goods contrasting with downturns in the intermediate and investment goods categories.
Elsewhere, input prices fell at a faster rate in June, dragged lower by a further reduction in buying activity and associated destocking efforts. Output expectations meanwhile turned positive for the first time in nine months, albeit remaining subdued by historical standards. The headline IHS Markit/BME Germany Manufacturing PMI – a single-figure snapshot of the performance of the manufacturing economy – showed a deterioration in overall business conditions for the sixth month in a row in June.
At 45.0, up from 44.3 in May, the index was at a four-month high, but still well below the neutral 50.0 mark and close to its lowest since 2012. The slight uptick in the PMI mainly reflected the new orders component, which showed the rate of decline easing for the third month in a row in June (albeit still running at a marked pace overall).
A key weakness remained export sales, where there were reports of lower demand from Asia in particular. Falling demand for inputs meanwhile contributed to a second straight monthly decrease in purchases prices in June. Alongside reports of discounts from suppliers, there were also frequent mentions of lower steel prices. Output charges were meanwhile unchanged, ending a 33-month sequence of inflation.
Comments
Phil Smith, Principal Economist at IHS Markit, which compiles the Germany Manufacturing PMI survey, commented:
"Although inching up in June, Germany's manufacturing PMI remains well inside contraction territory as the sector continues to suffer in the face of global trade tensions, an autos slowdown and lingering uncertainty. That said, some encouragement can be taken from the fact that the rate of decline in new orders eased for a third month running and future expectations returned – albeit only just – to positive territory.
"Intermediate goods manufacturers have replaced makers of capital goods as the worst performers. This partly reflects the current destocking trend, where firms are keeping fewer parts and components due to not only lower output requirements, but also improving input lead times and availability.
"The more domestically orientated consumer goods sector remains the only bright spot, seeing stronger growth in both output and new orders in June. Prices for these goods continue to rise, but elsewhere we're seeing more discounting. The survey's overall price gauges are now at their lowest for around three years.
From The TradersCommunity News Desk