The US Labor Department May jobs report Friday missed big with 75,000 NFP jobs added versus expected 190,000 . Unemployment was 3.6% the lowest since December 1969. Participation rate waso 62.8 again. Weaker ADP and PMI reports and skill shortage affected.
May 2019 U.S. Employment Report
The Fed Chair Powell has come out with a more dovish tone since raised rates five months ago following market chaos from the trade wars and the resultant uncertainty with Federal Reserve President Powell's seem unsure of the path for wages. In February American wages hit their highest levels in a decade at 3.4%, this trend continued as expected through March.
The market had expected the May report released Friday to see nonfarm payrolls rise in line with longer-run trends in monthly employment growth at a consensus of 190,000 new jobs, it came in much lower at 75,000. Logic suggested a return to the mean after the volatility in the hiring data. The wages data gives us indications of the FOMC plans on rates into 2019 and 2020. Unemployment is at a 49 year low with higher participation and the two month NFP revision was -75,000 change to jobs last month.
However, the combination of weaker PMI readings and skill shortages amid a low unemployment rate of 3.6% pose downside risks. More important could be the earnings data, which missed expectations in April. Any further cooling of pay growth would raise the odds of the FOMC's next policy change being a rate cut.
Employment:
Non-farm payrolls +75k vs +190K expected, Prior 263K (revised from 263K)
Unemployment rate 3.6% vs 3.6% expected/prior
Participation rate 62.8% vs 62.8% expected.prior (63.2% highest since 2014)
Underemployment rate 7.1 %

vs 7.3 % prior
Two month net revision -75k Prior+16K
Manufacturing payrolls +3k

vs +4k Prior (@ mo nths ago was first loss since Oct 2016)
Private payrolls +90k vs 236K Prior, expected
Wages:
Average hourly earnings +0.2%

m/m v +0.2% Prior/Expected
Average hourly earnings +3.1%

y/y vs 3.2% exp, Prior 3.2% y/y
Household Survey Data
The unemployment rate remained at 3.6 percent in May, and the number of unemployed persons was little changed at 5.9 million.
Among the major worker groups, the unemployment rates for adult men (3.3 percent), adult women (3.2 percent), teenagers (12.7 percent), Whites (3.3 percent), Blacks (6.2 percent), Asians (2.5 percent), and Hispanics (4.2 percent) showed little or no change in May.
In May, the number of persons unemployed less than 5 weeks increased by 243,000 to 2.1 million, following a decline in April. The number of long-term unemployed (those jobless for 27 weeks or more), at 1.3 million, changed little over the month and accounted for 22.4 percent of the unemployed.
Both the labor force participation rate, at 62.8 percent, and the employment-population ratio, at 60.6 percent, were unchanged in May. The number of persons employed part time for economic reasons (sometimes referred to as involuntary part-time workers) declined by 299,000 in May to 4.4 million. These individuals, who would have preferred full-time employment, were working part time because their hours had been reduced or they were unable to find full-time jobs.
Over the past 12 months, the number of involuntary part-time workers has declined by 565,000. In May, 1.4 million persons were marginally attached to the labor force, little changed from a year earlier. (Data are not seasonally adjusted.) These individuals were not in the labor force, wanted and were available for work, and had looked for a job sometime in the prior 12 months. They were not counted as unemployed because they had not searched for work in the 4 weeks preceding the survey.
Among the marginally attached, there were 338,000 discouraged workers in May, little changed from a year earlier. (Data are not seasonally adjusted.) Discouraged workers are persons not currently looking for work because they believe no jobs are available for them. The remaining 1.1 million persons marginally attached to the labor force in May had not searched for work for reasons such as school attendance or family responsibilities.
Establishment Survey Data
Total nonfarm payroll employment edged up in May (+75,000). Monthly job gains have averaged 164,000 in 2019, compared with an average gain of 223,000 per month in 2018. In May, employment continued to trend up in professional and business services and in health care.
Employment in professional and business services continued to trend up over the month (+33,000) and has increased by 498,000 over the past 12 months. Employment in health care continued its upward trend in May (+16,000).The industry has added 391,000 jobs over the past 12 months.
Construction employment changed little in May (+4,000), following an increase of 30,000 in April. The industry has added 215,000 jobs over the past 12 months.
Employment showed little change in May in other major industries, including mining, manufacturing, wholesale trade, retail trade, transportation and warehousing, information, financial activities, leisure and hospitality, and government. In May, average hourly earnings for all employees on private nonfarm payrolls increased by 6 cents to $27.83.
Over the year, average hourly earnings have increased by 3.1 percent. Average hourly earnings of private-sector production and nonsupervisory employees increased by 7 cents to $23.38 in May.
The average workweek for all employees on private nonfarm payrolls was unchanged at 34.4 hours in May. In manufacturing, the average workweek and overtime hours were unchanged at 40.6 hours and 3.4 hours, respectively. The average workweek for production and nonsupervisory employees on private nonfarm payrolls edged down by 0.1 hour to 33.6 hours.
The change in total nonfarm payroll employment for March was revised down from +189,000 to +153,000, and the change for April was revised down from +263,000 to +224,000. With these revisions, employment gains in March and April combined were 75,000 less than previously reported. (Monthly revisions result from additional reports received from businesses and government agencies since the last published estimates and from the recalculation of seasonal factors.)
After revisions, job gains have averaged 151,000 per month over the last 3 months.
The Employment Situation for June is scheduled to be released on Friday, July 5, 2019, at 8:30 a.m. (EDT)
Other US May Employment Component Releases
US May ADP Job Report
US May Challenger Job Cuts
Released by Challenger, Gray, and Christmas Inc - 4 April 2019
U.S.-based employers announced plans to cut 58,577 jobs from their payrolls in May, up 46% from the 40,023 cuts announced in April, according to a report released Thursday from global outplacement and business and executive coaching firm Challenger, Gray & Christmas, Inc.
May's cuts are up 86% from the same month last year, when 31,517 cuts were announced. when 31,517 cuts were announced.
So far this year, employers have announced 289,010 job cuts, 39% higher than the 207,977 cuts announced in the same period last year.
"The Tech sector announced the highest number of job cuts last month. Large Tech firms are finding they need to move workers through the pipeline in order to become more agile. In fact, we've seen a number of Tech and Telecom companies offering buyouts to older workers over the last year," said Andrew Challenger, Vice President of Challenger, Gray & Christmas, Inc.
Companies in the Technology sector announced 12,635 job cuts in May, bringing the year-todate total to 18,568, 342% higher than the 4,205 announced through this point last year. Telecom companies announced the second-highest number of cuts in May with 6,751, 60% of the 11,202 total cuts announced for the year.
Tech companies, however, are not the biggest job cutters in 2019.
Retailers continue to lead all sectors with 50,243 cuts, 2,167 of which were announced in May. Retail cuts are down 28% over last year, when 69,316 were announced.
"While job cuts in the Retail sector appear to have slowed, brick-and-mortar retailers continue to close stores and compete with the ease of online sellers. Since January 2017, we have tracked 18,242 announced store closures," said Challenger.
"Industrial Manufacturing and Automotive companies are also announcing an increasing number of job cuts. This is significant, as these industries are likely to be most hurt by the potential trade war with Mexico, increasing costs, and lower consumer demand," said Challenger. So far this year, Industrial companies have announced 44,552 cuts, the second highest of the year and 671% higher than the 5,782 job cuts announced through May 2018.
Meanwhile, companies in the Automotive industry have cut 21,446 jobs, 211% higher than the 6,905 cuts in that sector in the first five months of 2018. It is the highest five-month total since 2009, when 111,614 cuts were announced through May. In fact, this year's total for the sector has already surpassed year-end totals for every year since 2009, with the exception of last year, when 30,587 total cuts were announced, and 2012, when 24,092 Auto cuts were announced for the year.
"Automakers and suppliers, like big Tech companies, are streamlining their workforces to remain competitive. Last month's announcement from Ford included the discussion that many of the cuts will reduce bureaucracy to make the company nimbler," said Challenger.
In May, Ford announced they were completing 7,000 job cuts, or 10% of salaried staff, this summer. Challenger previously counted all but the 800 cuts occurring in the U.S. through August
US Weekly Jobless Claims week ending June 1 2019
US initial jobless claims 218K versus 215K estimate prior week revised to 218K from 215K
The four-week average fell to 215K from 217.5K
Continuing claims 1682K versus 1660K estimate. The prior week was revised to 1662K versus 1657K estimate
The 4-week average was 1672.75K vs 1673.75K last week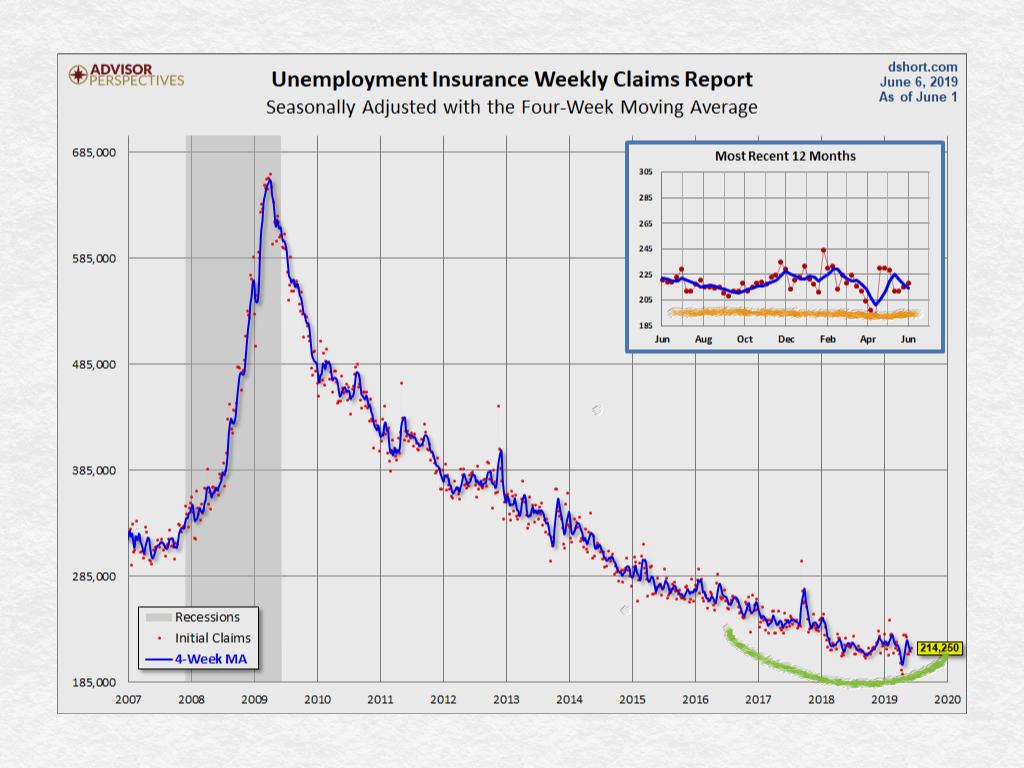 The highest insured unemployment rates in the week ending May 18 were in Alaska (2.2), California (1.9), New Jersey (1.9), Connecticut (1.7), Puerto Rico (1.7), Pennsylvania (1.5), Rhode Island (1.5), Virgin Islands (1.5), Illinois (1.4), Massachusetts (1.4), and Washington (1.4).
The largest increases in initial claims for the week ending May 25 were in Michigan (+2,537), Missouri (+1,046), New York (+875), New Jersey (+874), and California (+847)
The largest decreases were in Ohio (-3,273), Pennsylvania (-2,067), Florida (-250), Arizona (-151), and Indiana (-104).
Source: AFP, Challanger, DOL, TradersCommunity Data, BLS
From The TraderCommunity Research Desk