Australian first quarter GDP was reported at 0.4% q/q lower than the expected 0.5% q/q but higher than the prior 0.2%. For the y/y 1.8% as expected 1.8% but lower than prior 2.3%. Government spending and exports the main sources for growth.
Image via @teconomics
Highlights
Australian Bureau of Statistics:
Government spending was the main contributor to growth reflecting ongoing delivery of services in disability, health and aged care.
Household spending slowed and contributed a modest 0.1 per cent to growth reflecting reduced spending on discretionary goods such as furnishing and household equipment, recreation and culture and hotels, cafes and restaurants.
Dwelling investment continued to detract this quarter.
The slowing housing market has resulted in significant falls in ownership transfer costs, particularly stamp duty.
"The Australian economy continues to grow but more slowly than our long term average of 3.5 per cent."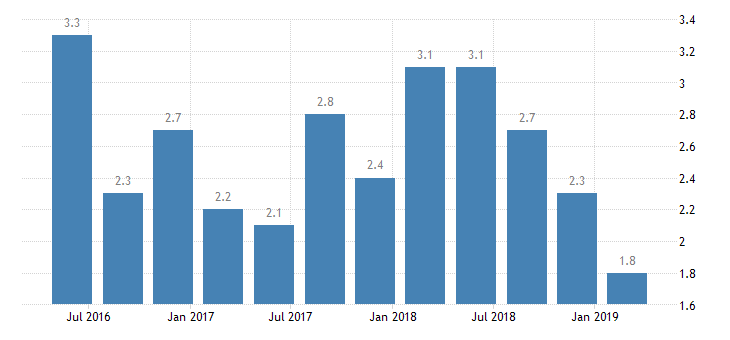 The economy still crawling, no surprise with the constant political partisanship up into the election hurting both business and consumer enthusiasm coupled with a weakening housing market particuarly in the two largest cities, Sydney and Melbourne.
The housing weakness is further impacted for the consumer against a backdrop of a further tightening of lending standards to the housing sector. Politicians and an angry herd always forget, be careful what you wish for.
Through all this however jobs growth remained robust, which is a positive sign. The effects of drought and supply disruptions in the mining sector overhang.
The housing situation is shown in household incomes with the gain in spending affectively 'funded' by a reduction in savings which is now at a post GFC low. Again this is was the inevitable situation after the attack on banks in Australia. There was perhaps a better way to clear this up then attack the consumer and bank holders in the end.
Public demand and net exports are key growth engines and are the core to a regain in the growth rate. The key for Australains to grasp across all demographics is that the wealth effect is no longer supporting consumption and from that much of the growth and expectations that politicians push towards their bases.
The RBA cut interest rates to record lows yesterday in anticipation of weakness.
Source: abs
From a sunburnt country