The UK manufacturing sector in May had a much larger downturn than expected, much of it to do with the March spike to 55.1 vs 51.2 expected boosted by stock purchases ahead of Brexit hitting a G-7 record. UK exports were also at their lowest in almost 5 years.
IHS MARKIT / CIPS UK MANUFACTURING PMI® May 2019
49.4 in May (34-month low) down sharply from 53.1 in April, fell below the neutral 50.0 benchmark for the first time since July 2016.
New orders and employment both decline as stockpiling activity halts following Brexit date delay
The rate of contraction was one of the fastest seen over the past six-and-a-half years.
New order inflows deteriorated from both domestic and overseas sources.
New export business fell for the second month running and at the quickest pace in over four-and-ahalf years.
Manufacturers reported lower demand from Asia and Europe. There was also mention of Brexit uncertainty, including clients diverting supply chains away from the UK, leading to lower demand from within the EU.
The renewed downturn in new orders weighed on both output and employment during May.
The trend in production was the weakest during the past 34 months, as an increase at large companies was mostly offset by contractions at small and medium sized firms.
Sub-sector data indicated that much of the weakness was confined to the intermediate and investment goods industries. These both saw output, new orders and employment move lower during the latest survey month.
In contrast, consumer goods producers fared better, seeing output, new business and staffing levels all continue to rise. May saw the trends in inventory holdings and purchasing activity all impacted by the delay to Brexit.
The latest survey saw a sharp easing in the rate of increase in finished goods stocks and pre-production inventories drop for the first time in ten months.
The latter was driven by a sharp pull-back in input buying volumes, which fell at the sharpest rate since July 2016.
Output charges inflation rose to a three-month high in May, largely reflecting a marked acceleration for consumer goods.
Purchase price inflation edged lower.
Manufacturers remained optimistic in May. Almost 49% expect output to be higher in 12 months' time, compared to 7% forecasting contraction.
Optimism was attributed to reduced uncertainty following Brexit, growth plans, recoveries in domestic and overseas demand, new product launches and using new technologies.
However, global trade tensions and Brexit continued to weigh on some firms' outlook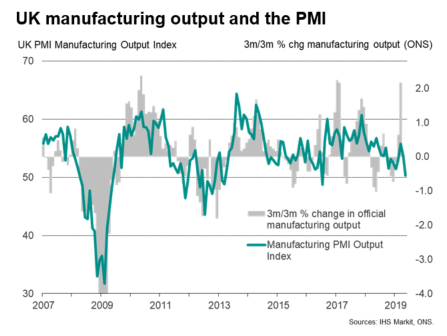 Comments
Rob Dobson, Director at IHS Markit, which compiles the survey:
"The UK manufacturing sector was buffeted by ongoing Brexit uncertainty again in May. The headline PMI posted 49.4, moving back into contraction territory for the first time since July 2016, the month directly following the EU referendum result. The trend in output weakened and, based on its relationship with official ONS data, is pointing to a renewed downturn of production
"New order inflows declined from both domestic and overseas markets, as already high stock levels at manufacturers and their clients led to difficulties in sustaining output levels and getting agreement on new contracts. Demand was also impacted by ongoing global trade tensions, as well as by companies starting to unwind inventories built up in advance of the original Brexit date. Some EU-based clients were also reported to have shifted supply chains away from the UK.
"Although the consumer goods sector remained a positive growth spot, the intermediate and investment goods industries are still comparatively weak, in part reflecting the reverberation of the recent sharp slowdown the autos sector. With these demand, purchasing and inventory trends likely to stay in play for the foreseeable future, the current manufacturing downturn may have further to run and will have negative ramifications for growth in the broader economy in the months ahead."
Duncan Brock, Group Director at the Chartered Institute of Procurement & Supply:
"Concern for manufacturers has deepened this month as the sector's performance shrank in May and tumbled into contraction. With one of the fastest shrinking rates seen in six and a half years and the biggest drop since July 2016, straight after the referendum result, based on this result, there is the likelihood of more bad news to come.
"Supply chain managers voiced their deep anxieties over Brexit's continuing impacts as some supply chains were re-directed away from the UK resulting in a drop in total new orders for the first time since October. Clients from Europe and Asia were particularly reluctant to commit to new business across all sectors but the intermediate sector suffered the worst fall in seven years as the pipeline of work dried up. It has now become obvious that the stockpiling activities of the last few months were propping up the sector's performance.
"As business uncertainty continued unabated, manufacturers focussed on efficiency and cost reduction drives as job creation fell for the second consecutive month and workforces shrank in response. If there are any silver linings amongst these darkening clouds then the softening in input price inflation provides a scrap of relief along with an improvement in delivery times not seen for three and a half years.
"A slowdown in the global economy, and trade wars hotting up could tip the scales even further next month and increase the likelihood that the UK manufacturing sector will remain in contraction territory." ;
Source: IHS Markit

From the TradersCommunity News Desk