US Consumer price inflation (CPI) for February was 0.2% as expected. YoY was 1.5% less than expected. However real average hourly earnings rose 1.9% higher than the previous month. Bottom line is the Federal Reserve remains as clueless about inflation and wages as before.
Consumer prices in the United States in February had the lowest inflation rate since September of 2016, mainly due to a fall in cost of gasoline and clothing while prices of electricity stalled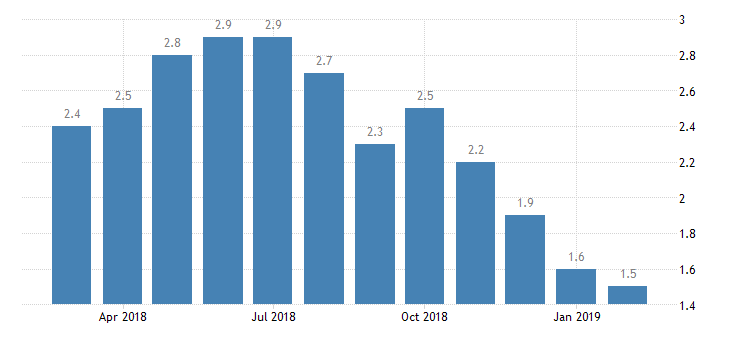 .
On a monthly basis, consumer prices went up 0.2 percent after a flat reading in January, matching forecasts. This was the first monthly rise in the CPI, due to prices of food, gasoline and rents.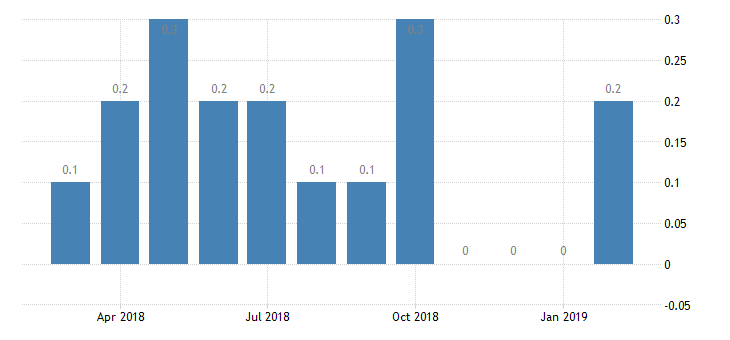 The Inflation Rate in the United States averaged 3.26 percent from 1914 until 2019, reaching an all time high of 23.70 percent in June of 1920 and a record low of -15.80 percent in June of 1921.
Highlights
CPI
CPI

MoM 0.2% vs 0.2% expected, prev 0.0% and 1.5% YoY v 1.6% expected, prev 1.6%

YoY lowest since September 2016
CPI MoM ex food and energy 0.1% vs 0.2% expected. prev 0.0% and 2.1% YoY as expected. prev 2.2%
Real Earnings
Average weekly earnings Y0Y rose 1.6% vs 1.9% last month
Real average hourly earnings YoY 1.9% vs 1.5% last month (revised from 1.7%)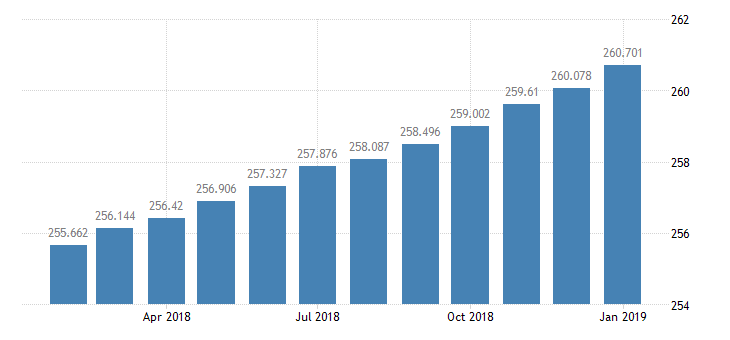 US core consumer prices, excluding volatile items such as food and energy, rose 0.1 percent month-over-month in February 2019, compared to a 0.2 percent increase in the previous month. It is the smallest rise in core consumer prices since August last year.
The indexes for shelter, apparel, household furnishings and operations, airline fares and motor vehicle insurance were among the indexes that rose in February, while the indexes for medical care, recreation, used cars and trucks, new vehicles and transportation services decreased.
Core Consumer Prices in the United States averaged 125.29 Index Points from 1957 until 2019, reaching an all time high of 261.11 Index Points in February of 2019 and a record low of 28.50 Index Points in January of 1957.
Tomorrow May PPI is due and will be the last major U.S. economic numbers before the next FOMC meeting.
From the Traders Community News Desk