US existing home sales tumbled 4.99M v 5.24M expected, down -6.4% v -1.5%. Mortgage data has been stronger in 2019 so perhaps housing numbers pick up in the coming months with the Fed being flexible on rates.
After two consecutive months of increases, existing-home sales declined in the month of December, according to the National Association of Realtors®. None of the four major U.S. regions saw a gain in sales activity last month.
US Existing Home Sales
December 4.99 million vs 5.24 Million expected
December MoM -6.4% v -1.5% expected.
The fall in home sales was a 3 year low.
Single-family homes 4.45M vs 4.71M last month
Condos 0.54M vs 0.62M last month
Month supply 3.7 months vs 3.9 months last month.
3 month average 4.0 months
Medium price $253.6K vs $257.3K last month.
YoY +2.9% average price $292.8K vs $296.0K last month.
YoY 1.6% total sales in 2018 came in at 5.34M, the weakest pace since 2015.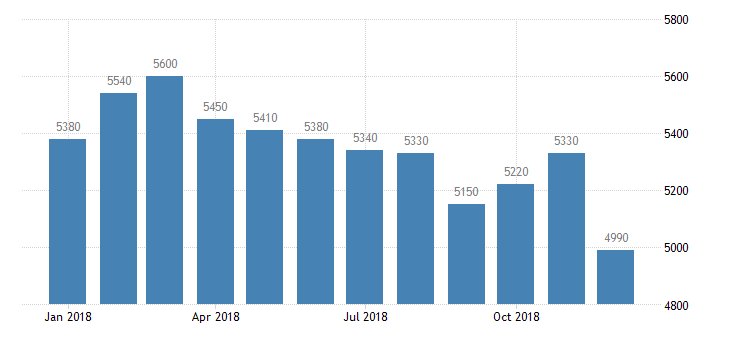 Lawrence Yun, NAR's chief economist, says current housing numbers are partly a result of higher interest rates during much of 2018. "The housing market is obviously very sensitive to mortgage rates. Softer sales in December reflected consumer search processes and contract signing activity in previous months when mortgage rates were higher than today. Now, with mortgage rates lower, some revival in home sales is expected going into spring."
The report indicates a residential real estate industry remains in a broad slowdown as a result of elevated property values and lack of affordable listings Home price growth is cooling but still outpaces gains in workers pay,
Source: NAR
From The TradersCommunity News Desk