Industrial production continues to slide Eurostat reports, falling 1.7% more than the 1.5% fall expected, this is prior to the market turmoil of December and just at the start of Gilets Jaunes protests which are now in their ninth week. Last month was +0.1%; revised from +0.1%.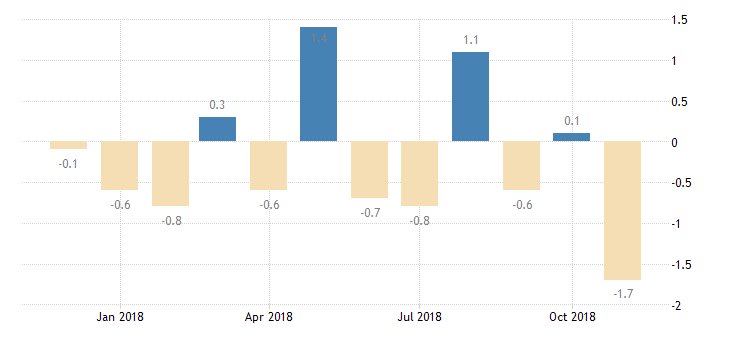 It is the first annual fall in industrial output since January 2017, furthermore it is the biggest since November of 2012. Industrial Production in the Euro Area averaged 1.14 percent from 1991 until 2018, reaching an all time high of 9.60 percent in August of 2000 and a record low of -21.30 percent in April of 2009.
Industrial production WDA -3.3% vs -2.1% y/y expected Prior +1.2%. The worse than expected numbers were not unexpected by traders after the German and French reports released last week.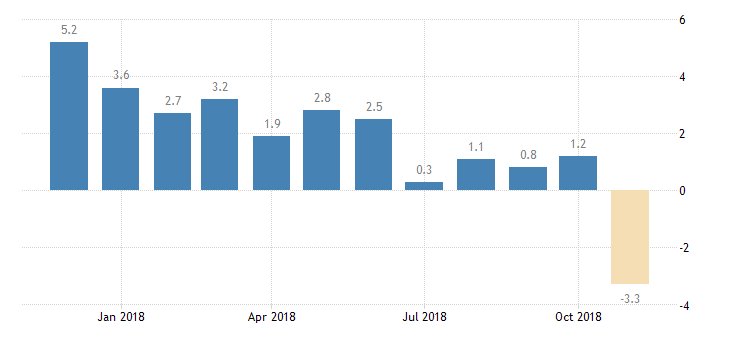 With the Brexit stalemate and the Gilets Juanes protests coupled with the continuing trade war the numbers reinforces Q4 economic activity in the Eurozone is soft and in danger of futher weakening.
I cite the Gilets Juanes given the longevity and with 84,000 demonstrators nationwide it is increasing. The protests were initially triggered by the rising price of fuel but have since widened to include anger at the cost of living, with a wide-ranging list of other demands. France is the secong largest economy in Europe and there is risk of similar protests spreading.
The Euro for it's part was barely moved on the report, it the future reports that are bothersome and need some resolution to Brexit, trade and protests to sping life back into the European economy.
Source: EuroStat, Trading Economics From The TradersCommunity News Desk