Inflation is boiling in the U.S. or it is distorted by trade tarrifs? US October PPI came out hot +0.6% vs +0.2% m/m expected up from September's +0.2% m/m. On the year PPI is +2.9% vs 2.5% y/y. The US Dollar rose sharply on the report, the stock markets dumped.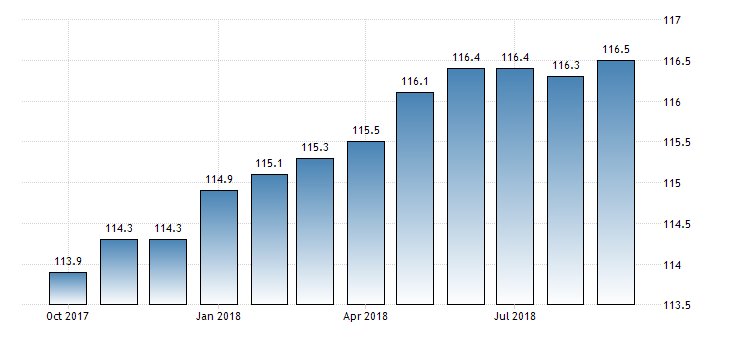 Highlights
PPI +0.6% vs +0.2% m/m expected, Prior +0.2% m/m
PPI +2.9% vs 2.5% y/y expected
PPI ex food and energy +0.5% vs +0.2% m/m expected
PPI Ex food and energy +2.6% vs 2.3% y/y expected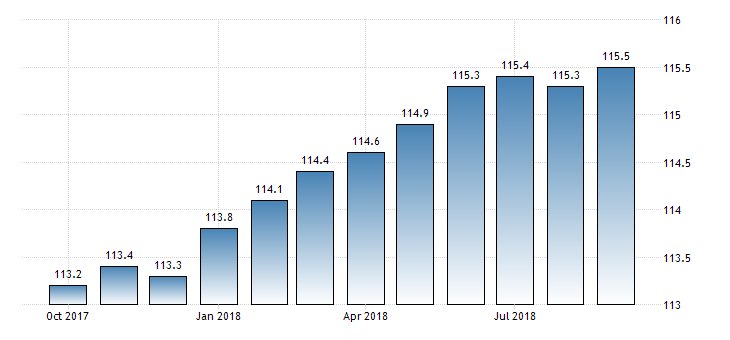 Core Producer Prices in the United States averaged 107.58 Index Points from 2010 until 2018, reaching an all time high of 115.50 Index Points in September of 2018 and a record low of 99.90 Index Points in April of 2010.
Trade affects?
"About one-fifth of the October advance in prices for final demand services is attributable to a 1.2-percent rise in margins for machinery, equipment, parts, and supplies wholesaling," - BLS .
"In October, a quarter of the rise in the index for services for intermediate demand can be traced to margins for metals, minerals, and ores wholesaling, which jumped 7.8 percent." - BLS
Does the PPI include tariffs in its estimates of price change?
The Producer Price Index (PPI) measures the average change in prices U.S. producers receive for the sale of their products. Since tariffs and taxes are not retained by producers as revenue, they are explicitly excluded from the PPI. However, pricing decisions producers make in reaction to tariffs are included in the PPI.
For example, if a domestic producer is manufacturing a product that is subject to import competition and tariffs are placed on those imports, the domestic producer may increase its own prices in order to maximize revenue. In this case, the price increase for the domestic producer would be included in the PPI. Similarly, if a domestic producer exports products to a foreign country that placed tariffs on U.S. products and the domestic producer lowered its prices either to better compete in the export market or to sell domestically excess inventory that resulted from those tariffs, those price decreases would also be reflected in the PPI. - From The BLS
Source: BLS, TradingEconomics
From The TradersCommunity News Desk