Base industrial metals drew a breath after the manic buying that saw zinc to the highest level in almost 10 years, we also saw lead and nickle joining in. Iron ore and rebar led the surge a few weeks ago buoying the Australian dollar and stocks.
The new regulations in China exacerbated fears of supply curbs. China's daily production of zinc in July fell to the lowest level in three years. Lead is mined alongside zinc, which is supporting lead prices with expectations of tighter supplies due to mine closures that have created shortages of concentrate for smelters.
Image: McArthur River Mining, world's second largest zinc resource, via Gencore
Zinc
Zinc tapped a $3,147 high before it fell 0.6 percent to $3,101.50 a metric ton on the London Metal Exchange (LME). Over in China it hit its daily limit to 25,975 yuan a ton on the Shanghai Futures Exchange. Zinc is now up by 21.5% in 2017 after a strong 2016.
China research firm Antaike said environmental inspections in Sichuan province have seen 60 per cent of local lead-zinc mines to shut down for maintenance. This will see lower supplies of zinc and lead in August and September. Maintenance is expected to run for one month, any longer the situation tightens further.
Base industrial metals are also affected by the US currency as their pricing is in dollars. This then in turn affects other currencies with affects on demand. The US dollar index is down 8 percent this year. The surge in metals saw the Australian dollar surge back over 80 cents in the past few weeks, pulling back to .7910 with this pause in metals.
Lead
Lead on the LME touched $US2,422, its highest since February 14. Global demand and supply this year are estimated at around 12 million tonnes. Analysts expect a deficit below 50,000 tonnes this year and next. More than half of global lead supplies come from secondary or recycled metal. This has been unable to offset losses from the primary or mine supply in China.
LME warehouse inventories of lead at 153,000 tonnes is down 17 per cent since the middle of May. Cancelled warrants are more than 40 per cent down on the year. 
Chinese traders were also diverting money from steel to zinc on the Shanghai Futures Exchange after the rise in steel trading fees.
How important is China in this equation? China's imports of lead and concentrate has exploded by a factor of 50 times. China's imports of refined lead in the six months to end-June at 52,527 tonnes compare with 1,075 tonnes for all of 2016.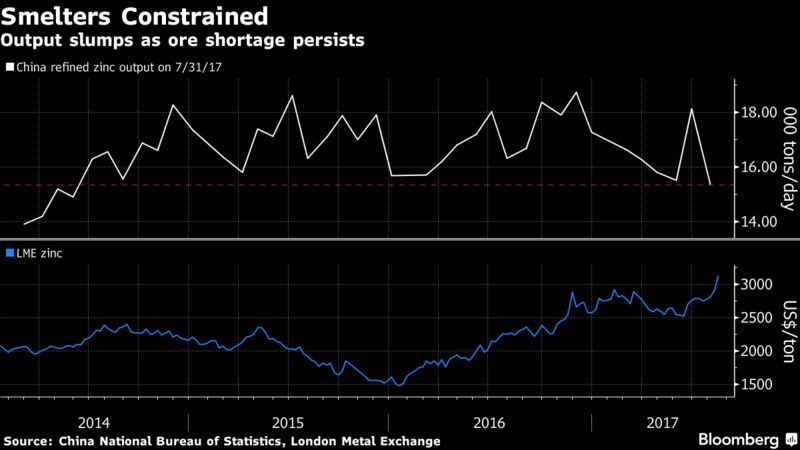 Copper
Copper rose to a near three-year high at $6,576.50, the highest since November 2014 before falling 0.3 percent to $6,510.50 a ton at the close. Copper slipped 0.9 per cent to 6,423 a tonne Thursday. 
Aluminum
Aluminum rose another 2.2% to $2100/t, a more than four-year high before falling back on profit taking. Shandong province ordered the closure of 3.21 million tonnes of aluminium capacity. China is the world's top producer with more than half the world's aluminum. China's Ministry of Environmental Protection (MEP) is on its fourth round of environmental inspections across eight provinces including Shandong.  Aluminium output in China fell 8.2 percent in July. 
Tin
Tin traded higher gaining 0.6 per cent to $US 20,325.  Tin had closed down 0.4 percent at $20,025 a tonne yesterday with the zinc and lead frenzy.
Nickle
Last week Nickle traded up to $US 10,990, its highest since early March on similar concerns to the above base metals. Nickel ended 4 percent higher at $10,760 on Thursday. 
Source: Bloomberg, The Australian
From The Traders Community News Desk