The Australian Yield Discount to the U.S. is at it's widest since 1981 and continues to shrink following recent RBA and Fed meetings confirmed diverging policies. The swap market is betting the Aussie-U.S. differential will triple in 2 years. Forward points are a key $AUDUSD component.
Australia's 10-year bond yield dropped to the lowest against its U.S. counterpart since 1981 this week. The discount waso 24 basis points on Tuesday, from a premium of more than 2.5 percentage points in 2010. Last week the Reserve Bank of Australia left its benchmark interest rate at a record low. They have left it unchanged there since August 2016. Much of the move has also been related to the US dollars rise since the lows of 2018.
The Fed expects inflation is expected to return to 2%, thought hey have been saying that for over three years. Unemployment also continues to fall in both countries, the commodities boom could tighten this further in Australia. Australia is headed to be the world's number one LNG exporter, has broken records recently exporting coal and iron ore among other commodities. So how long can the RBA's stance last?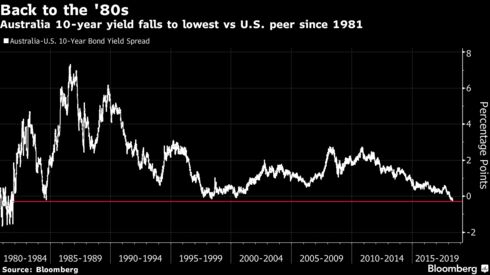 The Federal Reserve has raised rates six times since December 2015 of a zero base. The Fed has said it plans to tighten further as economic conditions improve.
Overnight-index swaps on Wednesday are pointing to the U.S. and Australia differential to triple to 60 basis points during the next two years. Australia's 10-year yield fell below the U.S. 10 year note in February for the first time since 2000. The discount of 24 basis points on Tuesday was the widest since October 1981, according to data compiled by Bloomberg based on closing prices.
Source: Bloomberg, TradersCommunity
From a Sunburnt Country