Brazil's central bank Banco Central do Brasil followed the Federal Reserve's 25bp cut with a 50bps cut to record lows in a unanimous decision saying global economic outlook uncertain ands risks of greater slowdown persist.
Highlights
"The Committee deems that the consolidation of the benign scenario for prospective inflation should permit additional adjustment of the degree of stimulus," they wrote, reiterating that their next move will still depend on the evolving outlook.
Suggested there is room for more stimulus as inflation lags well below target.
Second 50bp reduction under the presidency of former trader Roberto Campos Neto following an aggressive first move in July.
Says economic data since last meeting consistent with gradual recovery
Underlying inflation at comfortable levels sees inflation moving back to target over the relevant time horizon, which includes 2020 calendar year
Sees inflation risk in both directions
Consolidation of benign inflation outlook should give room for additional policy stimulus
Interest Rate in Brazil averaged 14.82 percent from 1999 until 2019, reaching an all time high of 45 percent in March of 1999 and a record low of 5.50 percent in September of 2019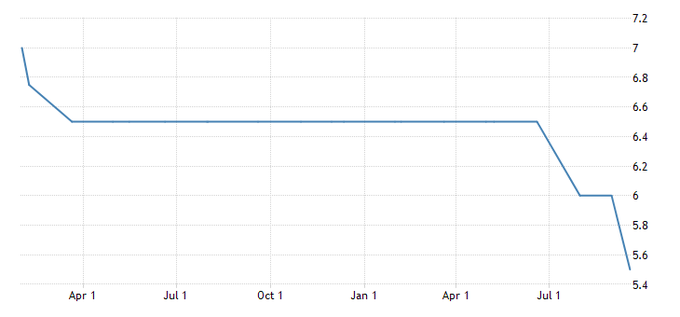 Inflation expectations for 2019, 2020, 2021, and 2022 collected by the Focus survey are around 3.5%, 3.8%, 3.75%, and 3.5%, respectively; and The Copom's inflation projections in the scenario with interest rate and exchange rate paths extracted from the Focus survey stand around 3.3% for 2019 and 3.6% for 2020.
This scenario assumes a path for the Selic rate that ends 2019 at 5.00% p.a. and remains at that level until the end of 2020. It also assumes a path for the exchange rate that ends 2019 at R$/US$ 3.90, and remains at that level until the end of 2020. In the scenario with a constant interest rate, at 6.00% p.a., and a constant exchange rate, at R$/US$ 4.05*, the projections for 2019 and 2020 stand around 3.4% and 3.6%, respectively. The hybrid scenario with a constant exchange rate and the interest rate path from the Focus survey yields projections around 3.4% for 2019 and 3.8% for 2020.
Consumer prices rose 3.43% in the 12 months through August, well below the central bank's official year-end target of 4.25%, which is almost certainly out of reach given weak growth, high unemployment and substantial slack in the economy.
Source: Banco Central Do Brazil
From The TradersCommunity Research Desk