US Existing Home Sales in September 6.54 million much stronger than the expected up 9.4%% (est 5.0%; prev R 2.0%). This was the highest since 2006 at 6.30 million and previous (revised) 5.98M million. At 2.7m supply is the lowest since 1982
US Existing Home Sales in September 6.54 million much stronger than the expected up 9.4%% (est 5.0%; prev R 2.0%). This was the highest since 2006 at 6.30 million and previous (revised) 5.98M million. At 2.7m supply is the lowest since 1982
Mortgage rates remained at record low levels as the economy reopens from coronavirus-induced restrictions.
September US Existing Home Sales
Fourth consecutive month of gains amid record-low interest rates and as people try to move away from the big cities as they have more flexible work arrangements due to the coronavirus pandemic.
Each of the four major regions witnessed increases, with the Northeast seeing the highest climb.
Sales in vacation destination counties have seen a strong acceleration since July, with a 34 percent year-over-year gain in September.
There were 1.47 million previously owned homes on the market, the lowest ever since records begun in 1982 and down 19.2 percent from the previous year.
The median existing house price jumped 14.8 percent compared to September of 2019 to a record USD 311,800.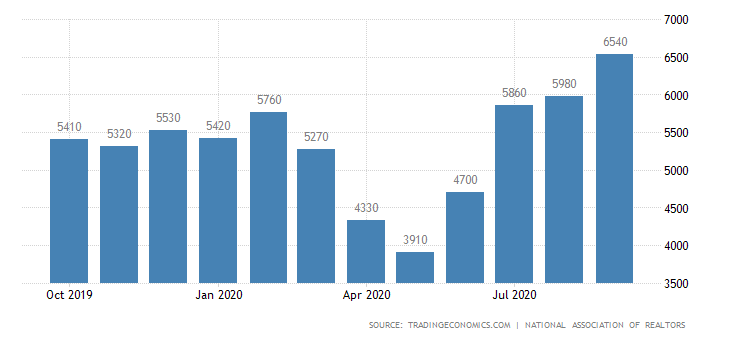 Existing home sales account for 90% of US transactions and are calculated on a contract close basis. New home sales which will be released Friday the remaining 10% and are based on contract signings.
New home sales are expected to rise to an annualized sales pace of 700K from 676K last month. Although the gain was strong off of the depressed level from May, the level remains below the low from 2019 at 4.98M. That may be as a result of declining inventories due to uncertainty from the coronavirus.
The big question is after the lockdown eases and the economy reopens how much damage has been done with the massive unemployment and wealth erosion.
Source:
From The TradersCommunity News Desk