In today's post market wrap the trading room discussed day two of the power move in Oil and the US stock markets through charts and crowd behavior. At their highs today, the S&P 500 was up 4.2%, Nasdaq Composite was up 5.3% from their lows late last week. Listen to how how the day unfolded and what the charts were telling us. Our traders discuss what to expect and watch for overnight from Japan GDP and into the US JOLTS, 10 yr Notes auction and DoE Crude oil inventories
Live on YouTube:
Enjoy live commentary from Our Trading Room at YouTube as the day wraps up – feel free to like and share
After yesterday's largest daily point gain in the Dow since Nov. 9, 2020, and biggest percentage gain since March 1, 2021. The major US stock averages added to their gains from Monday gapping up overnight. The S&P 500 jumped to within 60 points of its record high from two weeks ago, what happened to the end of the world chatter? The Nasdaq outperformed after lagging yesterday while the Dow slowed down from yesterday up +1.4% today.
The S&P 500, Dow and Nasdaq have all reclaimed their respective 50-day moving averages.
This chart tells a lot of how fearful the market got, flows into $TLT (long-term Treasury ETF) hit a record high over the past few days. via (((The Daily Shot)))@SoberLook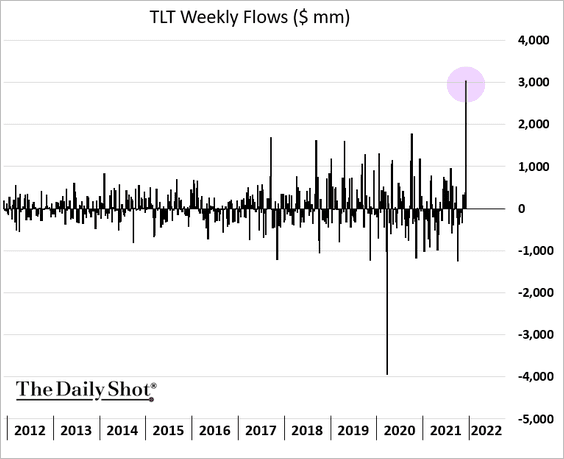 Market Closes
WTI crude oil futures settled $72.05, up $2.56 or 3.68% up from yesterday's $69.49. The high $73.01, low $69.65.
Dow industrial average rose 492.40 points or 1.4% at 35719.44,

2.3% from its all-time highs

S&P index rose 95.08 points or 2.07% at 4686.76,

1.16% from its all-time highs

NASDAQ index rose 461.77 points or 3.03% at 15686.93,

closes 3.24% from its all-time highs

Russell 2000 index rose 50.30 points or 2.28% at 2253.78, still over 8% from its all-time highs.
All sectors of the S&P close higher for the 2nd consecutive day.
The technology sector rallied with chipmakers, the PHLX Semiconductor Index rose 5.0%. Top component NVIDIA (NVDA 324.27, +23.90, +8.0%) was the best performer in the group while Intel (INTC 52.57, +1.58, +3.1%) rallied back above its 50-day moving average (51.33) after confirming plans for a spin-off of its Mobileye unit, which is valued at about $50 bln.
All but six components of the tech sector finished higher, Western Union (WU 17.35, -0.50, -2.8%) was the weakest performer, giving back yesterday's gain.
S&P 500 +24.8% YTD
Nasdaq Composite +21.7% YTD
Dow Jones Industrial Average +16.7% YTD
Russell 2000 +14.1% YTD
News Highlights
October US Trade Balance Report narrowed deficit to $67.1 billion from a downwardly revised $81.4 billion (from $80.9 billion) in September, with exports up $16.8 billion and imports up $2.5 billion from September levels. Exports to China increased $2.8 billion and exports to the European Union increased $1.6 billion.
Revised Q3 Productivity and Unit Labor Costs report showed productivity being revised down to -5.2% from the advance estimate of -5.0%. That is the largest decline in productivity since the second quarter of 1960.
Unit labor costs were revised up to 9.6% from 8.3%.
Consumer credit increased by $16.9 bln in October after increasing a downwardly revised $27.8 bln (from $29.9 bln) in September.
Tomorrow Data Watch
06:00    NFIB Small Business Optimism                    
07:00     MBA Mortgage Applications (WoW)       
10:00     JOLTs Job Openings (Oct)             
10:30     EIA Crude Oil Inventories
13:00     10-Year Note Auction
17:00     RBA Governor Lowe Speaks  
Wednesday Earnings Include
UiPath,
Campbell Soup,
RH
GameStop
Trust you all had a great day, sleep well and get your trading plan sorted.
Any questions please feel free to ask them below. Trade Smart!