Gasoline prices have fallen over 35% after having soared at the end of last year as supply fell and the economy grew, then came the Russian invasion of Ukraine and the surge in prices. For the fifth consecutive week, the US average gas price fell, down 14.4 cents from a week ago to $3.21 per gallon today, falling below its average of $3.36 from last year, according to GasBuddy data. Gasoline prices have been one of the largest components to consumer inflation, so this is a welcome relief for consumers and the Federal Reserve.
The move higher was in no small part due to heavy speculation, political rhetoric on top of refinery capacity shortage due to low prices, political impasses and a shift offshore. The move helps energy components across the board used in construction, agriculture and everyday life for your typical consumer. Prices were impacted from fertilizer and copper to corn to diesel.
Gas Prices from Despair to Relief
Brent, the global benchmark for crude prices has since plunged about 40% from its 2022 high as has the US benchmark, WTI.
There have been five major factors in the drop in oil prices:
The speculative long end got overcrowded, oil producers and oil traders took advantage of the high prices to hedge and in some cases short.
The US sold SPR reserves to their lowest level since 1984. This year's SPR sales were done at an average price of $96.25 per barrel, raising $17.3 billion.
Aggressive central banks raised interest rates around the world
China's economy is imploding awash with the largest property bubble of all time, Zero Covid Policy and an eroded consumer sentiment
Russian oil has kept flowing to the market despite sanctions, yes there are less buyers, and they get a lower price but it's still flowing
For Americans the positive is obvious Patrick De Haan points out. Mr De Haan is head of petroleum analysis at GasBuddy. He said, "Most Americans are going to start to feel that gas prices are no longer a thorn in their side."
"Not only has the decline in gasoline prices lasted five straight weeks, with again every state seeing a weekly decline in its average, but average diesel prices have fallen in 49 states over the last week as well. The relief is saving Americans roughly $20 per fill-up compared to six months ago,"
Mr. De Haan had expected diesel prices will fall below $4 a gallon in the next few months. On Monday he reported diesel selling for just $3.38/gal at a station in Wisconsin on Monday, confirmed by GasBuddy. The national average for diesel Thursday fell below $5 a gallon after hitting all-time highs earlier this year.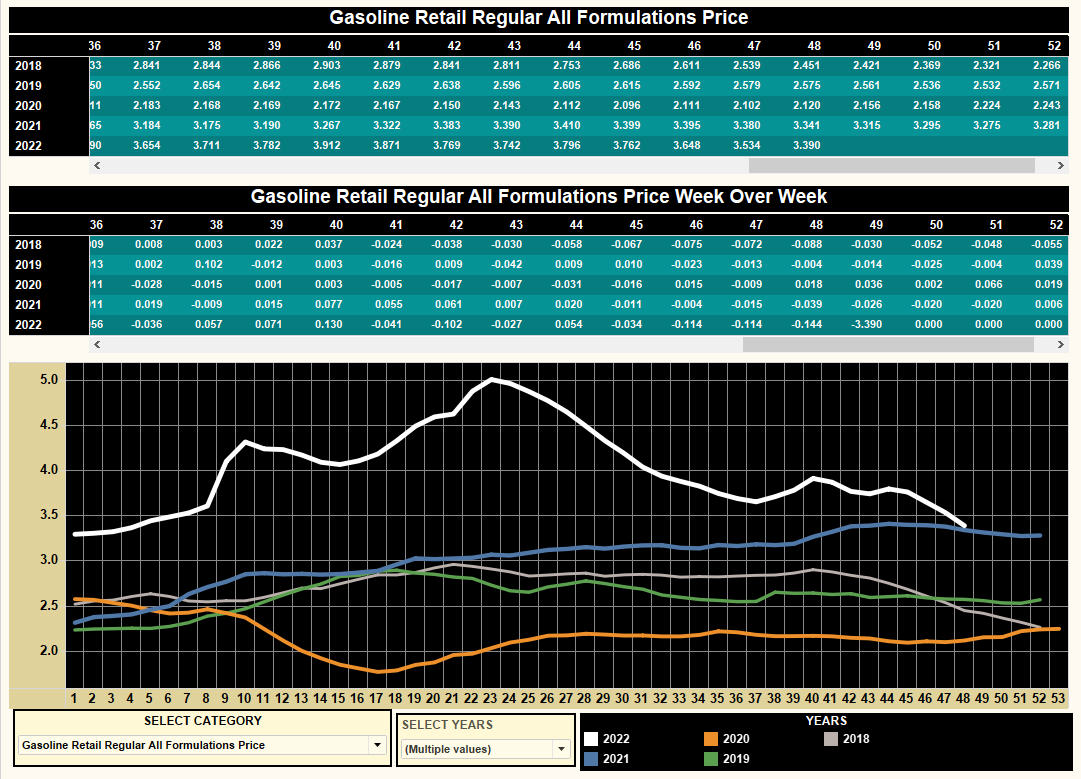 Another one of our favorite analysts, Houston energy veteran Mr. Robert Gibbons formerly of Reuters and Bridge, has been on top of the diesel ramp, calling the last leg what it was a speculative bubble.
From here we watch a number of things, interest rates and inflation how far will the Federal Reserve go to crushing demand? We watch China, they are the world's biggest oil consumer and finally we watch the weather, for heating, driving and agriculture and construction work.
CPI and Gasoline
The CPI increased 0.4% in October as it did in September, and increased 7.7% in October from a year ago, the smallest 12-month increase since January 2022. CPI y/y was down from 8.2% in September. June's 9.1% inflation rate was the highest in four decades. Energy cost increased 17.6%, below 19.8% in September, due to gasoline (17.5% vs 18.2%) and electricity (14.1% vs 15.5%). Ahead we have November's CPI we have already seen two key measure higher, November PPI and Octobers PCE.
Important to remember that gas prices can vary regionally because of taxes and distance from refineries. California is usually the highest, sometimes double Texas. All US states have seen monthly drops, with the slide led by Wisconsin, Indiana and California coming from the highest peaks. Prices for diesel, have fallen in about 48 of 50 states, led by Oklahoma, South Dakota and Kansas. 
Sources: GasBuddy, Robert Gibbons, TC, WSJ