Germany's Blue-Chip DAX 40 index has rebounded sharply in the first two weeks of 2023, jumping 8.35%, after falling 12% in 2022. The Euro Stoxx 50 Index is up 9.42% for the year. European equity markets closed lower in the last trading session of 2022, with the benchmark Stoxx 600 suffering a 12.8% yearly loss, the biggest since 2018. Support is coming from plummeting energy prices with natural gas back down to pre-Ukraine invasion levels. Support is also coming from hope that China reopens, stability in the Euro and sentiment turning more hopeful.
Other European bourses have also bounced, including France's CAC40 8.49%, Italy's MIB 8.76% and Sweden's OMX 8.50%. Nevertheless, the ECB is set to continue hiking interest rates and the war in Ukraine dragging on.
The German stock market rebound continued from the depths of despair brought on by war drums, soaring inflation and crumbling consumer sentiment. We saw in 2022 a reversal of the fiscal and monetary policy support globally.
European Debt Market Improving
The DAX also got support from Europe's debt market. In the first weeks of 2023 it enjoyed its busiest week ever. Borrowers issued $107 billion in just four days. Italy, Pirelli & C SpA and Deutsche Bank AG are among more than 80 borrowers to raise funds this week.
"Demand for Europe's debt sales has topped half a trillion euros already this year as investors seek to put money to work in bonds offering some of the highest yields in years. Investors have bid €530 billion ($570bn) — more than three times the €168 billion of issuance in Europe's syndicated primary market this month through Wednesday…"

January 11 – Bloomberg (Hannah Benjamin-Cook and Tasos Vossos)
Growth Headwinds Persist
Headwinds persist in Germany; interest rates are rising and their remains the Russian threat. Another is the shortage of labor.
"More than half Germany's companies are struggling to fill vacancies due to a lack of skilled workers, the German Chambers of Commerce and Industry (DIHK) said…, in the latest sign of growth headwinds belabouring Europe's largest economy. The proportion of companies facing difficulties hiring was at its highest ever level, the DIHK found in its survey of 22,000 companies, with 53% reporting shortages."

January 12 – Reuters (Maria Martinez)
Euro Recovery Pacing DAX Recovery
EURUSD recovery remains well above the old channel and in the cloud. A breather is healthy after the 1-2 energy burst back over parity and the initial median line after holding the tenkan retest. Completive following the throwover to the 20-year low at $0.9535. The 61.8% retracement objective of the move since September 20 ~$0.9890 where it spat the Tenkan energized the move to power through the Kijun. Resistance the cloud and June break.
European Natural Gas Prices Back to 2021 September Lows
Natural gas prices have come down with storage build, warmer weather, wrecked economy meaning less energy demand. Dutch TTF natural gas futures are at their lowest since Sep 2021 down over 12% to €56/MWh. Russian gas has been largely replaced by more LNG cargos heading to Europe.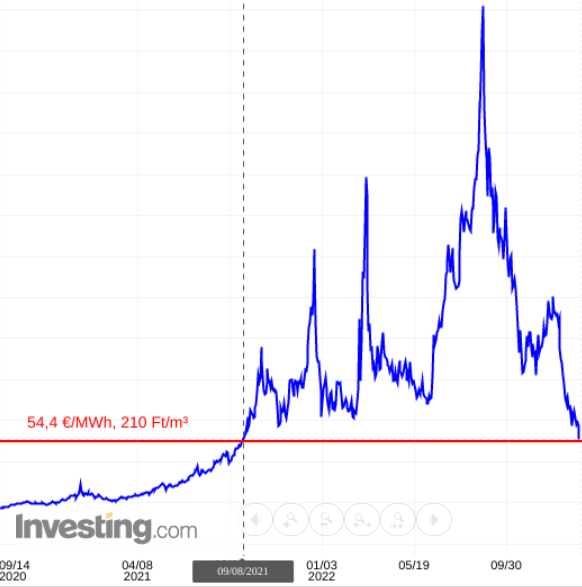 Full stockpiles in China forcing importers to divert Feb & March shipments to Europe. European is storage is 82% full. Gas storages across Europe are up from 50% a year ago and well above the five-year seasonal norm of 70% as an unusually mild winter helped to lower heating demand and record LNG imports and a rise in renewable capacity boosted supplies.
Europe was the largest customer in the global liquefied natural gas market in 2022, with the EU accounting for 24% of global LNG imports.
---
How Global Indices Fared in 2022
For perspective 2021 was the Dax's best year since 2019 when the index gained 23.16%, and its second-best year since 2009 ended the year up 15.79% for its best year since 2019 when it gained 25.48%, and the third straight positive year and the ninth positive year in 10.
European Region Equity Markets in 2022
U.K.'s FTSE 100: (-0.30% for the week/+0.9% for the year)
Germany's DAX: (-0.01% for the week/-12.3% for the year)
France's CAC 40: (-0.50% for the week/-9.5% for the year)
Italy's FTSE MIB: (-0.70% for the week/-13.3% for the year)
Spain's IBEX 35: (-0.50% for the week/-5.6% for the year)
From The TradersCommunity News Desk