Helmholtz Watson
Participant
[color=red][size=5][b]COVID-19 impact drives record decline in business activity
[/b][/size][/color]
[b]
US Markit services PMI for April (F) 26.7 v 27.0 estimate
The seasonally adjusted final IHS Markit US Services Business Activity Index registered 26.7 in April, down notably from 39.8 in March and fractionally lower than the previously published 'flash' figure of 27.0.
Services index[/b]
Markit services PMI for April (F) comes in at 26.7 versus 27.0 estimate
Composite PMI for April final 27.0 versus 27.4 previously reported
The services PMI is the lowest reading since the series began
3rd consecutive month contractions
Services PMI fell to 35.6 versus 47.5 in March. Lowest reading ever
Prices charged is also at the lowest reading ever
For the composite index, new orders fell to 26.4 versus 40.9 in March (lowest reading ever)
Composite index Employment falls versus the prior month and reached the lowest reading since the series began.
Key findings
The COVID-19 outbreak escalated and emergency public health measures intensified.
The rate of contraction accelerated to the fastest on record as client demand slumped and many businesses closed temporarily.
New order inflows fell significantly as customers postponed or cancelled orders amid ongoing global lockdowns.
Subsequently, expectations for the year ahead sank to their most pessimistic in the series history.
Uncertainty and a further reduction in confidence led to the steepest decrease in workforce numbers on record.In an effort to retain clients, firms passed lower costs on to clients through the fastest decrease in output charges in the series history.
Efforts to adhere to social distancing and stay-at-home measures resulted in many services firms struggling to remain open, with client demand also dropping significantly.The escalation of emergency public health procedures resulted in the cancellation and postponement of customer orders, with new business contracting at the most severe rate since 2009
Firms that rely on face-to-face custom generally stated they were working at reduced capacity or had closed temporarily. Unprecedented contractions in output, new business and employmentBusiness expectations turn pessimistic Output charges fall at sharpest rate on recordData were collected 7-29 April 2020I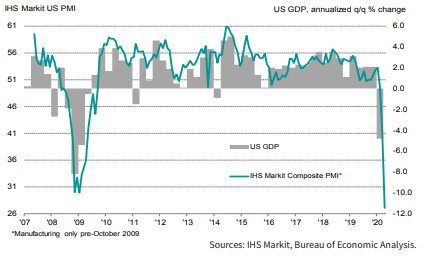 HS Markit U.S. Composite PMI™Foreign client demand also tumbled due to the global nature of lockdown measures and travel restrictions, and the intensification of the outbreak in key export destinations.
The drop in new business from abroad far outpaced any fall seen in the series history so far.
Reflecting a slump in new business, firms reduced their workforce numbers in April.
The fall was the most marked in the series history and largely stemmed from excess capacity at service providers. Although many stated that lay-offs had been made, others noted that they had furloughed workers in the hope that demand would pick-up after the lockdown eased.
Excess capacity also stemmed from the steepest decline in outstanding business on record. Expectations towards business activity over the coming 12 months sank in April, with firms recording the first instance of pessimism in the outlook since the series began.
Sentiment tumbled to a series low as ongoing uncertainty as to when the lockdown will end, and fears surrounding the timespan of any recovery weighed on confidence.At the same time, service providers registered the fastest fall in cost burdens on record.
The decline in input prices partially stemmed from lower wage costs. In an effort to retain clients and kick-start sales, companies sought to pass on reduced input costs to customers through the sharpest fall in average prices charged in the series history.