TradersCom
Keymaster
June final Markit US services index 47.9 v 46.9 expected
Prelim 46.7
Prior 37.5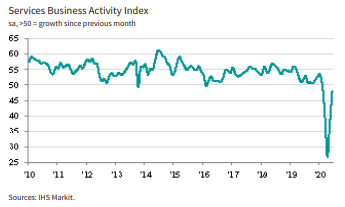 Softest fall in output since February amid strengthening demand
Renewed increases in cost burdens and selling prices
Business confidence improve
Composite PMI 47.9 vs 46.8 prelim
Up significantly from 37.0 in May, and earlier released 'flash' figure of 46.8
The slower overall decline in output was linked to the resumption of operations at manufacturers and many service providers.The softer overall contraction also stemmed from reports of stronger demand conditions relative to those seen earlier in the pandemic.
The uptick in sales led to the stabilization of new order inflows during June. Although export sales in the service sector increased during the month, a modest decline in manufacturing foreign client demand led to a further overall fall.Manufacturers and service providers alike registered notably slower rates of job shedding in June, as strengthening demand pushed some firms to increase their staffing numbers.
That said, evidence of excess capacity remained as backlogs of work fell further.Supplier price hikes drove the first increase in cost burdens since February, with private sector firms partly passing on higher costs to clients.
Finally, companies expressed optimism towards the outlook for output over the coming year for the first time since March