ClemSnide
Participant
[size=5][b]US December factory orders +1.8% vs +1.2% expected But Prior -0.7% revised to -1.2%
[/b][/size]
Largest gain in factory goods orders since August 2018 boosted by demand for transportation equipment (7.9 percent vs -8.2 percent). An increase in demand for defense aircraft and parts (168.3 percent) and motor vehicle and parts (0.5 percent) was enough to offset a decline in orders for civilian aircraft and parts (-74.7 percent).
Orders were down for machinery and electrical equipment, appliances and components.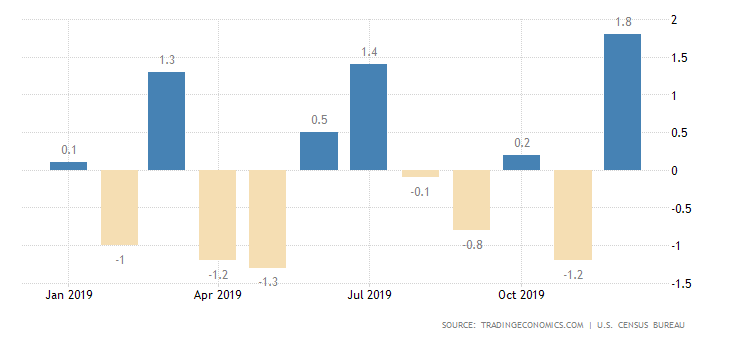 Factory orders ex transportation +0.6% vs +0.1% expected
Prior ex transport +0.3% (revised to +0.2%)
Revisions to durable goods orders (released Jan 28):
Durable goods orders +2.4% vs +2.4% initially
Ex transport -0.1% vs -0.1% initially
Capital goods orders non-defense ex air -0.8% vs -0.9% initially (prior revised to 0.0% from +0.1%)
Capital goods shipments non-defense ex air -0.3% vs -0.4% initially