TradersCom
Keymaster
US November NFIB small business optimism rebounds to a four-month high
Index 104.7 v 103.0 expected, Prior 102.4
Largest month-over-month gain since May 2018, led by a 10-point improvement in earnings.
Earnings, or the frequency that owners report positive profit trends, rose 10 points, 1 point below the record set in May 2018.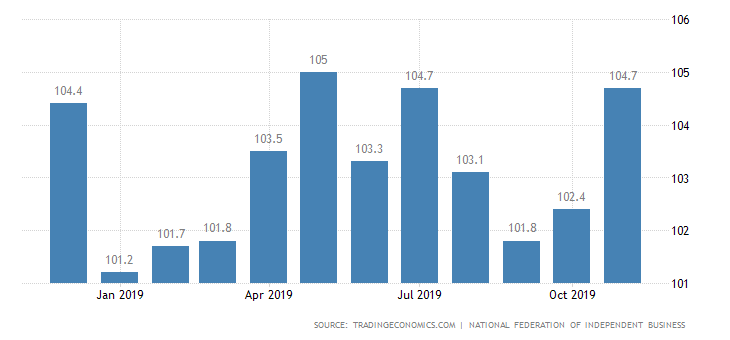 Owners reporting it is a good time to expand increased by 6 points and those expecting better business conditions increased by 3 points.
NFIB Uncertainty Index fell 6 points in November to 72, the lowest reading since May 2018.
"Owners are most closely focused on issues that directly impact their business, including the real, significant tax relief they were given two years ago, and they're anxious to see that relief made permanent", said NFIB Chief Economist William Dunkelberg.
NFIB Business Optimism Index in the United States averaged 98.36 Index Points from 1975 until 2019, reaching an all time high of 108.80 Index Points in August of 2018 and a record low of 80.10 Index Points in April of 1980.
Source: National Federation of Independent Business