TradersCom
Keymaster
Exxon-FuelCell Energy Project:
Exxon on Wednesday morning announced it had signed a new two-year joint-development with FuelCell Energy Inc. (NASDAQ: FCEL) sending shares up by 90% to $0.63.
The deal is worth up to $60 million, FCEL market cap was less than that, $43.3 million at Tuesday's closing bell.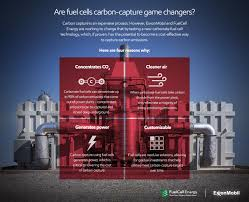 The deal "will focus efforts on optimizing the core technology, overall process integration and large-scale deployment of carbon capture solutions. ExxonMobil is exploring options to conduct a pilot test of next-generation fuel cell carbon capture solution at one of its operating sites."
The modular design enables the technology to be deployed at a wide range of locations, which could lead to a more cost-efficient path for large-scale deployment of carbon capture and sequestration.
"Today's announcement underscores our leadership position in fuel cell technology," said Jason Few, president and chief executive officer of FuelCell Energy. "We are excited to continue to work with ExxonMobil to tackle one of the biggest challenges that exists today. We have a great opportunity to scale and commercialize our unique carbon capture solution, one that captures about 90 percent of carbon dioxide from various exhaust streams, while generating additional power, unlike traditional carbon capture technologies which consume significant power.
"FuelCell Energy has always been proud of our technology and our role in reshaping the environmental impact of industry and electrical generation. This is another giant step forward towards the large-scale deployment of this much needed technology."
Just 0.6% of all U.S. electricity generated in 2018 was fueled by oil while 92% of U.S. transportation fuel was oil-based (primarily gasoline and diesel and jet fuel). Focusing on "large industrial sources," as Exxon and FuelCell Energy plan to do, should help drive down U.S. carbon emissions that mostly come from burning natural gas and coal to generate electricity. At the same time, carbon capture and storage completely avoids dealing with emissions from oil products burned for transportation.