TradersCom
Keymaster
July has got worse;
Toronto home prices fall of 4.6 percent is biggest one-month decline since 2000
The benchmark Toronto property price dropped 4.6 percent to C$773,000 (US$613,000) from June. That's the biggest monthly drop since records for the price index began in 2000, according to Bloomberg calculations bringing prices down to roughly March levels.
Note though prices are still up 18 percent from the same month a year ago, according to the Toronto Real Estate Board.
Transactions tumbled 40 percent to 5,921, the biggest year-over-year decline since 2009, led by detached homes. The average price, which includes all property types, rose 5 percent to C$746,218 from July 2016. That compares with a 17 percent increase at this time last year.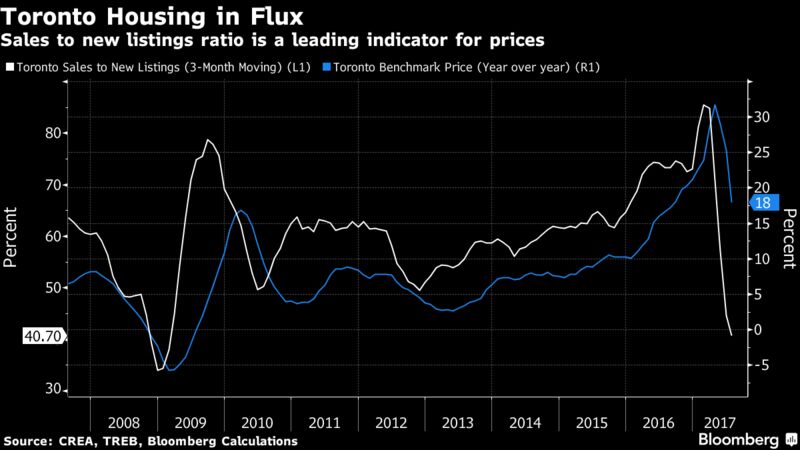 New listings rose by 5.1 percent while active listings soared 65 percent from a year earlier.
"The year-over-year decline we experienced in July had more to do with psychology, with would-be home buyers on the sidelines waiting to see how market conditions evolve," TREB President Tim Syrianos said in a statement.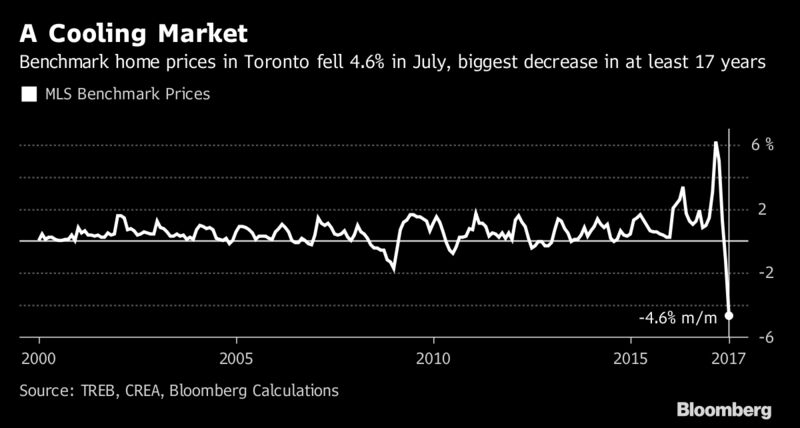 Up until April, Toronto prices were breaking records each month and deals were booming. In March, sales were up 18 percent and the average home price soared 33 percent from the prior year to C$916,567. That began to turn the following month when listings jumped 34 percent. Average prices started cooling in May, rising 15 percent, and then up only 6 percent in June.
In April, the province of Ontario introduced sweeping rental regulations that included capping rent increases and introducing a foreign investor tax. The move came after the federal government in October put restrictions on insured mortgages, and the nation's financial regulator also proposed restricting uninsured home loans this year.
Source: Bloomberg