TradersCom
Keymaster
Gross has been getting things wrong lately:
From Bloomberg:
Bill Gross had his worst day in almost four years yesterday. For other bond managers, it was more like Christmas in May.
The steep decline in interest rates triggered by fears that Italy might leave the eur[b]o sent Gross's $2.1 billion Janus Henderson Global Unconstrained Bond Fund down about 3 percent Tuesday, making a bad year even worse. Other prominent funds recorded their biggest one-day gain since 2009.
[/b]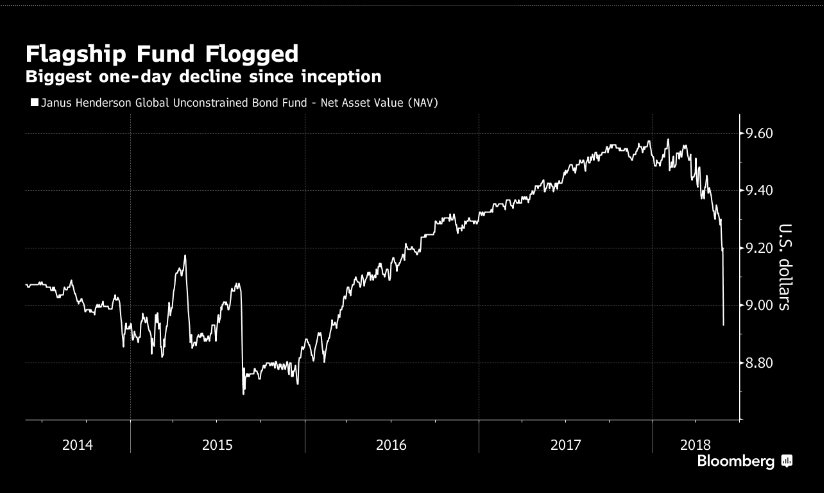 Bond yields plummeted Tuesday on prospects that Italy might need a fresh election that could be a referendum on the nation's inclusion in the euro zone. The yield on the 10-year Treasury note dropped to 2.78 percent from 2.93 percent. Rates rebounded Wednesday as investors deemed the market reaction to Italy's political turmoil overwrought
[tweet]1001904676336558080[/tweet]
The $77.2 billion Metropolitan West Total Return Bond Fund, the $38.1 billion Bond Fund of America and the $23.5 billion Western Asset Core Plus Bond Fund all climbed about 1 percent, the largest one-day gain in roughly nine years. Falling rates translate to an increase in bond prices.
Gross has struggled in 2018. His fund is down 5.9 percent for the year, trailing 96 percent of rivals, according to data compiled by Bloomberg. The fund had an effective duration of minus 4.6 years as of April 30, meaning it would profit when interest rates rose and suffer if they fell. Duration measures sensitivity to changes in rates. Gross also relies on selling the equivalent of insurance against big market moves.
Gross declined to comment on his performance.
In the first quarter of this year, Gross attributed his fund's underperformance to a misplaced bet that U.S. and German bond yields would converge. On Monday, the extra yield investors demand to hold 10-year debt from the U.S. rather than Germany reached the most since 1989.
In 2010, Gross was named fixed-income manager of the decade by Morningstar Inc. Four years later, he took over management of the Janus Unconstrained fund after being ousted as chief investment officer at Pacific Investment Management Co., the firm he co-founded in 1971. Almost $700 million in the Janus unconstrained fund was Gross's personal money as of June 30, 2017, according to filings.
https://www.bloomberg.com/news/articles/2018-05-30/bill-gross-had-a-nightmare-day-as-italy-roiled-bonds-worldwide