Truman
Participant
TV usage drops again, cable gets a basketball bounce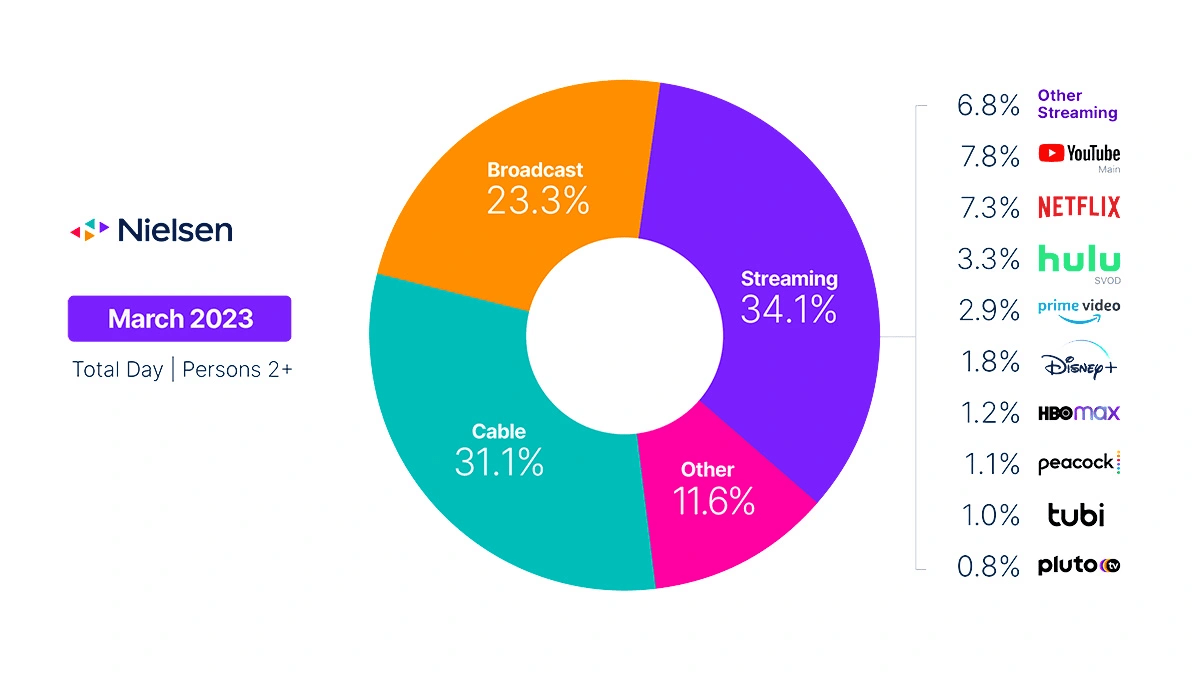 elevision usage fell for a second straight month in March, even as cable viewing got a bit of a boost from the always-popular college basketball playoffs.
Overall TV consumption fell 2% in March vs. February, according to "The Gauge" from Nielsen, the ratings firm's monthly overall look at TV delivery platforms. In February, it had fallen 5.1% month-over-month.
That's typically in line with seasonality — but also like last year, Cable got a sports boost, and in March 2023 became the only vector to grow both usage (up 0.6%) and its share (to 31.1% of TV time, from the prior month's 30.2%). March Madness — heavily broadcast on Turner channels (WBD) — is among the top television events of each year.
Broadcast viewing fell by 4.4%, and the category dropped TV share for the fifth straight month — to 23.3% from its previous share of 23.8%. And "Other" usage — heavily videogaming, but also including such uses as viewing video discs — dipped to 11.6% from 11.7% share.
Streaming maintained its hold as the top usage of a TV, but it also suffered from viewers flocking to March Madness, with usage dropping 2.6%, and streaming declined in share month-over-month for the first time since last August (to 34.1% from 34.3%).
Turning to the individual streaming platforms, they retained their relative positions in March, though a couple of smaller names picked up some points. YouTube (NASDAQ:GOOG) (NASDAQ:GOOGL) was the top individual streamer, though its share ticked down to 7.8% from February's 7.9% — and it was still enough to hold a share lead on Netflix (NASDAQ:NFLX), which held steady at 7.3%.
Hulu (NYSE:DIS) (CMCSA) also held steady, at 3.3%, and extended its lead over Amazon Prime Video (AMZN) when the latter's share dipped to 2.9% from the previous 3.0%. Disney+ (DIS) held steady at 1.8%; then there was a bit more movement.
HBO Max (WBD) — soon to be just "Max" — shed share to 1.2% from the prior 1.3%, while Peacock (CMCSA) added yet again, to 1.1% from 1.0%. And in the free ad-supported TV streaming space, Tubi (FOX) (FOXA) held serve at 1.0% share, while Pluto TV (PARA) (PARAA) bumped up to 0.8% from 0.7%. "Other" streamers (including smaller services like Crackle (CSSE) as well as linear streamers like Spectrum (CHTR), DirecTV (T) and Sling TV (DISH)) were steady at 6.8%.
Pay TV distributors: Comcast (CMCSA), Charter (CHTR), Dish Network (DISH), Verizon FiOS (VZ), Optimum/Suddenlink (ATUS), Atlantic Broadband (OTCPK:CGEAF), Sparklight (CABO).
Relevant local broadcast tickers: Nexstar Media Group (NXST), Sinclair Broadcast Group (SBGI), Gray Television (GTN), Tegna (TGNA), E.W. Scripps (SSP). National broadcasters: ABC (DIS), NBC (CMCSA), CBS (PARA) (PARAA), Fox (FOX) (FOXA). And some ad-tech names tied to connected TV: The Trade Desk (TTD), Magnite (MGNI), PubMatic (PUBM), Criteo (CRTO), Roku (ROKU).