TradersCom
Keymaster
The JPMorgan Trading Desk has put out it's trading plan for tomorrow's CPI Release for the $SPX $SPY
$ES_F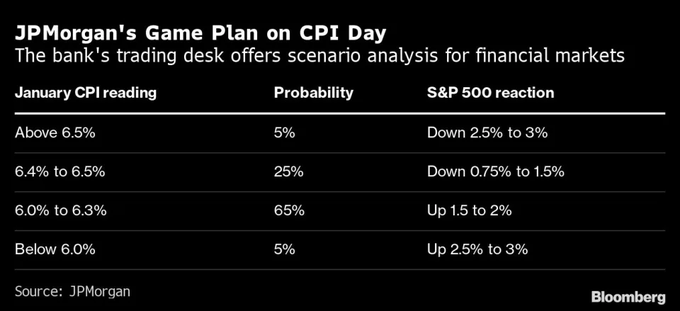 At JPMorgan, the trading team including Andrew Tyler saw an almost two-in-three chance for the CPI data to arrive within 20 basis points of the median estimate from economists.
After a surprise jump in Manheim's used-vehicle price index, expectations for a hotter reading have grown. If inflation comes in above 6.5% — a scenario that Tyler's team assigned a 5% probability, the S&P 500 would drop 2.5% to 3%. Should that occur, invest should look to sell expensive software stocks and cryptocurrencies while buying Treasuries and the dollar, the team suggested.
"This bearish outcome would align with the resurgent inflation hypothesis and could be driven by services where the consumer has shown a rebound in spending, evidenced by the latest Manheim print," they wrote in a note Friday. "More troubling for bulls is that this scenario would occur before we have witnessed an inflationary impulse from China."
"The recent backup in bond yields may be enough such that we do not see another rate hike priced in given that we would have the March print before the next Fed meeting," Tyler and his team said.