Truman
Participant
Adani market value losses deepen to $85 billion since release of #HindenburgReport
Adani Enterprises lost >25% hitting investors that took part in $2.5 billion follow-on public offering with immediate paper losses
The 6 other Adani's fell 2%-20% in some cases by the maximum amount allowed by India's stock exchanges.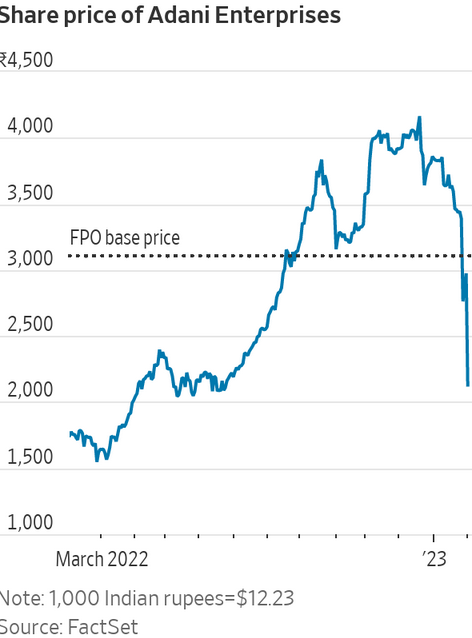 Wednesday marked the fifth trading day after a New York-based short seller, Hindenburg Research, published a scathing report containing wide-ranging allegations of fraud and malpractices at Mr. Adani's companies. The 60-year-old industrialist hasn't personally addressed the allegations so far, but his conglomerate has batted back the allegations, criticized the short seller and its motives, and issued a lengthy rebuttal to Hindenburg
The seven Adani companies listed in India have now lost the equivalent of $85 billion in combined market value since the Hindenburg report was published last Tuesday. Shares of two other industrial companies that the group controls, Ambuja Cements Ltd. and its subsidiary ACC Ltd. , have also dropped sharply.
Indian banks are among the major creditors to the Adani companies, which funded much of their rapid expansion in recent years with debt. Big drops in the companies' dollar bond prices have sent their yields sharply higher, indicating that investors are worried about their default risk.
"It's a bit of a question mark on India's corporate governance, transparency and corruption," said Charu Chanana, market strategist at Saxo Markets, referring to the recent furor over the Adani Group. She said in a note earlier this week that the dispute between the conglomerate and Hindenburg has alarmed foreign investors and could negatively affect their confidence in India.
But with other major economies potentially slipping into mild recession, and China's growth outlook still uncertain, many investors are still focused on the broad underlying factors supporting India's growth, Ms. Chanana added.
"This development remains quite fluid, therefore it's hard to draw a conclusion related to its spillover effect on other industries," said Vivian Lin Thurston, a portfolio manager at Chicago-based William Blair Investment Management. She said the firm is continuing to monitor how the row between Adani Group and Hindenburg evolves.