TradersCom
Keymaster
September 2022 Challenger Job Cuts Report
PUBLISHED OCTOBER 6, 2022
Job Cuts Surge 46% In September, Up 68% From Same Month Last Year
U.S.-based employers announced 29,989 cuts in September, a 46.4% increase from the 20,485 cuts announced in August. It is 67.6% higher than the 17,898 cuts announced in the same month last year, according to a report released Thursday from global outplacement and business and executive coaching firm Challenger, Gray & Christmas, Inc.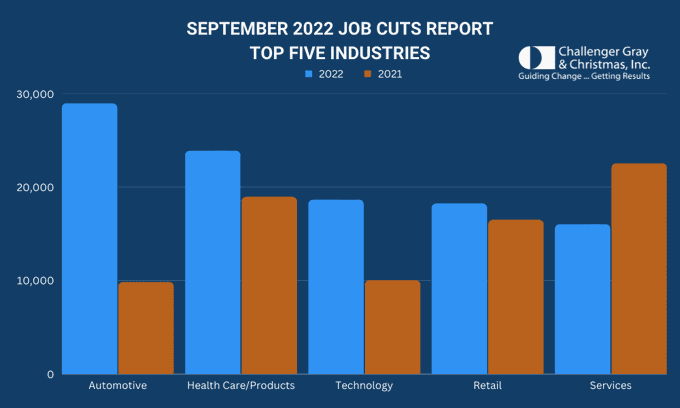 September marks the fifth time this year that cuts were higher in 2022 than in the corresponding month a year earlier.
In the third quarter, employers announced 76,284 job cuts, down 1.6% from the 77,515 cuts announced in the previous quarter. It is up 45.1% from the third quarter of 2021 when employers planned to cut 52,560 workers from payrolls.
So far this year, employers announced plans to cut 209,495 jobs, down 21% from the 265,221 cuts announced in the first nine months of 2021. It is the lowest recorded January-September total since Challenger began tracking monthly job cut announcements in 1993*.
Retailers led in job cut announcements in September with 9,273, just as many are determining holiday hiring plans. So far this year, the industry has announced 18,213, up 11% from the 16,466 announced in the same period last year.
Technology companies followed with 4,212 cuts in September, for a total of 18,620 so far this year. This is up 86% from the 10,025 cuts announced during the same period last year.
The Automotive sector leads all industries in job cuts this year with 28,922, up 194% from the 9,831 cuts announced through September last year.
Meanwhile, cuts in the Financial Technology (Fintech) sector have increased 927% over last year, from 563 through September 2021 to 5,780 cuts through the same time this year.
The Financial sector, which is dealing with a possible recession and housing downturn, has announced 14,832, up 81% from the 8,205 announced through September 2021.