Energy giant ExxonMobil, the largest U.S. oil company, reported its second-quarter profit rose to $17.9 billion, its highest ever and nearly four times the same period a year ago. $XOM was boosted by rising oil and fuel production, higher energy prices and cost cuts. The Covid crisis had primed the company for survival and efficiency and as such benefit from lucrative refining. Fellow American Oil giant Chevron also posted a record profit Friday of $11.6 billion, up from $3.1 billion in the same period last year. Houston based oil refiner Phillips 66 on Friday also reported better than expected Q2 earnings. On Thursday, Shell reported its second consecutive record quarterly profit of $16.7 billion.
ExxonMobil Inc. (NYSE: $XOM) Reported Earnings Before Open Friday
$4.21 Beat $3.76 EPS and $115.68B Missed $119.4 billion revenue forecast
Conference call: 9:30 a.m.
Earnings
Exxon said Friday its second-quarter profit rose to $17.9 billion, delivering a profit of $4.21 a share. Wall Street had been expecting $15.2 billion in net income, or profit-per-share of $3.76. The earnings represent a new quarterly record for Exxon, surpassing the previous high of $15.9 billion in 2012. It was nearly four times as high as in the second quarter last year.
"Earnings and cash flow benefited from increased production, higher realizations, and tight cost control," Darren Woods, the group's chairman and CEO, said in a statement.
Highlights
Exxon Q2 2022 Earnings
Exxon reported adjusted EPS: $4.14 (Estimate: $3.98)
Quarterly Total Revenue & Other Income: $115.68B (Estimate: $119.4B)
Favorable identified item of nearly $300 million associated with the sale of Barnett shale upstream assets.
Capital and exploration expenditures were $4.6 billion in the second quarter and $9.5 billion for first-half 2022.
Upstream earnings $11.4 billion compared to $4.5 billion in the first quarter. Excluding identified items, earnings were $11.1 billion, an increase of $3.3 billion from the previous quarter.
Crude realizations improved 15%
Gas realizations increased 23% compared to the first quarter driven by tight supply.
Higher production from growth projects and recovery from first quarter weather-related downtime in Canada were partly offset by price entitlement effects and increased seasonal scheduled maintenance.
Downstream earnings, which includes chemicals and refining operations, surged to $5.2 billion.
Production
Exxon's oil and gas production was up about 4% from the same period last year. Oil-equivalent production in the second quarter was 3.7 million b/d. Excluding entitlement effects, divestments, and government mandates, including the impact of curtailed production in Russia, oil-equivalent production increased 4% versus the first quarter. Liquids volumes increased nearly 35,000 b/d and natural gas volumes grew by more than 150 MMcfd.
The Permian basin continued to improve efficiency and grow volumes, with average production during the quarter of more than 550,000 boe/d. The company is expecting to achieve a 25% production increase this year versus full-year 2021 and to eliminate routine flaring in the Permian basin by yearend.
Offshore Guyana production capacity increased to more than 340,000 boe/d with Liza Phase 2 production start-up earlier this year and Liza Phase 1 producing above design capacity.
Refining Capacity
There have been 3 million barrels a day of global refining capacity shutdown since the onset of the pandemic in 2020. Exxon Chief Executive Darren Woods said refining margins have moderated recently, it's a situation that could take years to fix until additional capacity comes online. Much has to do with poorly thought and politicalized energy transition policy against fossil fuels towards renewable without a plan which led to the energy crisis engulfing the world, before Russia's attack of Ukraine.
ExxonMobil's refining throughput in first-half 2022 was up 180,000 b/d versus the first 6 months of 2021 to meet recovering product demand.
"Demand recovers, and we don't have the capacity to meet that, which has led to record, record refining margins," Mr. Woods said. "This will be a few-year price environment."
"We're also helping meet increased demand by expanding our refining capacity by about 250,000 barrels per day in the first quarter of 2023 — representing the industry's largest single capacity addition in the U.S. since 2012," Woods said. Exxon will expand a Texas refinery, boosting its capacity on the Gulf Coast by 17%.
Politics, Survival and Big Oil
The turnaround is remarkable when you consider that a multitude of companies file for bankruptcy following the worldwide outbreak of Covid-19 in 2020. Exxon and Chevron posted historic losses that year, and Exxon got kicked off the Dow Jones Industrial Average as energy sunk to less than 2.5% of the S&P 500.
Oil and gas shares have outperformed the market this year, with the S&P 500 Energy index up about 35% since the start of 2022, compared with a 15% drop for the broader index. Since the start of 2022, Exxon and Chevron shares are up about 46% and 26%, respectively, while the energy sector has grown to more than 4% of the S&P 500.
US President Biden and Democrats in Congress are desperate ahead of midterm elections in November and desperate to change the narrative and redirect blame on energy policy. In June, Mr. Biden was asked if he would go after Exxon's profits. "We're going to make sure everybody knows Exxon's profits," he said. "Exxon made more money than God this year."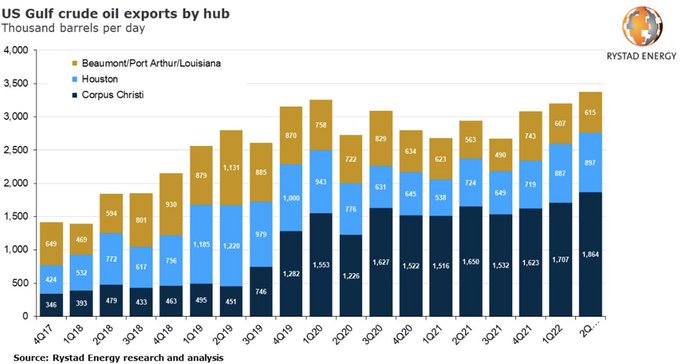 He is also has authorized the biggest sale of SPR reserves in history which has still not kept oil prices much under $100 a barrel. This has fueled the US oil to record exports and therefore profits. What the Administration fails to grasp is refinery capacity is full and as such crude is exported, helping the US deficit and the oil majors. Is that a bad thing? Depends on your narrative.
Oil and gas prices have soared since the global economic lockdowns and widespread travel restrictions reversed. What the hardships did was lead XOM to sell off non-core assets such as its North Sea operations. This continues to put XOM in a much sturdier position and one able to benefit from the surge oil and gas prices leading to a dramatic turnaround to the point where it can increase its dividend and begin share repurchases.
From the depths of despair just a few years ago Exxon has overtaken Alphabet in corporate free cash flow for the first time in four years. Jeff Currie of Goldman Sachs called the shift the "revenge of the old economy"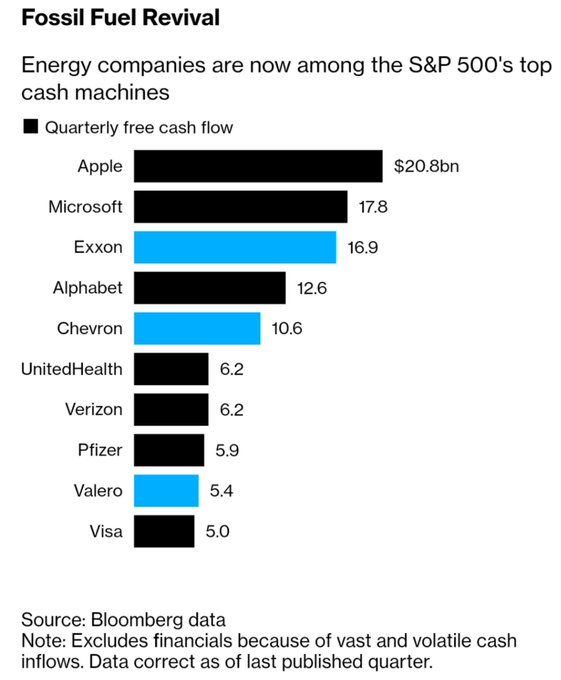 Stock Repurchases and Dividends
Exxon returned $7.6 billion to shareholders in the quarter. With a cash balance of $18.9 billion, a $12 billion increase from the end of 2021, Exxon's ratio of net debt to capital dropped to 13%, which would help gird the company for an economic slowdown.
Capex
Exxon and Chevron will stick with relatively conservative spending plans, instead choosing to reward investors and strengthen their finances.
Exxon said it is working to meet global energy demand through its plans to expand early next year a refinery in Beaumont, Texas, by 250,000 barrels a day, the largest such expansion since 2012. It also noted it has boosted production in the Permian Basin of West Texas and New Mexico by 130,000 barrels of oil-equivalent a day compared with the first half of 2021.
"Those investments are really helping to increase production at a time when the world needs it most," Exxon Chief Financial Officer Kathryn Mikells said, noting its capital and exploration spending was up about 40% year-over-year.
ExxonMobil and QatarEnergy
During the quarter, ExxonMobil and QatarEnergy signed an agreement to further develop Qatar's North Field East project, which will expand Qatar's annual LNG capacity with over 30 million tonnes/year (tpy) by 2026.
Coral South Floating LNG project offshore Mozambique
The Coral South Floating LNG project offshore Mozambique initiated flow of gas in June and is on track to deliver the first LNG cargo in second-half 2022.
ExxonMobil Huge Liza Field Acreage in Guyana
Offshore Guyana production capacity increased to more than 340,000 boe/d with Liza Phase 2 production start-up earlier this year and Liza Phase 1 producing above design capacity. In addition, two new discoveries were announced. The company also reached an agreement to supply the country of Guyana with natural gas to significantly reduce domestic energy costs and provide opportunities for industrial growth.
Source: ExxonMobil AlphaStreet
Live From The Pit
From The TradersCommunity News Desk