With the deepening of the energy crisis in the wake of the news from Gazprom that the Nord Stream 1 pipeline will remain closed until the West lifted sanctions by order of Vladimar Putin energy prices continue to spike higher. Europe's benchmark coal price rose 7.6% to a record $345/ton, about three times the price of a year ago.
Year-ahead futures for delivery to the Amsterdam, Rotterdam, and Antwerp region rose after Europe revived dormant coal power plants to save gas that would have otherwise been used for electricity generation.
Coal for delivery at the Newcastle terminal in Australia next month closed at $457.80 per ton on Monday, according to Bloomberg data, the highest level in the data set going back to 2008.
Ole Hansen, chief commodities strategist at Saxo Bank, said the possibility of Europe having to increase energy imports from Australia could be driving up coal in the country. He also said supplies are likely to run low in 2023.
"The UK is already importing Australian liquefied natural gas," Hansen said. "In anticipation of such a scenario, this might explain why the Australia coal price trades at a record, along with the futures price."
Benchmark European Natural gas prices rose 30% today, before closing up 15%.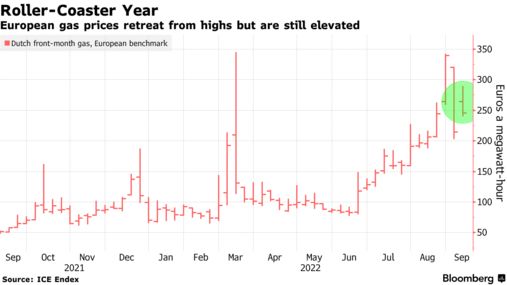 With the global economy recovering from the COVID economic shutdown energy was being consumed at record levels BP's statistical review of world energy showed. Primary energy consumption reached an all-time high, with emerging economies accounting for most of the increase. With the failed transition policies which halted fossil fuel exploration and growth coal consumption rebounded sharply and was very close to its all-time high of 2013. This led to an explosion in energy prices around the world with coal and natural gas seeing record highs and oil prices almost back to those heady $150 levels.
Source: TC, Rueters