What comes to mind with the current European energy crisis is the unexpected consequences of decision making without thought of possible headwinds. The current crisis has been borne out of what could best be described as ignorant energy and environmental policies. Putting the cart before the horse the issue with populist kneejerk policy.
What comes to mind with the current European energy crisis is the unexpected consequences of decision making without thought of possible headwinds. The current crisis has been borne out of what could best be described as ignorant energy and environmental policies. Putting the cart before the horse the issue with populist kneejerk policy.
Environmental policy in some countries shut their coal and nuclear sources, reducing the number of power plants that could serve as back-up in times of shortages. While environmental policy has been lacking for decades with any forethought to anything beyond the profit motive for most politicians and the corporate sector.
Policy failure is not new, think back to the solar sunspots, ozone holes and burning forests. What is new this time is there is money to be made and that is unfortunately the main reason climate change has become such a massive movement. Europe in particular is bracing for a torrid winter faced with surging natural gas and electricity prices. Energy prices have been vertical in Europe and affecting industry and consumers.
Europe's gas prices have more than tripled this year with Russia curbing additional deliveries needed to refill its depleted storage sites after a cold winter last year. At the same time North Sea fields are undergoing heavy maintenance after pandemic-induced delays.
Asia has been taking record loads of liquefied natural gas to meet rising demand there and in China shortfalls from the trade war threats from China over Australia. The US has also been exporting record LNG overseas and natural gas to Mexico.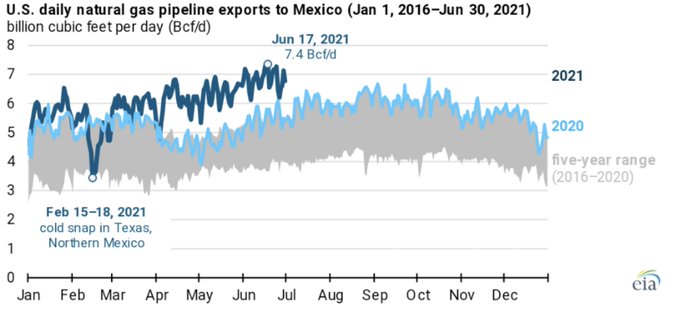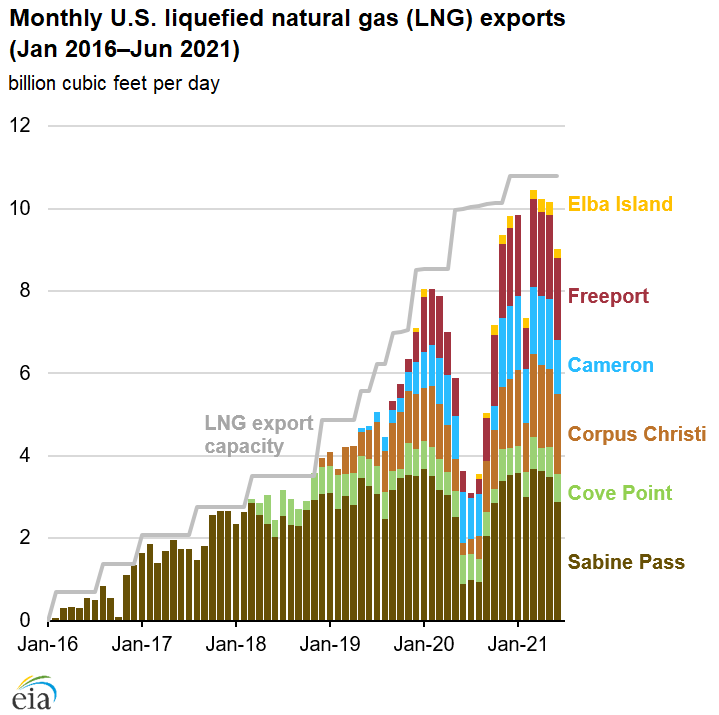 Europe already is showing signs of stress, with two major fertilizer producers affected. CF Industries Holdings Inc. is shutting two fertilizer plants in the U.K. and Yara International ASA will have curtailed its ammonia production capacity by 40% by next week. There again is headwind, if not contagion causing shutdowns across the food supply chain, which uses a byproduct of fertilizer production in everything from meat processing to beer. Staples are also affected, sugar and starch industries prices are rising. France's Tereos SCA and Roquette Freres SA are warning of higher energy costs.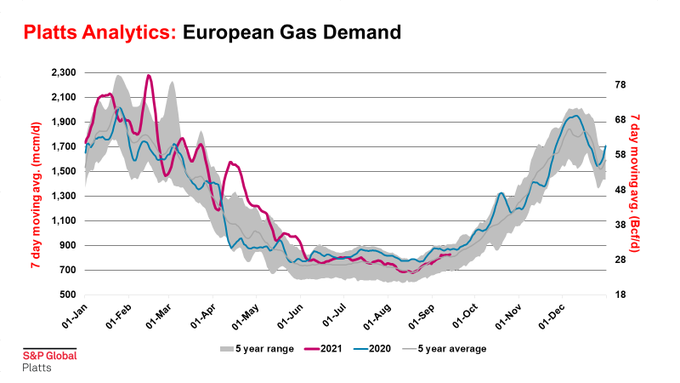 Despite high prices gas demand is right around the 5 year average with much of the demand inelastic.
Inflation is soaring across the world, the Federal Reserve keeps trying to calm us with it being transitory, but want if it's not? Power and gas prices are breaking records daily. Bloomberg is reporting Spain, Italy, Greece and France are all stepping in to protect consumers from inflation. One has to ask why were they so blinded by the fact this could happen, one could also ask how could it not have?
Dermot Nolan, a former chief executive officer of U.K. energy regulator Ofgem, said in a Bloomberg TV interview. "Electricity and gas prices are going to be higher at home than everybody would want and they are going to be higher than they have been for about 12 years."
The US has the same situation bubbling under the service. U.K. and the rest of Europe are silently hoping for mild temperatures to limit heating demand. Europe is short of gas and coal and renewables such as wind and solar are not ready to takeover. Think of this, arrogant politicians and zealots believed they understood weather and it's weird and wonderful ways. A pretty big thing to ignore. Blackouts that force businesses and factories to shut in a time of critical supply shortages become another unintended consequences.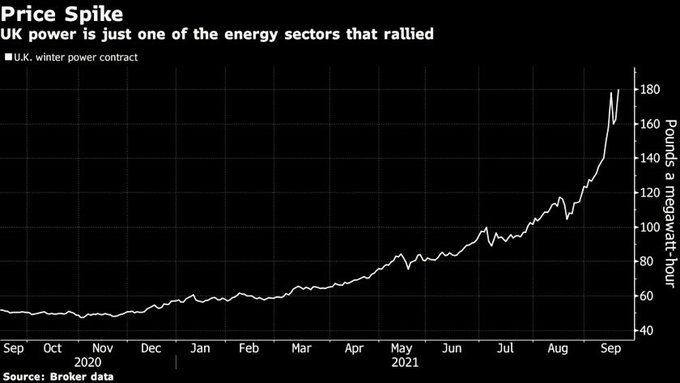 "It could get very ugly unless we act quickly to try to fill every inch of storage," said Marco Alvera, chief executive officer of Italian energy infrastructure company Snam SpA. "You can survive a week without electricity, but you can't survive without gas."
I wish we could say these companies have the planet and those that do in the forefront of their decision making but they don't. This in an environment where common sense is lacking. With that here we are, stop all fossil fuel now, stop all investment now, shame all involved, energy companies and bankers now. No thought of what could happen.
Fast forward, we have production and upgrades way down because of the Covid shutdown much to the delight of the climate action movement. However the changeover hasn't been able to happen, populations have grown and we are starting to open up. Then something else happen, climate isn't behaving as the end of the world politicians and zealots wanted, winters are colder and there isn't the energy there to heat everyone. A leading example is in the UK, they shut down all coal last year without a plan to potential energy needs or risks. Then we get the freezing weather, not enough energy and have to turn coal back on.
Planned integration has not been attractive for politicians and those that lobby them for it. Take a look at the Biden administration and if anything they have doubled down on this. Reality is not a thing in 2021 and here we are.
We have the highest natural gas prices in 14 years in the US, oil prices hovering around $70 a barrel much ado wth Biden banning production on Federal land, a media and political movement shamming fossil fuel and the industry with out a thought that they may need said energy. For example how many actually know what oil is used in? Here we are not enough production and infrastructure
The electric car movement is another of misplaced facts. The mining and production of rare earths is toxic. The waste from batteries is toxic. The use of power for electric cars still comes from the same source. A minor detail that is happily ignored by climate gorups. Misinformation from the polluters hurt in the past and now the ignoring of such environmental damage is along the same lines
Then there is the knock-on affect. Higher gas prices boosted the cost of producing electricity as renewable sources never filled the gap and in some cases actually went down with low wind speeds. European utilities had no choice but to burn expensive coal which then depleted already depleting stockpiles of coal. Energy policy has pushed up costs up dramatically at the same time with the cost of polluting in the European Union surging more than 80% this year.
"Gas supply is short, coal supply is short and renewables aren't going great, so we are now in this crazy situation," said Dale Hazelton, head of thermal coal at Wood Mackenzie Ltd. "Coal companies just don't have supply available, they can't get the equipment, the manufacturers are backed up and they don't really want to invest."
European gas inventories are at their lowest level in more than a decade for this time of year.
Bloomberg reported that Russian gas giant Gazprom PJSC's CEO Alexey Miller said Europe will enter the winter in about a month without fully replenishing its buffer stockpiles. On top of this we get political games with the controversial Nord Stream 2 pipeline. Last year bitterly cold temperatures sent LNG prices in Asia to a record in January. The big what if is a very cold winter in Asia and Europe would likely see even more spikes in gas prices.
In 2018, a deep freeze that became known as the Beast from the East took energy traders by surprise. The La Nina weather pattern could develop again and bring warm weather to Europe, it tends to send temperatures plummeting in Asia. A catch 22 effectively. The U.S. Climate Prediction Center said there's a 66% chance that a La Nina pattern will return some time from November to January. Of so buyers from Japan to India could start panic buying due to fears of competition with Europe.
"Unfortunately, the way the weather works, when it's cold, it is cold: it's cold for the U.S., it's cold for Europe and then it gets cold for Asia," said Snam's Alvera, who is betting on hydrogen as the future for green energy markets.
The affect is everywhere. Europe's top copper producer Aurubis AG said higher prices will continue to squeeze margins through the rest of the year Bloomberg said.
Even chemicals giant BASF SE, which produces most of its power, said it has been unable to fully swerve the impact of record-breaking electricity prices. Supplies are unlikely to improve significantly any time soon. Russia is facing an energy crunch of its own and Gazprom is directing its additional production to domestic inventories.
Even if we don't get the worse case scenario Fabian Ronningen, an analyst at energy consultant Rystad Energy AS. "With natural gas prices already hitting record highs in Europe ahead of rising winter demand, prices could move even higher in the coming months."
Interesting times and no doubt plenty of twists and turns ahead for 2021.
Source: Bloomberg, Reuters, TradersCommunity From The TradersCommunity NewsDesk