Commodity price volatility often uses natural gas as it's poster child, a look at the first two quarters of 2013 illustrates that. Natural gas futures rallied into the close of June, and the second quarter and first half of the year during one of the hottest weeks of summer so far. The US benchmark HH rose 3.17% for the week. Natural-gas prices on the New York Mercantile Exchange rose 31.89% in the second three months of the year. Wheat sank 13.2% and Corn dropped 11.8% for the week.
The USDA on Friday shocked with a massive, planted acreage surprise which saw corn plunge by 6.4% below $5/bu while soybeans jumped 6.1% to $13.43. Bloomberg Commodities Index dropped 0.8% this week (down 10.0% y-t-d).
Week Ending June 30, 2023
---
Commodities
Weekly Commodity Highlights
Bloomberg Commodities Index declined 0.8% (down 10.0% y-t-d).
Spot Gold was little changed at $1,919 (up 5.2%).
Silver rallied 1.5% to $22.76 (up 5.0%).
WTI crude recovered $1.31, or 1.9%, to $70.47 (down 12%).
Gasoline rallied 4.6% (up 7%), and Natural Gas gained 1.9% to $2.78 (down 38%).
Copper recovered 1.5% (5.0%).
Wheat sank 13.2% (down 20%),
Corn dropped 11.8% (down 18%).
Bitcoin slipped $330, or 1.1%, this week to $30,400 (up 84%).
With the surge interest rates and tightening of credit it has only significantly more expensive to finance commodity trade. The 2-yr note yield fell five basis points to 4.51% but remains significantly higher on the year. This from McKinsey in January has got infinitely more difficult:
"High interest rates, volatile prices and the war in Ukraine have made it significantly more expensive to finance commodity trade, forcing the industry to hunt for an extra $300bn to $500bn in working capital to keep raw materials moving around the world. Changing trade patterns have made the global flow of raw materials less efficient and more costly to finance and are also likely to push up the price of commodities for consumers, according to… McKinsey. 'Since the end of 2020, we have seen a doubling of the working capital requirements in the commodity trading sector,' said Roland Rechtsteiner, McKinsey partner and lead author of the report. 'We could see a similar increase by the end of next year, if [further] changes in trade flows materialize.'"

January 29 – Financial Times (Leslie Hook)
COT on Commodities
Money managers in commodities covering the week to June 27: BCOM Index dropped 2.3%, saw funds cut bullish bets across all sectors, except grains. Hardest hit were crude oil, gold, platinum, sugar, coffee and cotton while buyers focused on soybeans and wheat. via Ole S Hansen @Ole_S_Hansen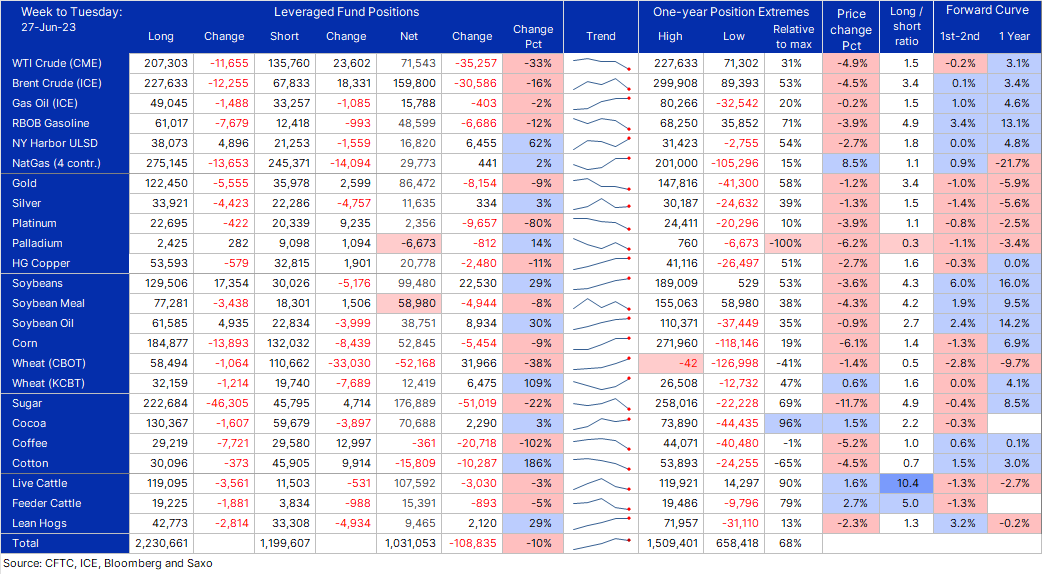 Metals
COT on metals in week to June 27: COT on metals in wk to June 27: Funds cut their gold long to 86.5k lots, a 15-week low, no change in silver while the palladium short reached a fresh record high at 6.7k lots. HG Copper's tumble back below the 200-DMA helped trigger an 11% reduction to 20.8k via Ole S Hansen @Ole_S_Hansen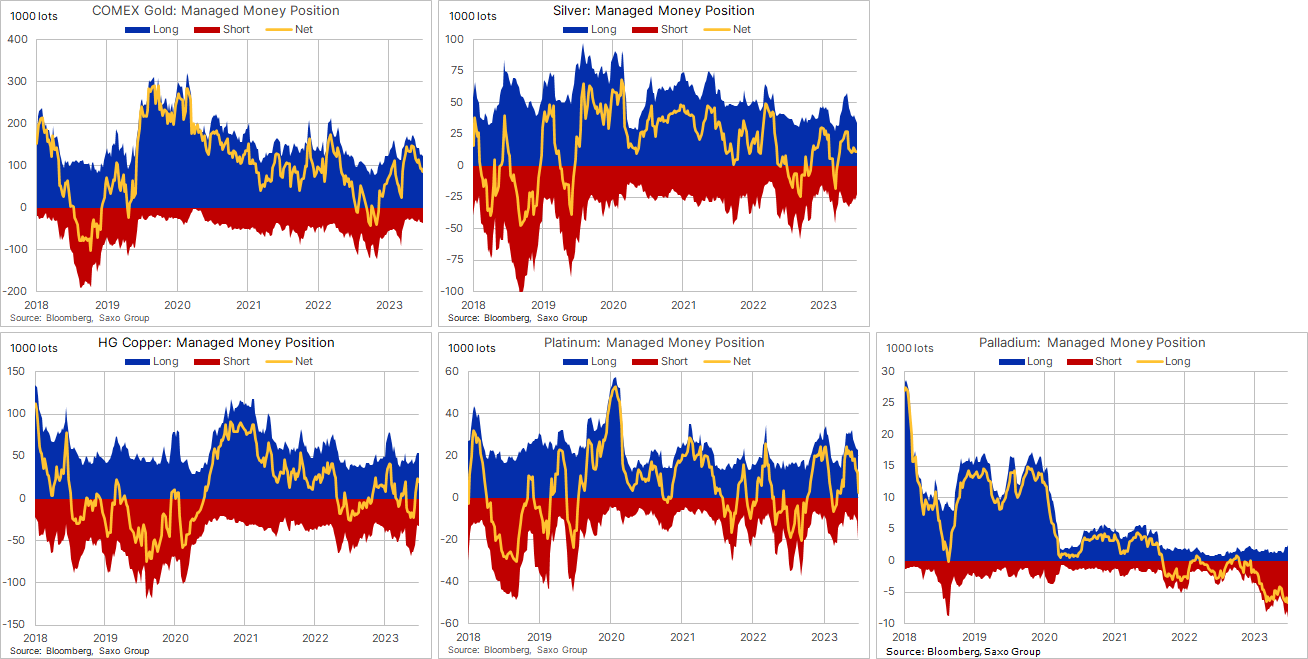 Lithium
"Chile's President Gabriel Boric said… he would nationalize the country's lithium industry, the world's second largest producer of the metal essential in electric vehicle batteries, to boost its economy and protect its environment. The shock move in the country with the world's largest lithium reserves would in time transfer control of Chile's vast lithium operations from industry giants SQM and Albemarle to a separate state-owned company."

April 21 – Reuters (Alexander Villegas and Ernest Scheyder)
Copper
Highlights
Copper for July HGN23 settled at $3.80 per pound. For the week, it fell 2.2%.
Copper has managed a modest recovery from last week's spike low, four different Chinese efforts to support/stimulate their economy have failed to provide confidence of a recovery.
A 7,889 net inflow to Shanghai weekly copper warehouse storage last week with an increase of 13.1% on the week seen as a sign of soft Chinese copper demand.
Copper sharp reversal and downside washout was in the wake of an extension of this week's global risk-off mentality and very disappointing GBP and European PMI readings for June. A hard landing is justifiable and is clearly the catalyst for long liquidation and perhaps fresh outright selling of copper today.
Copper market was significantly overbought from the late May to early June rally of $0.40 and lingering disappointment with respect to the Chinese recovery.
Copper market focus is nearly always locked onto China and its copper demand prospects and until Chinese infrastructure specific stimulus programs are announced expect copper to back and fill on the charts.
The USD has come off a two-month high, making it more attractive for non-dollar holders to buy dollar-priced commodities.
Copper found some support and managed a modest recovery off its lows after a sharp selloff that had taken the market down to its lowest level since late November.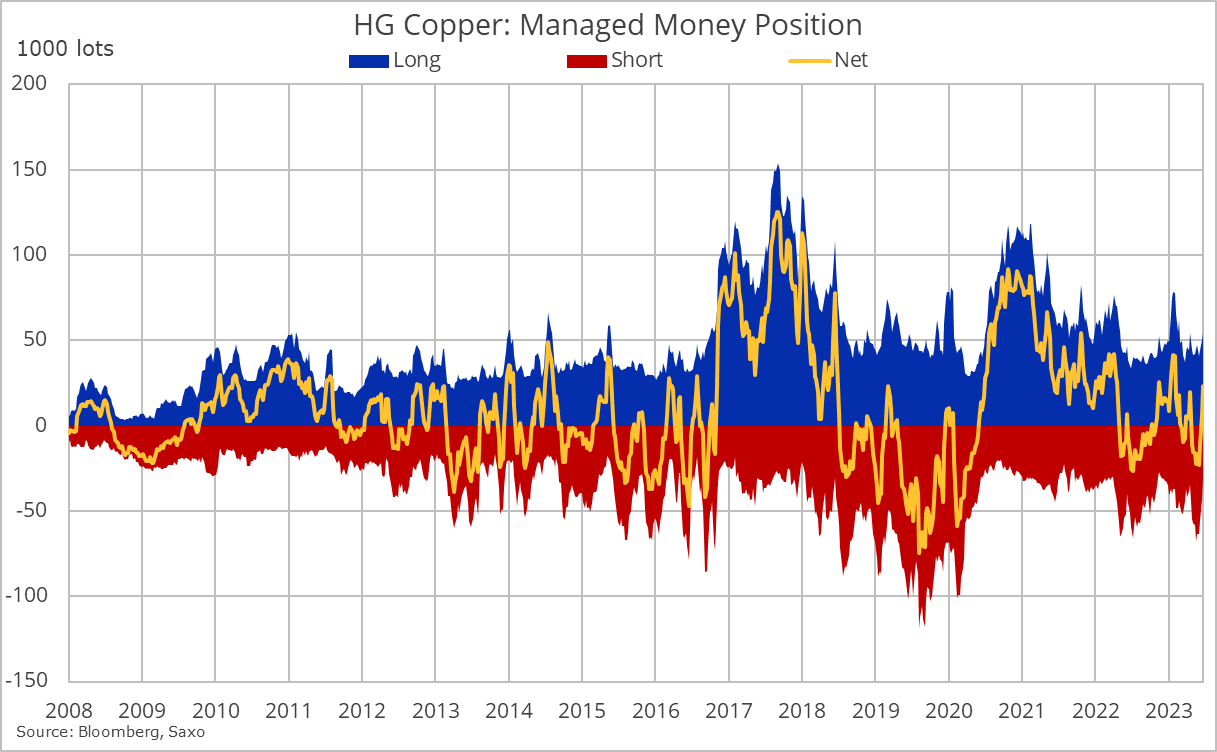 Copper is the third most widely used industrial metal worldwide, and China is the largest consumer of the metal, accounting for more than 50% of the global consumption.
Another internal headwind, the Congo became the 2nd biggest copper exporter replacing Peru as that diversifies supply flow away from South America.
China imported 407,294 tonnes of copper in April, a 12.5% reduction compared to the corresponding period of the previous year. Still, tight limited a steeper decline.
Copper inventories at the London Metal Exchange were under 60 thousand tonnes, the lowest since 2005.
Chile said this year's output is estimated to sink as much as 7% after the 10.6% decline in 2022.
Talk of oversupply of nickel and zinc ahead creates bearish headwinds for copper prices, but that news is offset by weekly declines in Shanghai aluminum and lead supplies. While some of the weakness in copper prices on Thursday was a simple balancing of an overdone rally, manufacturing data from the US Fed this week certainly sparks concerns of softer US copper demand ahead.
Chile's state-owned Codelco said the output in 2023 is estimated to sink as much as 7% after the 10.6% decline in 2022.
The copper trade is concerned the US will implement fresh sanctions against China and tensions between the US and China could drift toward trade war status.
Demand favors the bull camp and supply factors favor the bear camp.
"A copper deficit is set to inundate global markets throughout 2023 — and one analyst predicts the shortfall could potentially extend throughout the rest of the decade. The world is currently facing a global copper shortage, fueled by increasingly challenging supply streams in South America and higher demand pressures. Copper is a leading pulse check for economic health due to its incorporation in various uses such as electrical equipment and industrial machinery. A copper squeeze could be an indicator that global inflationary pressures will worsen…" February 6 – CNBC (Lee Ying Shan)
"Widespread anti-government protests are disrupting copper output in Peru, the world's second-biggest producer, triggering predictions of a further surge in prices for the metal which has already rocketed in recent months as China's resource-hungry economy reopens. Demonstrators demanding early elections and the resignation of President Dina Boluarte have thrown up roadblocks across the country and attacked mines, causing production slowdowns and closures in the Latin American nation's copper operations, which account for about 10% of global supply." February 7 – Financial Times (Joe Parkin Daniels and Harry Dempsey)
Commodity trader Trafigura and Goldman Sachs last year both warned that global copper stocks have fallen to record lows with current inventories enough to supply world consumption for just 4.9 days
Analysts at Goldman Sachs Group Inc. predict copper will hit a record high of $11,000 a ton within 12 months, while BNP Paribas says prices will drop to $6,465 a ton by the middle of next year as the market swings into a huge surplus.
Glencore estimates a supply shortfall of 50 million tonnes in 2023.
Technical
Copper followed through with its break to the upside out of the pennant through the 50wma after it rebounded sharply off the tenkan and failed three times there in the past month. A bullish weekly hammer formed on copper prices, suggesting demand above $4.00. Rebounding from the two-week low of $3.98 touched on April 4th. The flattening Weekly Kijun acted as a magnet with the cloud twist. We closed right at the bottom of the previous bull flag from 2021. Copper had been a leader in the risk on movement for commodities.
Precious Metals
Gold for August delivery GCQ23 settled at $1,929.60 per ounce on Comex. Prices based on the most-active contract saw a weekly loss of 2.1%, according to Dow Jones Market Data.
Silver futures for July delivery SIN23 settled at $22.35 per ounce, with prices ending 7.3% lower for the week.
September palladium PAU23 settled at $1,279 per ounce, ending 9.7% lower for the week
July platinum PLN23 settled at $923.70 per ounce, with prices down 6.4% for the week.
Copper for July HGN23 settled at $3.80 per pound. For the week, it fell 2.2%.
Platinum
The platinum market caved on Friday as the outlook for the Chinese economy remains disappointing through a holiday there, general spillover pressure continues to flow from gold and silver, and the spec and net fund long of 27,981 contracts suggest the market retains stop loss selling/long liquidation capacity.
Investors have turned away from platinum, with ETF holdings recently posting large outflows and reducing the year-to-date increase. Given the massive washouts in platinum and palladium this week, it is likely that palladium has finally capitulated with a major range down failure to fresh contract lows this morning. Like gold and silver, without positive Chinese economic prospects and a return to risk-on sentiment, the bear camp holds firm control.
"The World Platinum Investment Council raised its 2023 forecast deficit for platinum to a record high as investors bet on the metal's supply declining. Platinum consumption will outstrip supply by 983,000 ounces in 2023, WPIC wrote in its quarterly report… That would be the biggest shortfall in records going back to the 1970s, and compares with a deficit of 556,000 ounces the council projected in March."

May 14 – Bloomberg (Eddie Spence):
Gold
Four weeks of ETF selling accelerated in the last weeks when holdings were cut by 17 tons, the most since November, reducing total holdings to a three-month low at 2899 tons. Another peak rate delay following Powell's testimony driving XAUUSD below support towards $1900 via Ole S Hansen @Ole_S_Hansen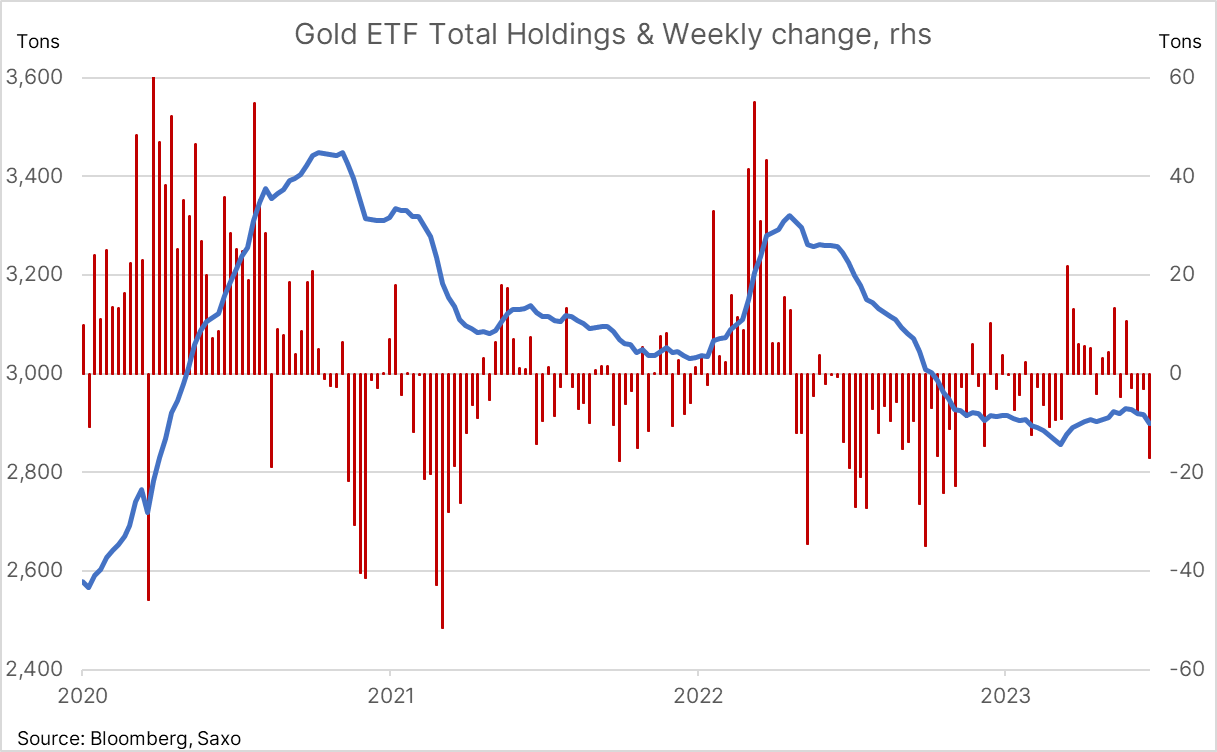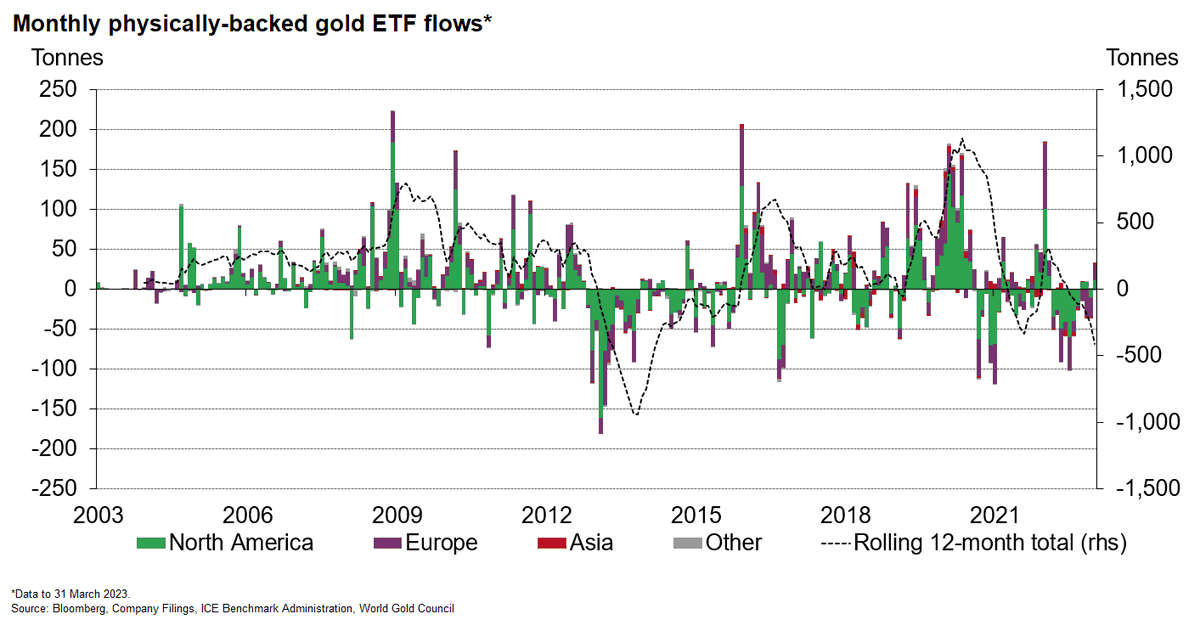 Highlights
Gold futures for August delivery GCQ23 settled at $1,929.40 an ounce on Comex Friday. Prices based on the most-active contract, ended 20 cents lower for the week, and lost 2.7% for the month and 2.9% for the quarter, according to Dow Jones Market Data.
10th straight daily outflow from gold ETF holdings highlights a market still out-of-favor with investors.
Gold holdings year-to-date are now down 1.2%
Silver ETF holdings also declined last week by 1.86 million ounces and are fractionally lower year-to-date.
Countervailing the jump in Indian gold imports from Switzerland is a decline in Swiss exports of gold to China of roughly 6000 kg.
Without a major surprise geopolitical flight to quality incident, the path of least resistance remains down in gold and silver. (We will see next week if the Coup/No Coup in Russia affects next week)
The ECB rate hike and the Fed's prediction of 2 more minor rate hikes this year combined sent longs to the sidelines last week, those fundamentals have been countervailed by a significant range down extension in the US dollar.
Gold has work to do after it's much heralded rally over $2000 has given back. It started back in the first half of March, and from a technical viewpoint this puts it in a consolidating or bearish posture. The banking crisis has eased, but it has not gone away entirely, and the pressure to raise rates seems to be softening, despite concerns expressed by Fed members that inflation is still too strong.
Around the top of gold this year gold ETF holdings increased 363,091 ounces, bringing them 0.5% higher on the year. This was their biggest one-day increase since April 2022 and their fifth straight day of growth.
Gold surged to $2,072.19 early in May, just shy of its record high of $2,072.49, following the Fed's hint that its hiking cycle may be ending.
World Gold Council predictions of softening Indian gold demand in both the June and September quarters. Additional bearish news from the WGC that Indian first quarter gold demand declined by 17% and India scrap gold inventories jumped by 25% in the first quarter.
World Gold Council also indicated that global gold demand fell in the first quarter of 2023 despite strong ongoing central bank demand. First quarter gold demand fell by 13% compared to year ago levels and that contraction would have been very severe if central bank purchases of 228 tons were not registered.
"Violet Zhu, a Shanghai-based electronic components exporter, has been attending jewellery auctions and chatting on social media forums on the subject this year, looking to invest in rubies and diamonds. 'I don't have the brain for stock investments, and I am waiting to redeem mutual fund products once they break even. But in the meantime, I have been continuously buying gems,' says Zhu. Zhu says she is searching for oddly-shaped rubies of higher grades… She is not alone. Jewellery and precious metals consumption in China soared 37.4% in March from a year earlier underpinning a 13.6% jump for the quarter…" April 18 – Reuters (Winni Zhou and Tom Westbrook)
Gold caught the bid with safe haven flows.
The bull case in gold fundamental headwinds of rising rates, periodic fears of global slowing.
Goldman earlier in March labeled gold as "the" investment hedge of preference and predicting gold to trade to $2050.
Gold and silver will continue to see money flows from residual global bank contagion fears but a significant slide in implied US treasury yields this week adds a secondary supportive force for the bull camp.
Gold is highly sensitive to the rates outlook as higher interest rates raise the opportunity cost of holding non-yielding bullion and vice versa.
"Traders quip that one of the few things to rally during bear periods is volatility. Add gold to the list. Its price has leapt about 7% so far in March to one-year highs of just under $2,000 per ounce. With investors dumping stocks and corporate bonds, money has flowed into both government bonds and gold. Interest in the yellow metal seems odd, given that price inflation in the US and elsewhere may well have peaked. And gold offers no income to investors… So what explains the renewal of interest? Well, gold does offer a safe haven, particularly for retail investors worried that their money may not be safe in a bank.""

March 24 – Financial Times
Technical
Gold futures successfully back tested the median after another rejection at the Tenkan (orange) moved towards the flat cloud and twist. Needs to get impulse off this ABC so double bottom gains more weight and it follows silver break higher. The yellow metal is consolidating after it accelerated after breaking the weekly triangle higher. Gold has bounced after support at its uptrend line since the August 2021 bottom and Kijun. To be bullish we need to stay above the triangle. Murrey Math resistance, watch Fibs & Chikou.
PBOC Buying Gold
China added to its gold reserves for a sixth straight month, China raised its gold holdings by about 8.09 tons in April, according to data from the State Administration of Foreign Exchange on Sunday. Total stockpiles now sit at about 2,076 tons, after the nation increased reserves by about 120 tons in the five months through March.
China's end-April foreign currency reserves rose to $3.2048 trillion, up by $20.9 billion from the month before, the data showed. Rise in the foreign-exchange reserves was a result of US dollar depreciation and rise in global financial asset prices, the foreign-exchange regulator said in a statement.
The People's Bank of China raised its holdings by about 18 tons in March. Total stockpiles now sit at about 2,068 tons, after growing by about 102 tons in the four months before March. Nations have been building up stockpiles of bullion amid heightened geopolitical risks and high inflation. – Bloomberg April 7
PBOC in December added to its gold reserves for a second straight month, adding 30 tonnes of gold worth. Brings China's holdings to a total of 2,010 tons.
PBOC in November added 32 tonnes of gold worth around $1.8 billion to its reserves, the first time it has disclosed an increase since September 2019.
China has the world's sixth-largest official national gold reserves after countries including Russia, Germany and the United States, which is the biggest with 8,133.5 tonnes
The World Gold Council (WGC) said in October that central banks globally bought 399 tonnes of gold in the third quarter of 2022, by far the most ever in a single three-month period.
Silver
Highlights
Silver futures for July delivery SIN23 settled at $22.35 per ounce, with prices ending 7.3% lower for the week.
Both gold and silver ETF holdings fell again Friday. Silver ETF holdings also declined last week by 1.86 million ounces and are fractionally lower year-to-date.
Without a major surprise geopolitical flight to quality incident, the path of least resistance remains down in gold and silver.
Silver is mostly missing out on flight to quality buying interest with Gold and the Swiss France dominating.
Unfortunately for the bull camp, consistent gains in gold and silver only look to be the result of a single bullish theme (dollar weakness) and therefore gains could be hard-fought.
Both gold and silver are facing demand headwinds from signs Investors continue to step away from gold and silver.
Silver is in a much stronger technical condition than gold. Silver bounced harder than gold recently, understandable given it experienced a much more dramatic selloff than gold with a downside breakout to its lowest level since April 4.
Signs of low supply had supported prices, as New York's COMEX inventories fell 70% in the last 18 months to just over 1 million tonnes. London Bullion Market Association stockpiles fell for the 10th straight month to a record-low 27.1 thousand tonnes in November.
Technical
Silver bounced off the bottom trend line and was energizes in the sphere of influence. Back over 50wma after spitting tenkan, now providing support after reversed. Closing under outer channel which is now resistance. Major support is 50wma and tenkan.
Industrial Metals
The London Metal Exchange at the end of 2022 showed the smallest available warehouse stockpiles in at least 25 years. Available inventories of aluminum fell 72% decline, zinc shrank by 90%.
"After a substantial stretch when battery makers were desperate for mineral supplies, the shoe is suddenly on the other foot. In the past few months, previously red hot cobalt and lithium prices have cooled dramatically. The chill is coming from both sides: supply and demand. Supply bottlenecks are easing while China's demand for electric vehicles, and global demand for many consumer electronics, have ebbed as well. Cobalt has fallen out of favor the most: prices in February were down 61% from January last year… Lithium carbonate prices rose rapidly for most of last year, but the metal has seen a sharp correction of 21% since November. China's EV subsidy cut in December is a big factor…"

February 28 – Wall Street Journal (Megha Mandavia)
Aluminum
Highlights
The aluminium ingot social inventories across China's eight major markets stood at 595,000 mt as of June 1, down 62,000 mt from a week ago and 287,000 mt from a year ago. The destocking was led by south China, where cargo arrivals continued to decline and consumption picked up a little. Arrivals in Wuxi fell as much as 20-30%, driving down local stocks rapidly. Limited arrivals and improved consumption allowed stocks in Gongyi to fall after building up in the previous week.
China's annual aluminum production in 2022 increased by 4.5% from a year earlier to a record high of 40.21 million tonnes thanks to newly launched capacity and softened power supply constraints.
China has been taking significant steps to boost its economy and end the strict coronavirus-induced regime, lifting the outlook for metal demand and overshadowing global recession concerns.
On the supply side, last year's output cuts at key European smelters, including Alcoa's San Ciprian smelter and Hydro's plant in Slovakia, lent further optimism to bulls.
Aluminum hit an all-time high of around 4,100 USD/T in March 2022 in the aftermath of Russia's invasion of Ukraine. Aluminum is down roughly 40% from that record high in March amid persistent fears of a demand-sapping global recession triggered by an aggressive tightening campaign from major central banks.
In 2022 Aluminum and zinc on the LME had their worst year since 2018, with prices down 15% and 16%, respectively.
Tin was the worst performer, falling by more than a third and registered the biggest annual decline since at least 1990.
The world's top aluminium producer, China's primary aluminium production in November climbed 9.4% from a year earlier with 3.41 million tonnes as looser power restrictions allowed some regions to ramp up output and as new smelters started operation.
China is the biggest producer, accounting for 60% of production, followed by Russia and then Europe and the U.S.
On the supply side, LME has decided against banning Russian metal from trading and storing in its warehouses because many traders are still planning to buy the metal in 2023.
The car industry is the world's largest aluminum consumer, with nearly 67 million vehicles per year, according to SkyQuest.
Technical (Alcoa)
We analyze Alcoa as a surrogate to Aluminum given its high beta relationship and more liquid aspect as an investment vehicle. $AA retested the 50Wma and 50% confluence after earnings. From there the Chikou rebalanced it closed under the tenkan. We have support below at 2/8 sphere of influence under the tenkan confluence.
Tin
"Tin jumped the most in nine months after a key mining region in Myanmar, the world's third-biggest supplier, moved to curtail digging of the material used in electronics and cans. An economic planning committee in a northern area of the country controlled by the United Wa State Army — Myanmar's largest ethnic armed organization — ordered a general halt to mining operations…"

April 17 – Bloomberg:
---
Agricultural Commodities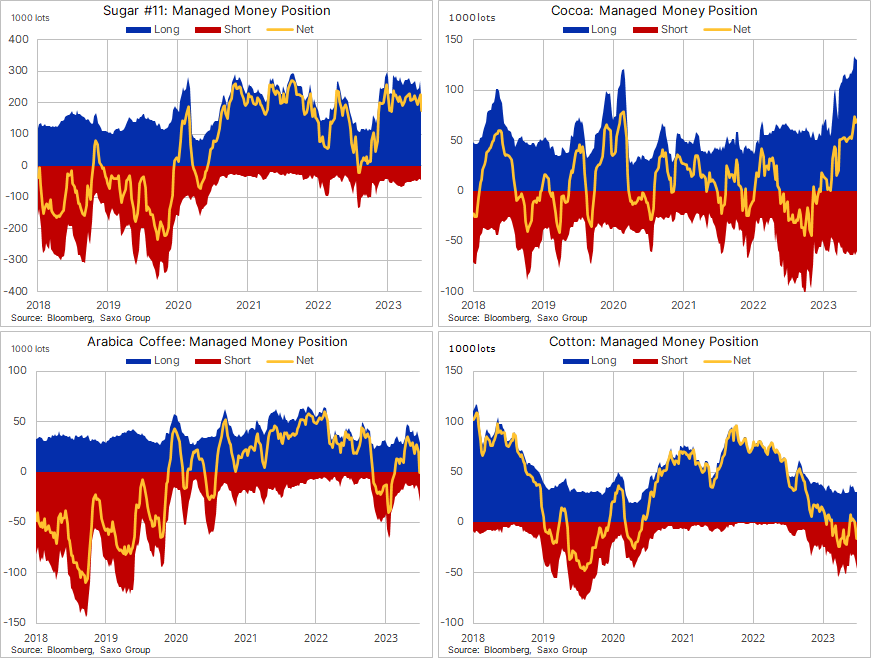 Orange Juice
Orange juice futures prices exploded higher last week, rising 13.48%, they corrected around 4% this week.
The move is in line with FLOJ being the best performing commodity in the first quarter of the year, they were up 30.8%. They are up 71% in the past year.
The reason is supply, the U.S. Department of Agriculture estimates Florida production will fall to only 15.65 million boxes of oranges this season.
In the 2021-2022 season Florida growers produced 41.2 million boxes. For perspective twenty years ago, the average output for the state was around 200 million boxes.
The region was hit back-to-back hurricanes Ian and Nicole last fall and a citrus greening disease. A hard freeze in January only exacerbated the issue.
Rice
"From China to the U.S. to the European Union, rice production is falling and driving up prices for more than 3.5 billion people across the globe, particularly in Asia-Pacific – which consumes 90% of the world's rice. The global rice market is set to log its largest shortfall in two decades in 2023, according to Fitch Solutions. And a deficit of this magnitude for one of the world's most cultivated grains will hurt major importers, analysts told CNBC. 'At the global level, the most evident impact of the global rice deficit has been, and still is, decade-high rice prices,' Fitch Solutions'… Charles Hart said."

April 18 – CNBC (Lee Ying Shan)
Lumber
Lumber prices are a leading indicator for the strength of the home building industry. They were a leading indicator of the supply-chain problems and inflation that followed pandemic lockdowns.
The CME replaced the random length with the physical futures, but they have yet to achieve the critical mass necessary for success. On the final day the old futures contract— ticker LB—traded 12 times adding $5 per thousand board feet to end, forever, at $344, about 80% lower than the peak price notched in 2021. The outgoing futures, which represent a railcar full of two-by-fours delivered to the British Columbia interior, are being replaced by a contract—ticker LBR— that sends a truck's worth of wood to Chicago. The plan is intended to boost trading from untradeable thin and reduce wild price swings and improve the contract as the barometer of wood prices and building activity.
The existing legacy contract is freight on board (FOB) originating in Prince George, BC. It's a reflection of the mill price of western spruce pine fir lumber, which legacy 110,000 board feet futures contract is derived from. The new mini lumber is FOB Chicago, so the premium of $105 represents the additional from delivering to the mill in Chicago. That's the reason the premium in the mini. Secondly, the new contract has the ability for producers to deliver western SPF, eastern SPF, domestic and Canadian Doug Fir, and U.S. Hem Fir. Depending on the species and delivering mill, the FOB is anywhere from $80 to $105 premium to the legacy contract delivered to Chicago. Lastly, the new contract is sunset out of existence with the official and permanent expiration on May 15, 2023.
Greg Kuta, the President of Westline Capital Strategies,
Highlights
Prospects of interest rate hikes continued to depress real estate activity. Stubbornly high inflation and a tight labor market have raised worries that the Federal Reserve will keep rates elevated even after the recent turmoil in the banking sector.
Fundamentals in the lumber complex had supported tight supplies and prospects of a rebound in-home construction and demand recovery.
The legacy benchmark fell roughly 80% since its May 2021 peak of around $1,700, when supply chain issues compounded strong demand when it went off the board at $344.
Worth noting that before 2018, the price never eclipsed $493.50.
In January 2023, nearby March random-length lumber futures were sitting at the $417.70 level, with the new physical futures at $525.00.
In March 2020, random-length lumber futures fell to $251.50 per 1,000 board feet as the global pandemic gripped markets across all asset classes. When commodities exploded higher over the following months lumber rose to $1,711.20 as supply chain and other issues created a shortage. In an almost perfect bullish storm for the lumber market, historically low interest rates caused a housing boom, increasing the demand for lumber when supplies were low.
The Federal Reserve's aggressive tightening cycle pushed 30-year mortgage rates to levels not seen since 2001, leading to slower home construction and souring sentiment among homebuilders.
The war in Ukraine and the tightening sanctions against Russia and its ally Belarus, which account for more than 10% of the global export of lumber, had squeezed global supplies.
---
Grains
Wrong-footed funds also played a major role this past month. Holding a 146k lots grains net short on May 30, a price supported drought forced them to revert back to a net-long which reached 210k lots last Tuesday, just as rains triggered profit taking ahead of Friday's USDA report. The four-week changes were: corn +104k to +53k, wheat +75k to -52k, soybeans +99k to +99k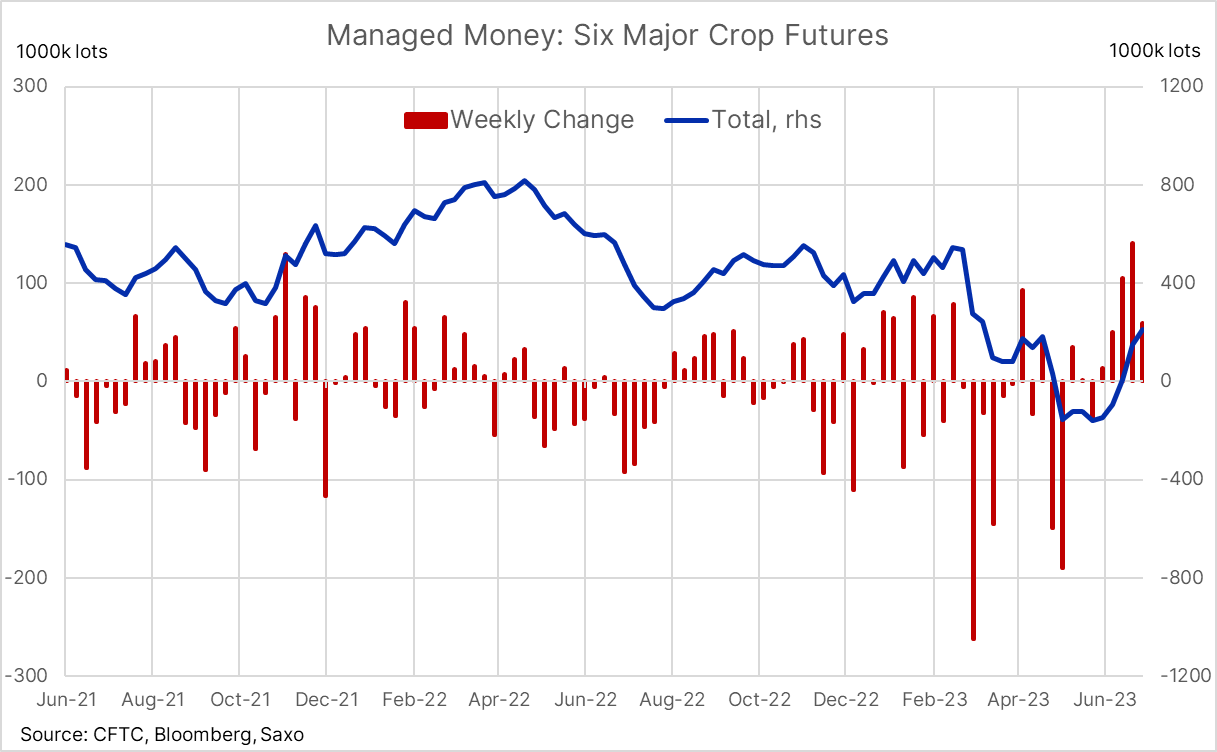 COT on Grains in week to June 20: Spec buying accelerated at the fastest pace since Sept 2020 in a scramble to rebuild longs amid surging markets. The net long (6 contracts) jumped 141k to 151k, still 72% below the recent peak from Feb. Led by corn (56k to 58k) and wheat (+29 to -84k) via Ole S Hansen @Ole_S_Hansen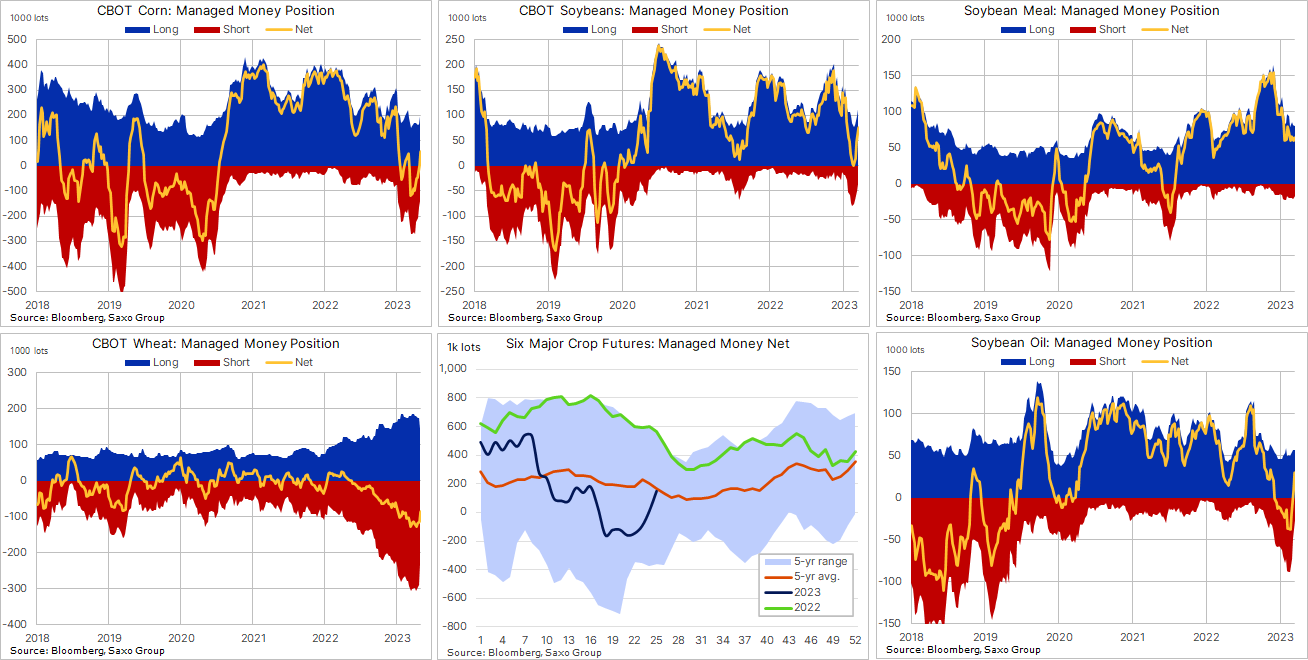 For the first quarter of the year, CBOT wheat fell 12.8%, with corn down 2.9% and soybeans down 1.4%.
The USDA on Friday delivered a massive, planted acreage surprise which saw corn plunge by 6.4% below $5/bu while soybeans jumped 6.1% to $13.43. Against estimates, the gov report raised US acreage by 2.22m acres to 94.096 while soybeans were cut by 4.18m to 83.505.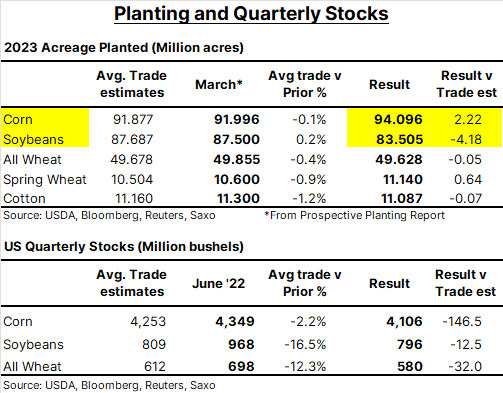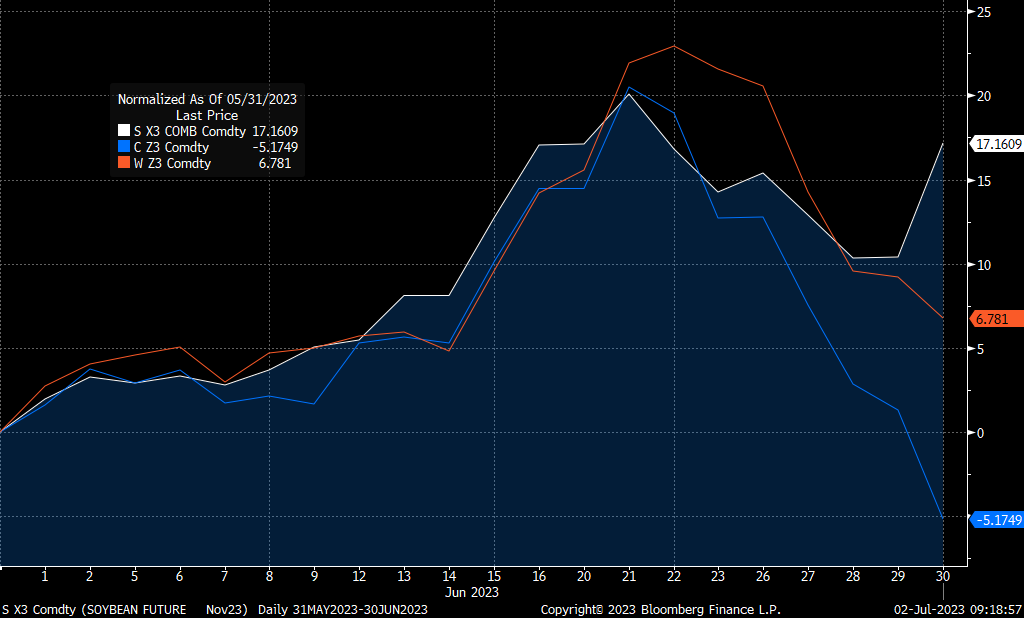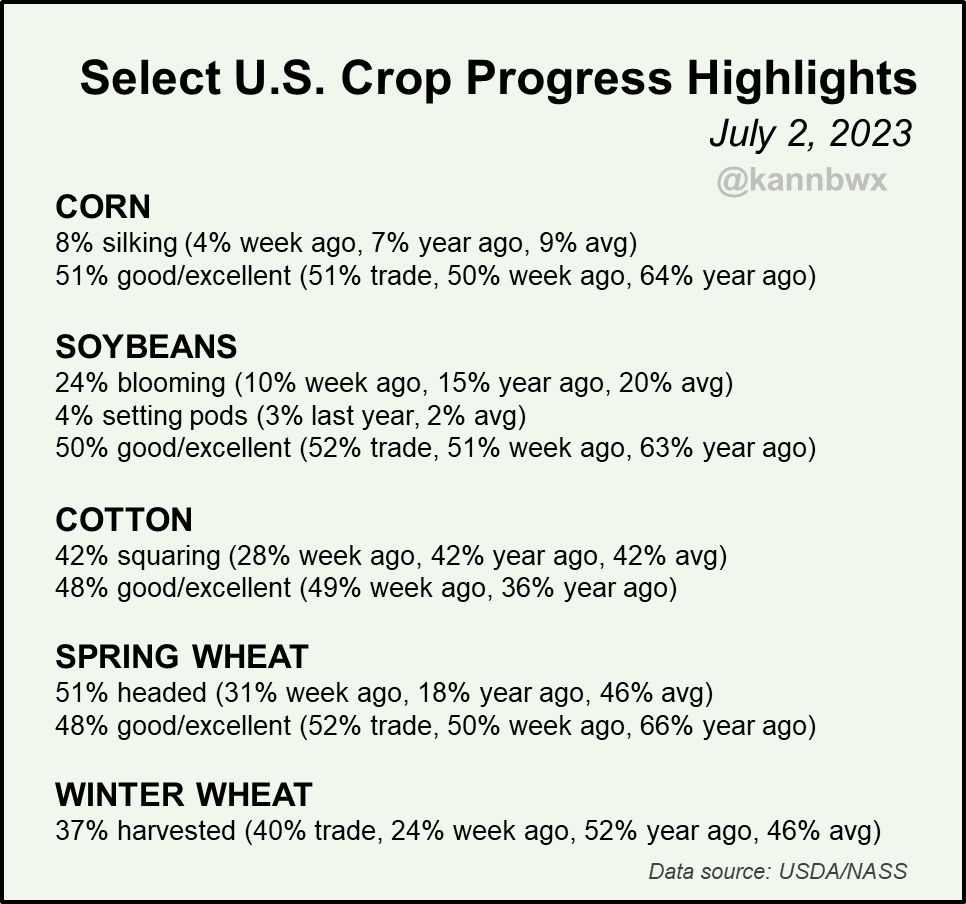 Wheat
Highlights
The USDA Stocks and Acreage report was a shocker with huge acreage changes in corn and beans and a more minor increase in acres for all wheat, up over 900,000 from the March Intentions report. Most of the increase was in Spring wheat, which was up 500,000 from March Intentions and will put some pressure on Minn compared to KC and Chicago, especially if spring conditions improve a few percent this afternoon as expected.
Winter wheat planted acres were trimmed more than expected to 37.0 mil., however harvested acres actually rose just over 400k to 25.7 mil.
The USDA had been assuming record abandonment of 32.6%, which has now dropped to 30.5%, still the highest since at least 2000.
The biggest increased in harvested acres were in OK +450k and CO +150k. Harvested acres in KS were cut 100k.
Spring wheat acres jumped 570k to 11.14 mil. 630k above the average est. and above the range of est.
Durum acres fell 300k from March intentions, vs. expectations of unchanged.
June 1st wheat stocks at 580 mil. bu. were 30 mil. below expectations suggesting strong feed usage.
Stocks/use ration at just over 31% the lowest in 9 years.
IKAR forecasts Russian 2023 wheat production in 2023 at 84 mmt, while exports should reach 41 mmt. Their export forecast is down from 46 mmt for the 2022 crop. Most private Russian wheat forecast are running in the mid 80's mmt, however the Russian Ag. Ministry is only forecasting production at 78 mmt.
Technical
Wheat blew through resistance at the tenkan and Kijun with the 50 and 61.8% Fibs above. It had been drawn higher by the flat weekly cloud which unraveled the shorts which when done we sailed back through 0/8 like butter. The contract keeps failing to stabilize after it continued its sharp impulsive collapse. This came about after a failure at retesting the 8/8 move and high after it spat 8/8, and the minimum target. It had completed a measured 4/8 correction off highs then broke key support at 38% then 50% and 50wma confluence in the freefall.
Corn
Highlights
US corn planted acres at 94.1 mil. were up 2.1 mil. from March intentions and 1.5 mil. acres above the range of estimates. Since 1990 this was the 2nd largest increase in acres from March to June, behind only the 2.4 mil. acre increase in 2007.
The largest increases were in Il + 500k, TX +450k, IA and SD +300k, MO +200k, while ND was +150k.
Corn stocks at 4.106 bil. were 150 mil. below the average trade est. and at the very low end of the range of guesses. The stocks data helps explain the strong corn basis.
Heaviest rains this weekend expected to impact the central part of the Midwest. Drought conditions likely to deepen in SW MO and the northern corn belt, however big reductions across NE, IA, IL, and rest of the eastern corn belt. Reports of damaging Derecho winds associated with yesterday's rain event have been numerous.
It's too early to assess the impact on production, likely not as damaging as those that impacted Eastern IA and parts of northern IL in Aug-2020.
Higher corn acres and improving weather clearly more than offset the support of tighter old crop supplies. If corn can reach an average yield of 174 bpa, looking more likely, production would still reach 15.0 bil. keeping supplies comfortable.
There remains concern about Russia not extending Ukraine export corridor deal.
Technical
Corn flew right to the 50wma with all that energy built from the double bottom and penetration of the tenkan and Kijun. It remains under the 7/8 fail under the weekly cloud. Spot corn has closed a gap on the weekly chart. Next support for July is its 100 day MA at $6.20. Dec-23 bottomed out very near $5.85, the midpoint between last summer's contract high and the May low.
Earlier in the year Corn had topped out at the highest since 2012 in Chicago at +1/8 and corrected with impulse back to break the Tenkan which it swiftly did a spit of a spit after bouncing off 720, which also the price successfully retested the high from April 2021.
Soybeans
Highlights
U.S. producers planted the smallest area since 2020 with a 5% decline from last year and an astounding 4.2 million acres below industry surveys is a shockingly bullish surprise. In fact, the decline in acres was so large there is justification to wonder if the adjustment is an error.
Limit up in soybean oil with monthly biofuel feedstock and capacity data out after Friday's close and monthly crush after the close on Monday.
Soybean planted acres at 83.5 were down 4 mil. from March intentions and 4 mil. below the average trade guess. Since 1990 this was the 2nd largest decrease in acres from March to June, behind only the 4.6 mil. acre drop in 2019.
The biggest decreases were in ND -900k, IL and IA -800k, MO -400k, KS -350k, and NE -250k.
Even if the average US soybean yield can reach the current USDA est. of 52 bpa, production would only reach 4.3 bil. bu. with end stocks falling to pipeline minimum of 140 mil. bu. representing a decade low of 3.2% stocks/use. Clearly we have no wiggle room for reduced yields without being in a significant rationing situation.
Soybean stocks at 796 mil. were 15 mil. below the average guess, however within the range of est.
Spot board crush margins improved $.44 for the week to $.80 bu.
Soybean oil product value jumped to 43.7%, a 7 month high.
Prior to the quarterly stocks/acreage data the USDA announced the sale of 132k tons of new crop soybeans to China.
Brazilian Pres. Lula met with Chinese leader Xi in Beijing last month. In a joint statement the 2 countries acknowledge that cooperation in agricultural trade is strategically significant. Both sides pledged to promote agriculture, trade, and supply chain resiliency while also working to strengthen environmental protections to deal with climate change.
Technical
Beans have rallied hard off the spit of that channel as marked. July-23 soybeans surged thru its 100 day MA, trading up to a 2-month high. Next resistance is $14.71, the 100-week MA. Spot soybeans have surged nearly $2 off last month's low. Nov-23 soybeans are up $2.15 from last month's low. Energy has been built after soybeans rejected new lows at the bottom of trendline finally got the legs to break above the 50wma, however that has all unraveled and clearly after the fall got the market short on exhaustive selling and here we are back at said 50wma. The weekly cloud and Murray mingle around the $14.9/bushel benchmark. May-23 soybeans broke thru the $15 level while also violating support at its 50 MA and settling right at its 100 MA at $14.92 ½.
Recall beans broke down from the bull pennant framed by +4/8 and +1/8 with the Kijun unable to sustain support right at the breakout. Support at the 50wma gave way to under the futures pivot at $15/bushel benchmarks and at the close of the week was a magnet to the recovery bounce. Pressure came from futures spitting the Weekly +4/8 over $17.50/bushel three times. The market needs to rebalance that energy.
---
Energy
For complete Oil and Natural Gas Coverage please visit our dedicated publications 'Around the Barrel' and 'Into the Vortex.' – Weekly Analysis and Outlook for Energy Traders and Investors
COT in Oil Complex week to June 27: A +4% drop in crude oil triggered a 66k lots reduction in the WTI and Brent long to 231k, just 48k above the March 2020 Covid slump. Nearly 2/3 of the change was driven by fresh short selling, especially in WTI where the net slumped to near a 13-year low at 71.5k via Ole S Hansen @Ole_S_Hansen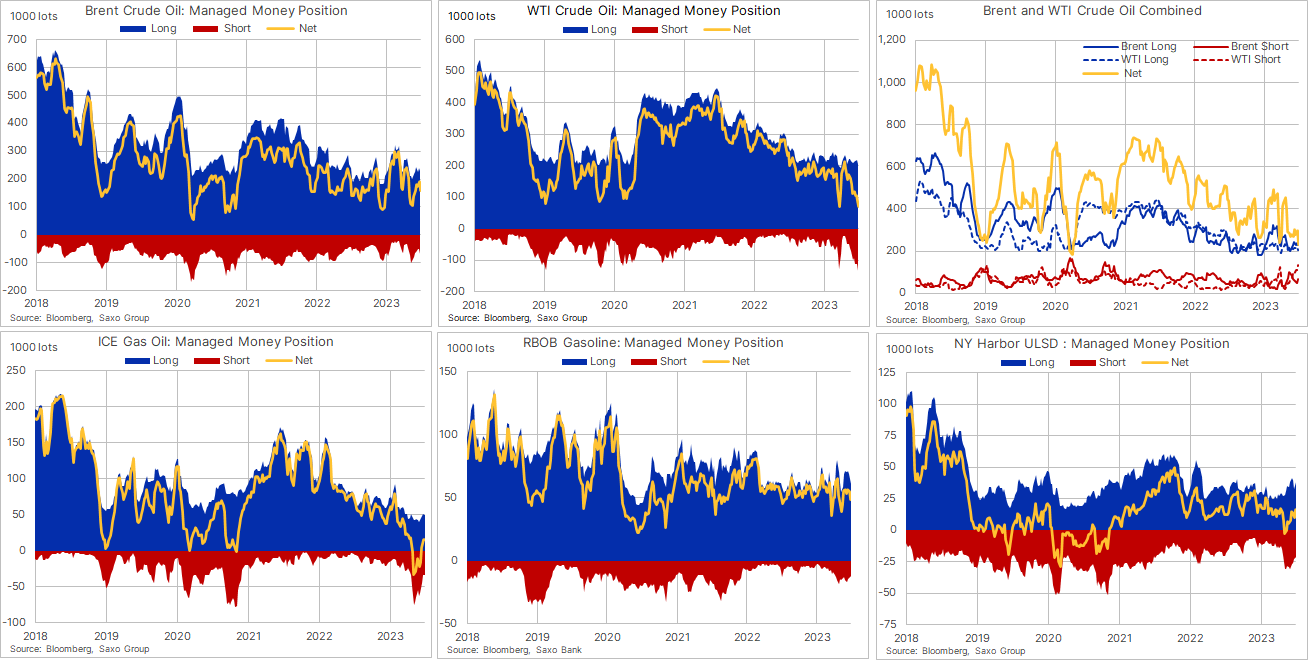 BDI Freight Index
For a Complete Macro and Micro Market Overview Visit TC Traders Market Weekly:
---
---
Five Factors in a Constructive Strategy for Investing in Commodities
Investing in commodities is something that needs to be done within a constructive strategy to understands risks and opportunity. There are many factors to consider individually depending on one's access, location and financial position. Five factors to consider are monitoring the market, monitoring supply and demand dynamics, diversification, long-term focus and dollar cost averaging.
Focus on yourself and what YOU CAN INFLUENCE, set your trading plan and goals in be set for 2023.
---
-comment section below data-
Subscribe and Follow
Find us at www.traderscommunity.com
Follow our contributors on Twitter @traderscom @thepitboss16 @knovawave @ClemsnideClem
Note these charts, opinions, news, estimates and times are subject to change and for indication only. Trade and invest at your own risk.
Trade Smart!