Fitch Ratings following up from their Evergrande downgrade further warned a credit event could result in contagion and headwinds. Fitch cut the ratings of China Evergrande Group and two of its subsidiaries last Wednesday
Fitch Ratings following up from their Evergrande downgrade further warned a credit event could result in contagion and headwinds. Fitch cut the ratings of China Evergrande Group and two of its subsidiaries last Wednesday
Evergrande shares are down about 90% in 14 months, its dollar bonds are trading at 60-70% below par.
Following up from their downgrade last week Fitch added a default would reinforce credit polarisation among homebuilders. Furthermore it could result in headwinds for some smaller banks. The upgrade came after Evergrande disclosed on Tuesday that it had made "no material progress" in its search for investors to buy part of its stakes in its electric vehicle and property services businesses. "If the group is unable to meet its guarantee obligation or to repay any debt when due or agree with the relevant creditors on extensions of such debts or alternative agreements, it may lead to cross-default," it said.
Fitch's moves were just the latest in a series of downgrades targeting the property firm over its struggles to restructure huge debts.
Fitch said in a statement that it had downgraded the long-term foreign-currency issuer default ratings of Evergrande and subsidiaries Hengda Real Estate Group Co and Tianji Holding Ltd to CC from CCC+.
Regulators have warned that Evergrande's 1.97 trillion yuan ($304.79 billion) of liabilities could spark broader risks to the country's financial system if not stabilised.
Fitch defines a CC rating as indicating "very high levels" of credit risk.
Fitch also downgraded the senior unsecured ratings of Evergrande and Tianji, as well as the rating on Tianji-guaranteed senior unsecured notes issued by Scenery Journey Limited to C from CCC.
The property firm was founded in Guangzhou in 1996 and has epitomised China's freewheeling era of borrowing and building. Now with liabilities of nearly two trillion yuan ($305 billion) its possible collapse looms as one of China's largest for years.
"The downgrade reflects our view that a default of some kind appears probable. We believe credit risk is high given tight liquidity, declining contracted sales, pressure to address delayed payments to suppliers and contractors, and limited progress on asset disposals," Fitch said.
Risk of Headwinds Already Here:
Evergrande's problems were underscored this week when protests reportedly broke out at its headquarters in Shenzhen. Hundreds of investors showed up at Evergrande's offices on Sunday to demand a meeting with a company executive, according to Chinese news outlet Caixin. Reuters reported similar scenes on Monday, with about 100 protesters on scene. The company also disclosed on Tuesday that the proposed sale of its office building in Hong Kong, a massive property in a major commercial district on Hong Kong Island "had not been completed within the expected timetable."
The Evergrande contagion is not a threat, it's already here, can it be roped back in is the big question as this chart from Bloomberg shows the sell off on China Junk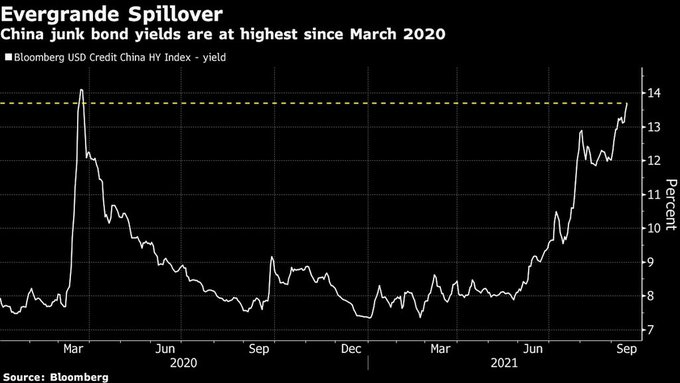 "Sales of second-hand homes in China's first-tier cities such as Shanghai and Shenzhen plunged last month amid ongoing policy adjustments to rein in the country's housing market. Some 18,000 pre-owned homes sold in Shanghai last month, down 40% from a year earlier, the biggest drop so far this year… The total value of the deals fell 44% to CNY57.4 billion (USD8.9 billion). The average price was CNY3.18 million (USD492,000), a 7% drop… In Shenzhen, sales fell for the fifth straight month, plunging 82% to a 10-year low of 2,043 units…The number of deals also fell in Beijing, dropping 10.7% from July to 15,942 units. Guangzhou, another first-tier city, recorded 7,000 new home sales, the lowest in the past 15 months." September 8 – Yicai Global:
Fitch said it saw few signs of progress in the sale of Evergrande's property management business, Evergrande Property Services Group and its new-energy vehicle business China Evergrande New Energy Vehicle Group Ltd, and cautioned there was "significant execution risk" surrounding their disposal.
Fitch said that raised the possibility of default on offshore bond interest payments. While Evergrande does not have any bonds maturing in 2021, Fitch estimated that it faces bond interest payments of $129 million in September alone and $850 million before the end of the year.
Evergrande is the top three in revenues and most indebted of a highly levered Chinese developer sector. It "owns more than 1,300 projects in more than 280 cities." Evergrande employs 200,000 – and "indirectly helps sustain more than 3.8 million jobs each year." Further than that it has invested in a mutltide of sectors and prjects that havea deep spread across China.
"Outside housing, the group has invested in electric vehicles, sports and theme parks. It even owns a food and beverage business, selling bottled water, groceries, dairy products and other goods across China. In 2010, the company bought a soccer team, which is now known as Guangzhou Evergrande. That team has since built what is believed to be the world's biggest soccer school, at a cost of $185 million to Evergrande. Guangzhou Evergrande continues to reach for new records: It's currently working on creating the world's biggest soccer stadium, assuming that construction is completed next year as expected. The $1.7 billion site is shaped as a giant lotus flower, and will eventually be able to seat 100,000 spectators." via CNN (Michelle Toh)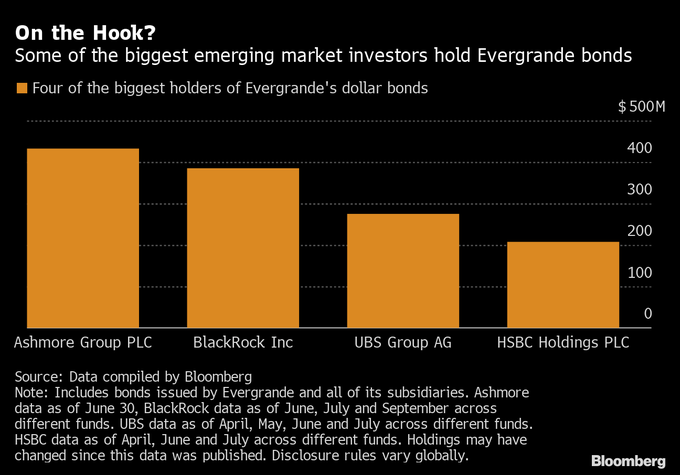 Ashmore, Blackrock, UBS among top funds with exposure to China's Evergrande. Some of emerging markets' biggest investors had significant holdings in the bonds of troubled real estate giant that trade under 25% 30% of face value.
Evergrande Payment Renegotiation
"Regulators in Beijing have signed off on a China Evergrande Group proposal to renegotiate payment deadlines with banks and other creditors, paving the way for a temporary reprieve as the cash-strapped developer struggles to come to grips with more than $300 billion of liabilities. China's Financial Stability and Development Committee, the nation's top financial regulator, gave its blessing to Evergrande's plan last month after the property giant missed interest and principal payments on some loans, a person familiar with the matter said…" September 9 – Bloomberg:
The company has also been struggling with payments to suppliers. On Tuesday, a stock exchange filing showed that Evergrande had outstanding liabilities worth 562 million yuan to a supplier, Skshu Paint Co Ltd, as of the end of August.
Source: Fitch
From The TradersCommunity News Desk