U.S. Treasuries had another choppy week with the Fed and multiple central bank action raising rates. The action put the skids under US regional banks Thursday and European banks Friday sending CDS through the roof with safe haven bond buying. Deutsche Bank shares fell to levels not seen since October. In the U.S., the Treasury held an unscheduled meeting of the Financial Stability Oversight Council. Treasuries saw yields on the 10-yr note and shorter tenors to levels not seen since mid-September before pulling back. The 2-yr note yield, which fell to 3.56%, settled at 3.77%. The 10-yr note yield, which declined to 3.29% at its low, settled the session at 3.38%. The 2s10s spread expanded by three basis points to -39 bps.
There is a firm belief the Central Banks are blindly raising rates because 'they have to' and the consequences will be dire, furthermore that the US Administration is bumbling along with damaging decisions one after the other.
Weekly Recap
The fallout from the SVB, Signature and SI collapses coupled with the Credit Suisse takeover reverberated all week. The Fed and other central banks pushed acute system fragility with raising rates as we saw in the selling of bank stocks Thursday and Friday.
Bond auctions last week:
Further tightening risks pushing the markets and economy over the proverbial cliff.
Shares of Germany's Deutsche Bank (DB) fell to levels not seen since October as the market reacting to the bank's rapidly rising cost of default insurance, CDS spiking to 4-year highs. German Chancellor Scholz reacted with saying the bank is profitable and there is no reason to worry while European Central Bank President Lagarde and French President Macron also tried to reassure markets.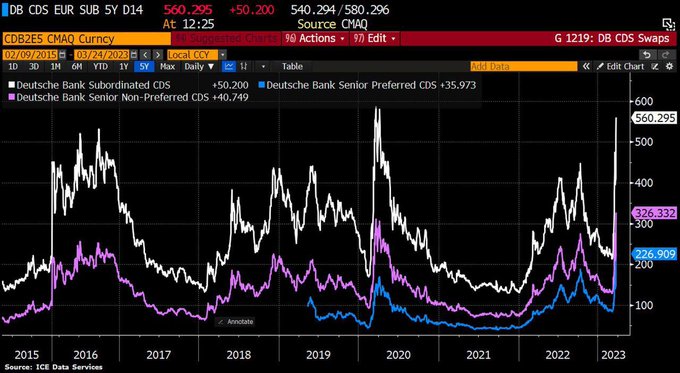 In the U.S., the Treasury held an unscheduled meeting of the Financial Stability Oversight Council. After the market close the Treasury released a statement saying "The Council discussed current conditions in the banking sector and noted that while some institutions have come under stress, the U.S. banking system remains sound and resilient." There was nothing else out of the meeting released other than the attendees which includes Janet Yellen and Jerome Powell.
DoubleLine Capital CIO Gundlach said that he expects "substantial" rate cuts from the Fed soon.
Recall last week's warning ….
Again, the markets did not seize up and got nowhere near the previous 2008 levels,
Inflation, Disinflation
Yield Watch
2-yr: -3 bps to 3.77% (-5 bps for the week)
3-yr: UNCH at 3.59% (-9 bps for the week)
5-yr: -1 bp to 3.41% (-6 bps for the week)
10-yr: -3 bps to 3.38% (-2 bps for the week)
30-yr: -4 bps to 3.64% (+4 bps for the week)
Investment-grade bond funds posted outflows of $865 million, and junk bond funds reported negative flows of $902 million (from Lipper).
Total money market fund assets jumped $117.4bn to a record $5.132 TN, with a two-week gain of $238 billion. Total money funds were up $571bn, or 12.5%, y-o-y.
Total Commercial Paper sank $45.4bn to an 10-month low $1.118 TN. CP was up $68bn, or 6.4%, over the past year.
Key Rates and Spreads
Rates
10-year Treasury bonds 3.38%, down -0.03 w/w (1-yr range: 1.66-4.25) (12 year high)
Credit spread 2.26%, down -0.05 w/w (1-yr range: 1.76-2.42)
BAA corporate bond index 5.64%, down -0.08 w/w (1-yr range: 4.20-6.59) (10 year+ high)
30-Year conventional mortgage rate 6.38%, down -0.17% w/w (1-yr range: 4.29-7.38) (new 20 year high)
Yield Curve
10-year minus 2-year: -0.40%, down -0.02% w/w (1-yr range: -0.86 – 1.59) (new 40 year low)
10-year minus 3-month: -1.30%, unchanged w/w (1-yr range: -1.17 – 2.04) (new low)
2-year minus Fed funds: -1.06%, up +0.56% w/w.
US corporate bond spreads over US Treasuries and how they have widened as cyclical risk have risen but are well shy of the wides recorded during the early part of the pandemic, let alone the GFC. To label this as a severe credit crunch would be extreme.
10 Year Note Technical Analysis via KnovaWave
Highlights – Federal Reserve
Federal Reserve Credit surged $211bn last week to $8.658 TN – with a two-week gain of $353bn.
Fed Credit was down $243bn from the June 22nd peak.
Over the past 184 weeks, Fed Credit expanded $4.931 TN, or 132%.
Fed Credit inflated $5.847 Trillion, or 208%, over the past 541 weeks.
Fed holdings for foreign owners of Treasury, Agency Debt dropped $52.7bn last week to $3.309 TN.
"Custody holdings" were down $141bn, or 4.1%, y-o-y.
It's been a week since the implosion of three US banks, Silicon Valley Bank, Signature Bank and Silvergate Capital Corp. From there we saw further selling of Credit Suisse that has never recovered from Archegos and the panic selling and speculative attacks on other US Regional banks. The Federal Reserve has worked in concert with the Treasury and major money center banks to stabilize conditions. The speed of protective measures for the financial system has been impressive but with that longer-run moral hazard problems and adverse incentives are front and center.
Highlights – Mortgage Market
Freddie Mac 30-year fixed mortgage rates dropped 20 bps to 6.51% (up 235bps y-o-y).
Fifteen-year rates sank 24 bps to 5.85% (up 246bps).
Five-year hybrid ARM rates jumped 15 bps to 6.15% (up 296bps).
Bankrate's survey of jumbo mortgage borrowing costs had 30-year fixed rates down six bps to 6.96% (up 246bps).
Key Bond Auctions
Bond auctions last week:
Global Bond Watch
"Government bond prices around the world are moving in tandem, reducing investors' ability to diversify their portfolios and raising concerns of being blindsided by market gyrations. Correlations between currency-adjusted returns on the government debt of countries such as the U.S., Japan, the U.K. and Germany are at their highest level in at least seven years, data from MSCI showed, as central banks around the world ramp up their fight against inflation."

October 10 – Reuters (Davide Barbuscia)
Major Benchmark 10-year Bond markets
Bond Market Performance 2023
Highlights – European Bonds
Ten-year government yields down significantly.
Greek 10-year yields fell seven bps to 4.06% (down 50bps y-o-y).
Italian yields declined four bps to 4.01% (down 69bps).
Spain's 10-year yields fell four bps to 3.19% (down 33bps).
German bund yields rose two bps to 2.13% (down 32bps).
French yields declined two bps to 2.66% (down 32bps).
The French to German 10-year bond spread narrowed four to 53 bps.
U.K. 10-year gilt yields were unchanged at 3.28% (down 39bps).
This all happened quickly…. just weeks ago we had:
Highlights – Asian Bonds
Japanese 10-year "JGB" yields rose three bps to 0.32% (down 11bps y-t-d).
"The unprecedented monetary easing by the Bank of Japan over the past decade has reshaped the nation's lenders, from their asset holdings to loan income. That may be about to change as the central bank prepares to take on a new chief next month… The most notable case is Japan Post Bank Co., a unit of a former state-run mail services giant, which manages most of almost $2 trillion of assets in its securities portfolio. Where it once invested as much as 80% of its money in JGBs, this now accounts for less than 20%. Instead, the bank has rapidly built up its holdings of foreign bonds and other securities to 78 trillion yen ($572bn), accounting for about 35% of its entire portfolio."

March 5 – Bloomberg (Taiga Uranaka)
Inflation Matters
Inflation with Henry Kaufman
Kaufman is the legendary chief economist and head of bond market research at Salomon Brothers is someone who knows Inflation. Henry Kaufman in an interview with Bloomberg's Erik Schatzker Jan 14, 2022:
"I don't think this Federal Reserve and this leadership has the stamina to act decisively. They'll act incrementally. In order to turn the market around to a more non-inflationary attitude, you have to shock the market. You can't raise interest rates bit-by-bit."

"The longer the Fed takes to tackle a high rate of inflation, the more inflationary psychology is embedded in the private sector — and the more it will have to shock the system."

"'It's dangerous to use the word transitory,' Kaufman said. 'The minute you say transitory, it means you're willing to tolerate some inflation.' That, he said, undermines the Fed's role of maintaining economic and financial stability to achieve 'reasonable non-inflationary growth.'"
The rubber is meeting the road as the trifecta of rising interest rates, the Russian invasion of Ukraine and surging costs continues to weigh, this has been no surprise to us here and shouldn't have been to the market and PTB. You can only play with fire for so long before you get scorched!
With all the redirection of blame at the Fed about inflation one has to understand it is a global phenomenon outside the Fed's Control. With the war drums louder than ever the supply chain issues are out of control. The Federal Reserve is not in control of global energy and commodities prices.
Everything points to powerful inflationary dynamics and a Federal Reserve so far "behind the curve."
Instability is pronounced, credit defaults are on track to rise in North America, Europe, Asia, and Australia, according to a survey by the International Association of Credit Portfolio Managers. The economic slump is likely to occur later this year or in 2023, according to the survey.
---
Global Bonds 2022 Performance
10 Year Bonds – Americas 2022 Performance
10 Year Bonds – Europe 2022 Performance
10 Year Bonds – Asia 2022 Performance
10 Year Bonds – Africa 2022 Performance
---
-comment section below data-
Subscribe and Follow
Find us at www.traderscommunity.com
Follow our contributors on Twitter @traderscom @thepitboss16 @knovawave @ClemsnideClem
Sources: Scotia Bank, TC
Note these charts, opinions, news, estimates and times are subject to change and for indication only. Trade and invest at your own risk.
Trade Smart!