Australia posted another much larger than expected trade surplus in September, what is clear the commodity powerhouse is benefiting from the U.S.- China trade war. Australia ships nearly a third of its exports to China, led by iron ore and coal as the Chinese boost construction spending to ward off damage caused by U.S tariffs.
Australia posted another much larger than expected trade surplus in September, what is clear the commodity powerhouse is benefiting from the U.S.- China trade war. Australia ships nearly a third of its exports to China, led by iron ore and coal as the Chinese boost construction spending to ward off damage caused by U.S tariffs.
Another Huge Trade Surplus in September
Australia announced that it's September trade balance came in at +A$7.180 billion, much larger than the expected +A$5.050 billion expected. Australia has logged a record trade surplus, underpinned by rising exports to China. The surplus was up from a surplus of $6.617 billion in August from a revised A$5.926 billion.
Imports rose 3.0% vs 0.0% prior with exports were also up 3.0% vs -3.0% prior. A positive sign for economic growth with the trade surplus on better imports and exports giving the best possible outcome.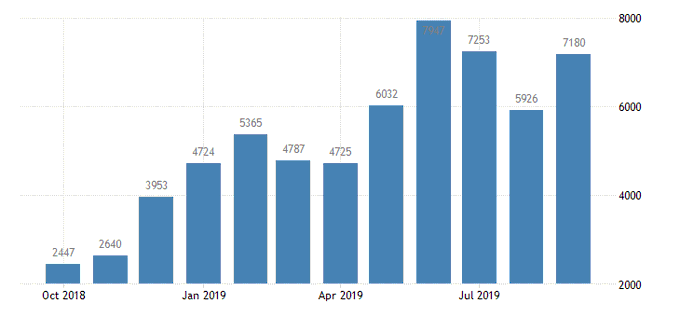 The strong exports reflect China's import of Australian coal, iron ore and LNG being used by heavy industry and in the building of apartments. China, as it did during the global financial crisis in 2008-9 is helping Australia defy the global slowdown. Australia, like the rest of the world faced a personal-credit crunch, the housing bubble was popping and weak business confidence, all seemed to be conspiring to derail the longest-running growth streak in the developed world.
The Western Australian mining industry has continued to thrive off record commodity sales and prices, around 85% of the world's iron ore shipements leave from Port Hedland. China is doing it's share of loading up from there. W.A. has seen a boost in employment to unseen levels. For 2018-2019 period the Department of Mines, Industry Regulation and Safety said the average number of individuals employed in the minerals sector surged to 124,010, up from 112,008 in the previous year.
The surge in jobs reflects a record-breaking year in which iron sales reached an all-time high of $78.2 billion, and an all time high in gold sales that reached almost $12 billion. Sales were helped by unprecedented demand for both commodities, reflected in the Australian dollar gold price averaging $1958 in June, marking the first time it has broken through the $1900 mark in history.
Mines and petroleum minister Bill Johnstone said the figures represented the state government's increased investment in the sector.
"These record figures across the mining sector reflect the strength of the McGowan Government's commitment to supporting industry investment in Western Australia and creating jobs," he said. "State government initiatives such as the Exploration Incentive Scheme and Streamline WA, which is improving regulatory practice, is helping the resources industry succeed."
Other commodites hit records, including alumina and bauxite sales with a record $8.3 billion following increases in bauxite exports. Western Australia's mineral and petroleum industry reported record sales of $145 billion. The bulk of the $30 billion increase on the 2017-2018 period was the result of improved iron ore prices and increasing liquified natural gas (LNG) volumes as projects continued to move towards capacity. This was highlighted by LNG sales increasing more than 50 per cent to reach almost $29 billion for the period.
The trade sector has been hot, so hot that Australia had its first current-account surplus since 1975 in the second quarter of 2019. That has provided some much-needed juice to Australia's economy, on a 28-year run without a recession, as other headwinds to growth intensify. Australia's gross domestic product expanded at its slowest pace since the financial crisis in the second quarter.
Compare Australia's trade boom to Germany where exports in June fell 8% on a year earlier, and its current-account surplus has declined somewhat as manufacturing collapsed as measured by the PMI index hitting lows not seen since 2009.
The trade war has hit global trade volumes, from being up 4.4% in the first quarter of 2018, when the first U.S. tariffs were imposed, from the same period a year before, to slowing sharply by year's end. The IMF said tradewas up just 1.6% in the fourth quarter from the prior year. Worse was to come, trade volumes fell 0.4% in the second quarter of 2019 versus the same period a year ago.
The trade war has seen unexpected consequences, good ones for Australia. . Chinese and American officials met last month agreed in a phase one agrremment in principal to be digned around December. The US stock market has reacted with relief and bullish fervour. The S&P 500 is up over 200 handles since the recent bottom.
The risk for Australia is if a sharper slowdown in global growth happens as this would hit businesses investing, consumers spending and foreign demand for Australian goods would most likely weaken. Right now Australia is gaining from the "domestic stimulus in China to offset the trade dispute has contributed to a short-term boost to the Australian economy and significantly mitigated the impact of the trade disputes on us," Reserve Bank of Australia Deputy Governor Guy Debelle said on Aug. 15.
Australia has seen a 30% rise in nominal exports to China since early last year, around the time the U.S. tariffs were first imposed, The iron-ore price has surged again this year. It rose 74% in roughly six months to a peak in July, as Chinese mills produced steel at record rates to support the national economy and the market adjusted to supply cutbacks in Brazil. While iron-ore prices have fallen by almost a third since then to US$88 a tonne it is a significant price boost, especialliy on record volumes.
Gold has also risen, a combination of a flight to safety and a warriness of fiat curencies, Brexit and the trade war. This also benefited Australia, which numbers gold among its top exports.
Another unexpected consequence, Australia is benefiting from tighter U.S. visa procedures for Chinese students. Growth in higher-education enrollments by Chinese students in Australia far outpaced the U.S. in 2017-2018, said Australian education provider Navitas. While bears think the drop in iron-ore prices means it won't be long before Australia returns to a current-account deficit.
Australia is also vulnerable to Chinese games, given the country is a major ally of the U.S. We see the risk here with Australian coal cargoes struggling to pass Chinese ports quickly, a headache for miners and widely viewed as a political maneuver by Beijing. Australia upset China by tightening laws on political interference, and banning Huawei and ZTE from its 5G telecommunications network.
Australia faces a severe drought means Australia can't quickly add production of many farm goods. Another handbrake is most exports of liquefied natural gas are locked into 20-year contracts with other Asian customers.
Source: WSJ ABS
From The TradersCommunity News Desk