Commodity prices at some point reach exhaustion, in markets driven by speculators these moves are extreme. We saw it earlier in the year with nickel and we are seeing it in the fertilizer complex with Ammonia and Urea spot prices. Green Markets, a Bloomberg company reported the June spot price in Tampa, Florida for the nitrogen fertilizer ammonia settled at $1,000 per metric ton, down 30% from May's $1,425 per metric ton.
Green Markets analyst Alexis Maxwell cites demand destruction as part of the decline, little doubt there but also factor in speculators pushing the envelope having to exit in a thin market. Southeast Asia for example are seeing buyers unwilling to pay the record high prices for ammonia seen in April and May. Nitrogen Prices Surged 133% From 2021 to 2022.
A recent report by IMARC Group, "Fertilizer Market: Global Industry Trends, Share, Size, Growth, Opportunity and Forecast 2022-2027," shows the global fertilizer market size reached a value of US$ 163.2 Billion in 2021. Looking forward, IMARC Group expects the market to reach US$ 203.5 Billion by 2027, exhibiting a CAGR of 3.9% during 2022-2027.
Natural Gas Prices Fall Helps Ammonia Cost of Production
Another factor is the declining cost of ammonia production as European natural gas prices fell in the second quarter, she said. Natural gas prices have pulled back from extreme levels in Europe, while they are hitting highs not seen since 2008 in the US.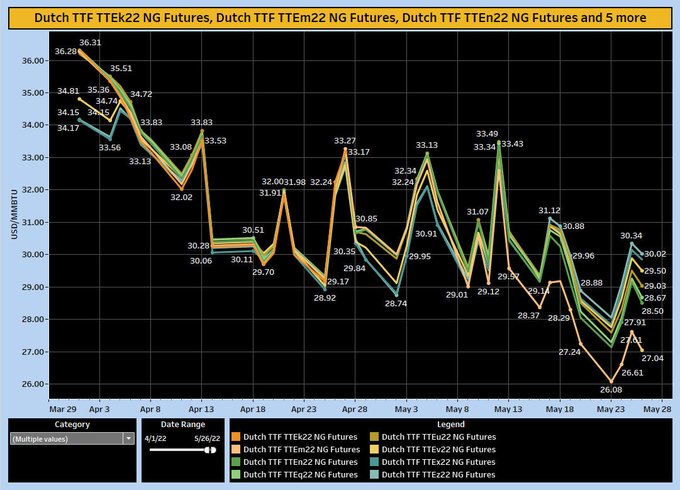 A recent report by the Agricultural and Food Policy Center (AFPC) at Texas A&M University shows higher input prices are having a larger impact on farmers than originally thought.
Net cash farm income on the representative feed grain and oilseed farms is projected to decline by an average of $534,000 from 2021 to 2022 across the 25 feed grain and oilseed farms.
Representative wheat farms face an average reduction in net cash farm income of $399,000.
Representative cotton farms face an average reduction in net cash farm income of $716,000.
Rice farms face the largest reduction in net cash farm income per farm at $880,000 and a per acre reduction of $442.
Compiled by Joe Outlaw, Ph.D., and Bart Fischer, Ph.D., co-directors of the AFPC.
Not demand destruction but demand deferral
CF Industries Holdings Inc., the world's largest nitrogen fertilizer company and one of four North American fertilizer producers, says "We don't see demand destruction," Frost said at a conference in New York on Wednesday. "We see demand deferral."
Prices skyrocketed since the war in Ukraine put a large portion of the world's fertilizer supplies at risk, since Russia is major producer. However, CF isn't seeing farmers shy away from buying in the US just yet, said senior vice president of sales and market development Bert Frost.
If farmers aren't applying maximum fertilizer, they're "just not that intelligent," as crop prices are soaring, he said. If US farmers don't buy all the nitrogen the company has, the company can ship it elsewhere, he said.
There are only four firms that produce fertilizer in North America. CF Industries operates five nitrogen manufacturing facilities in the U.S. and two in Canada. These seven facilities represent 37% of North American ammonia, a huge chunk of the market.
"Think the global fertilizer shortage is someone else's problem? Take a look in the mirror. If you are reading this in North America, Europe, Latin America, or Asia, chances are that the bundle of amino acids staring back at you is alive today because of chemical fertilizers. In fact, according to noted Canadian energy researcher Vaclav Smil, two-fifths of humanity—more than three billion people—are alive because of nitrogen fertilizer… The chemical fertilizer trifecta that tripled global grain production—nitrogen (N), phosphorus (P), and potassium (K)—enabled the greatest human population growth the planet has ever seen. Now, it is in short supply, and farmers, fertilizer companies, and governments around the globe are scrambling to avert a seemingly inevitable tumble in crop yields." May 24 – National Geographic (Joel K. Bourne, Jr.)
Commodity Round Up
Bloomberg Commodities Index declined 1.6% (up 29.4% y-t-d).
Spot Gold fell 3.8% to $1,812 (down 1.0%).
Silver sank 5.6% to $21.11 (down 9.4%).
WTI crude increased 72 cents to $110.49 (up 69%).
Gasoline jumped 5.3% (up 78%),
Natural Gas fell 4.7% (up 105%).
Copper dropped 2.2% (down 7%).
Wheat surged 6.2% (up 53%),
Corn slipped 0.4% (up 32%).
Bitcoin sank $6,300, or 17.4%, this week to $29,800 (down 36%).
From The TradersCommunity Research Desk