With Summer on its way and school holidays just started the price of U.S. gasoline averaged over $5 a gallon for the first time on Saturday, data from the AAA showed. Just yesterday we learned that U.S. Inflation hit 4O year highs as food and energy prices soared in May higher than expected. US consumer inflation continues to rise, prices for energy jumped 34.6% from a year earlier, Gasoline is +48.7% for the year. The national average price for regular unleaded gas rose to $5.004 a gallon on June 11 from $4.986 a day earlier, AAA data showed.
U.S. crude oil prices continued higher this week, WTI closed above $120 for the first Friday since 2008 as it settled at $120.67 and held onto seventh-straight week of gains up $1.80 on the week.
High gasoline prices are a massive headache for President Joe Biden and congressional Democrats as they struggle to maintain their slim control of Congress with midterm elections coming up in November. The Democrats have been on a path of blame and redirection. blaming Big Oil, Russia and others. Redirection has come in the shape of previous President Trump with July 6 and hot domestic issues such as possible abortion changes and gun laws. Anything it seems to move away from the plight of surviving day to day for the average American.
"Economists like to strip food and energy out of their inflation calculations. They're too volatile to be meaningful, they say. But for everyday Americans coping with exploding prices, those items are pretty much all they care about right now. For two straight months, the primary consumer expenses — fuel, power, and grocery-store food — have all been rising at double-digit annual rates for the first time since 1981." June 9 – Bloomberg (Olivia Rockeman, Will Wade and Michael Hirtzer)
Biden's energy crisis response has been an adject failure thus far. America continues to drain it's SPR, last week it fell to its lowest level since Sept 1987. The Federal government withdrew from the SPR 7.3Mbbls to PADD3 with Exports 8.11Mbpd. These moves have not alleviated gasoline prices or product shortage anxiety. The headline risk around the EU phasing out Russian oil by year end overhangs. EIA reported Gasoline stocks drew – 812kbbl and utilization rose 1.60% to 94.2%.
Oil prices continue to be subject to geopolitical bifurcation dynamics with sudden changes that accompanies the onset of chaos. The unexpected knock-ons continue with imperfect bifurcation with political influence and personal vagaries from world leaders such as Putin, Scholz and Biden in addition to routine crude dynamics.
US Gasoline Consumers
Report Date 6/8/21 Release Time: Wednesday, June 15, 2022, at 10:30 A.M. (ET)
Input to Refineries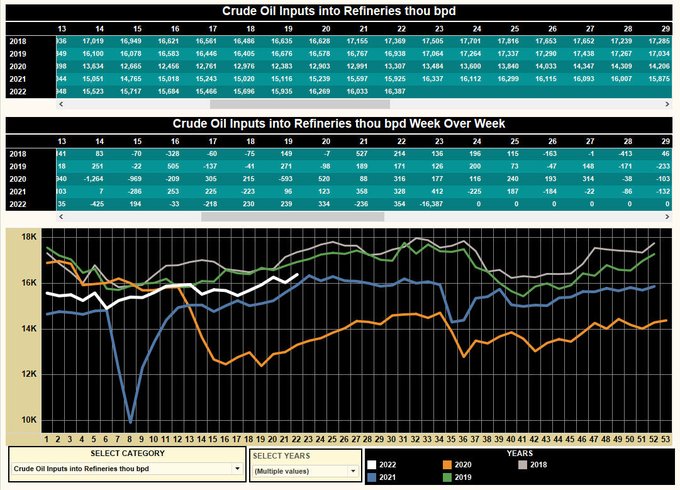 US consumers bought +386.4 million gallons of gasoline per day last week. That is +30.2 mil YoY.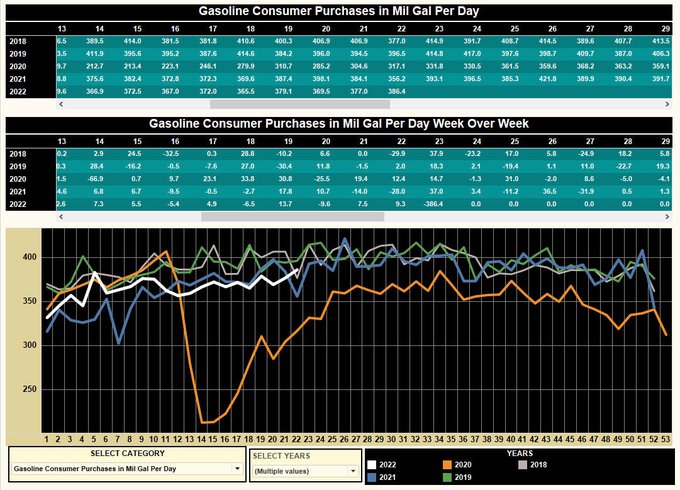 US consumers spent $1,883.9 million dollars per day for gasoline last week. That is $+802.9 mil YoY.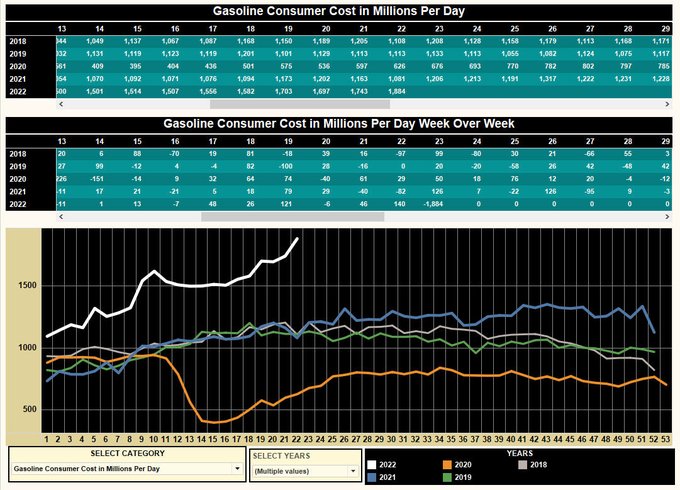 US avg retail price for gasoline was $4.876 last week. That is +1.841 YoY.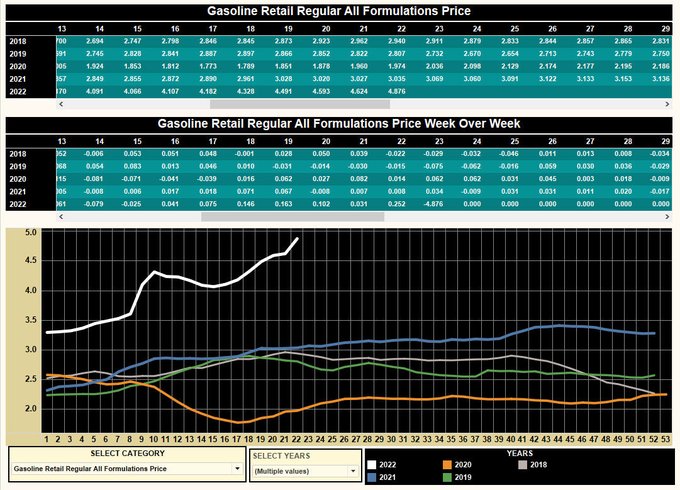 ---
From The TradersCommunity US Research Desk